Sautéed Garlic Asparagus is a perfect Springtime vegetable side dish. It cooks up in minutes, it's savory and pairs nicely with fish, meat or grains. (gluten-free, vegan)
Sautéed Garlic Asparagus
Hi Everyone, It's Spring and that means it's Asparagus season! One of my favorite ways to make it is sautéed on the stove top with fresh chopped garlic.
Preparing asparagus in this way is versatile: you can enjoy it over a salad, divide it up as a side for the week's meal prep or have it as a side with dinner.
I love using regular olive oil with this recipe but if you prefer a different kind of oil or butter (a non-vegan version), feel free to use that instead.
Asparagus Season
I always associate asparagus with Spring. Asparagus peaks in availability in April, however, you can commonly find it in the grocery store from February to June.
Disclosure: Some links in this post are affiliate links which means I earn a commission if you purchase through them at no extra cost to you. I only recommend brands and products that I 100% like and enjoy using. Thank you in advance for your support!
Ingredients for Sautéed Garlic Asparagus
olive oil
Kosher salt
fresh ground pepper
asparagus, trimmed and tough ends cut
1-2 cloves of fresh garlic, chopped
Helpful Kitchen Tools for Sautéed Garlic Asparagus
large skillet or non stick pan
spatter cover
measuring spoons
chef's knife
cutting board
colander
spatula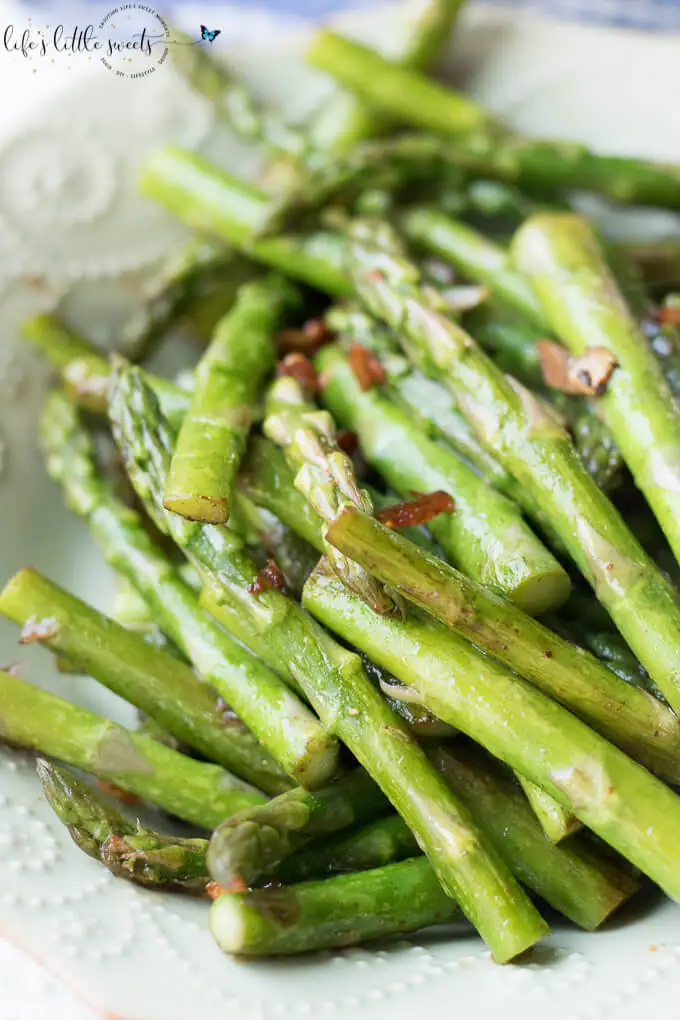 I know you will love this Sautéed Garlic Asparagus recipe! When would you serve this asparagus recipe?
Sautéed Garlic Asparagus
Sautéed Garlic Asparagus is a perfect Springtime vegetable side dish. It cooks up in minutes, it's savory and pairs nicely with fish, meat or grains. (gluten-free, vegan)
Ingredients
2 cloves garlic, chopped
2 tablespoons olive oil, regular
1 bunch aparagus, washed, tough ends chopped, cut in half
1/4 teaspoon Kosher salt, or more, to taste
1/4 teaspoon fresh ground black pepper, or more, to taste
Instructions
In a large skillet, heat regular olive oil over medium heat. Add chopped fresh garlic.
Add asparagus, stirring occasionally, cook for 5 to 7 minutes or until desired tenderness is achieved. It should be crisp and bright green. You can always test a piece before removing from the stove (careful, it's hot!)
Serve with more kosher salt and fresh ground pepper, amount to taste, enjoy!
Sara is an architectural designer turned work-at-home Mom.She lives in NJ with her husband, two kids under 5 and dog. She loves design, being creative and spending time with family and friends.She enjoys and shares baking, vegan, traditional & family recipes as well as DIY, lifestyle, organization and design ideas.
Latest posts by Sara Maniez (see all)