Goldenrod Recipes – Here is a list of recipes on the blog made with the leaves and flowers of the Goldenrod plant (Solidago).
Estimated reading time: 3 minutes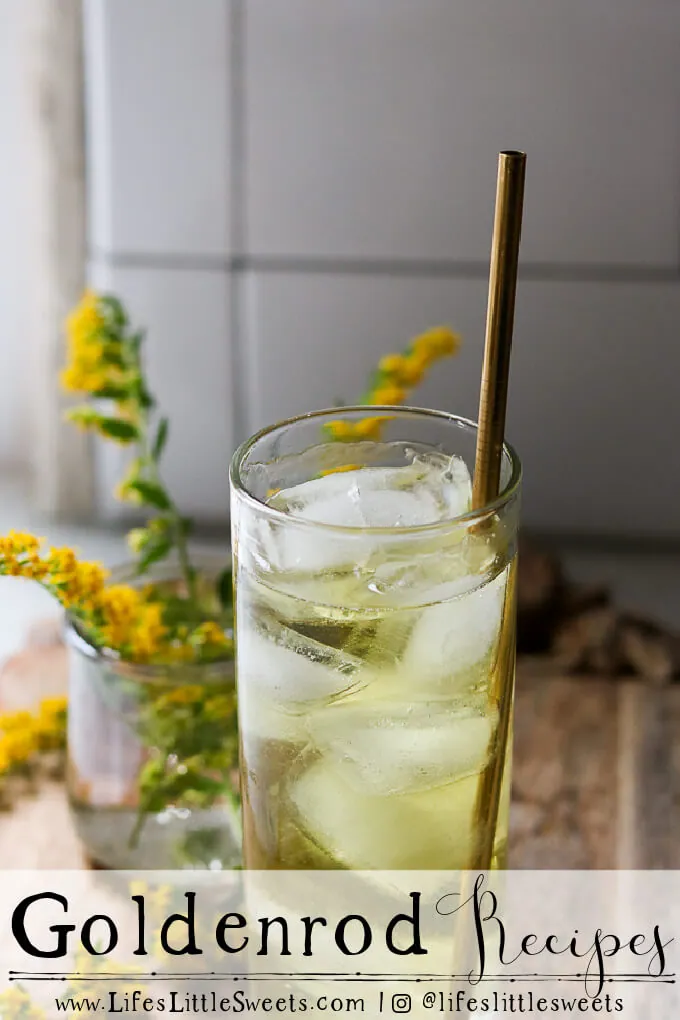 Goldenrod Recipes
Hi Everyone, let's celebrate that common, bright yellow, spire-like flower that we see in the late Summer, early Fall/Autumn every year in abundance: Goldenrod (Solidago).
I included a list of goldenrod recipes at the end of this post, along with some information about the plant.
Each recipe post in the list has more information on Goldenrod and how it can be used in recipes.
Recipes on the Blog Popular Now
*Make sure you have a positive ID on the goldenrod if you are new to the herb, I link to a field guide that I use for foraging wild edibles (I use "Northeast Foraging" by Leda Meredith. I also use the Picture This app for plant identification.


What is Goldenrod?
According to Wikipedia:
"Solidago, commonly called goldenrods, is a genus of about 100 to 120 species of flowering plants in the aster family, Asteraceae. Most are herbaceous perennial species found in open areas such as meadows, prairies, and savannas. Wikipedia
Family: Asteraceae
Scientific name: Solidago
Higher classification: Astereae
Rank: Genus
Subfamily: Asteroideae
Symbol of: Kentucky, Nebraska"
Have you made any recipes using Goldenrod? Do you have another wild edible or foraged food that you love that you would like to share about? I would love to hear what you have made in the comments at the end of the post.
We have a growing number of Wild Edibles and Foraged Food recipes on the blog, be sure to search our archive to check out more recipes.
Check out our Recipe index and DIY index and visit our Home page to view our latest posts
Enjoy the recipe list below!
Thank you for reading and following along.
Web Story
Goldenrod Recipes
Here is a list of recipes on the blog made with the leaves and flowers of the Goldenrod plant.
Latest posts by Sara Maniez
(see all)