Oven-Baked Bacon is a savory, crispy, and easy way to make a large amount of bacon right in your oven. This way of making bacon frees up your stovetop and is great for making a big breakfast, brunch, or if you need a large amount for a recipe. (paleo, gluten-free, keto)
Estimated reading time: 7 minutes
Oven-Baked Bacon
Hi Everyone, it's bacon time!
I am an unabashed bacon lover and every time I've gone vegetarian (several attempts in my teens and 20's), I always end up coming back to being an omnivore, it's because of bacon.
I blame you bacon!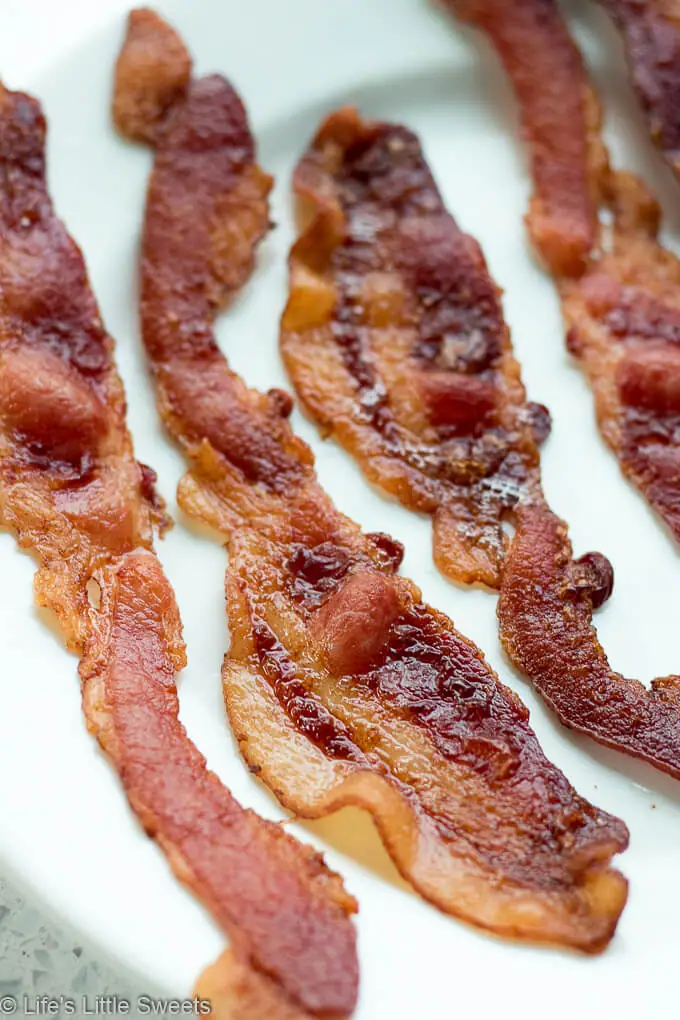 In all seriousness, I was always a "stovetop bacon maker".
Well, guess what?
When you have a family, like I do now, in my 30's and often am cooking larger breakfasts or brunches on the weekends, especially when we have visiting friends/relatives – you tend to search for more efficient ways of doing things.
That means making the bacon in the oven and freeing up the stovetop.
Web Story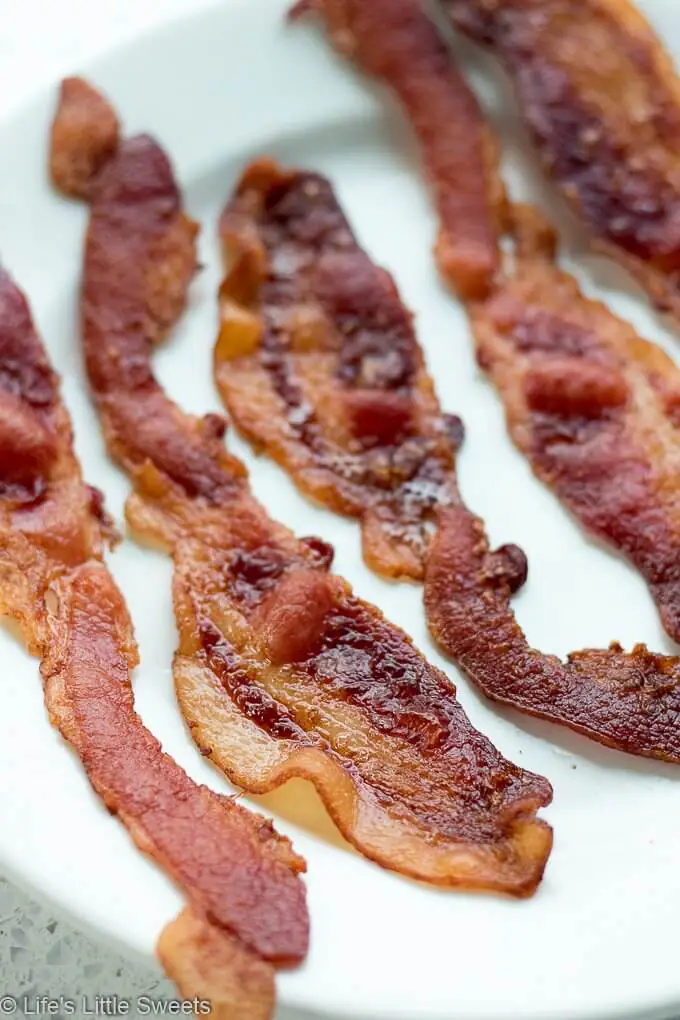 Making bacon in the oven comes out just as crispy and delicious and the best part is that you don't have to "babysit" the bacon by the stovetop.
Just put it on the baking sheet and put it in the oven and check on it as it's close to being done.
My friend Karl, intern extraordinaire at The Farm Cooking School, told me, in his opinion, it is wrong (meaning that's just his preference) to make Oven Baked Bacon without raised baking racks placed within the rimmed baking sheets.
The idea is that you lay the bacon on top of the wire racks and that allows the fat to drip down.
I told Karl, I do not in fact have oven-safe baking racks (yet!) that fit perfectly in my rimmed baking sheets.
I am sure some percentage of my readers do not have this set up either, so I am showing you how to make this Oven Baked Bacon by just laying the bacon on the sheets.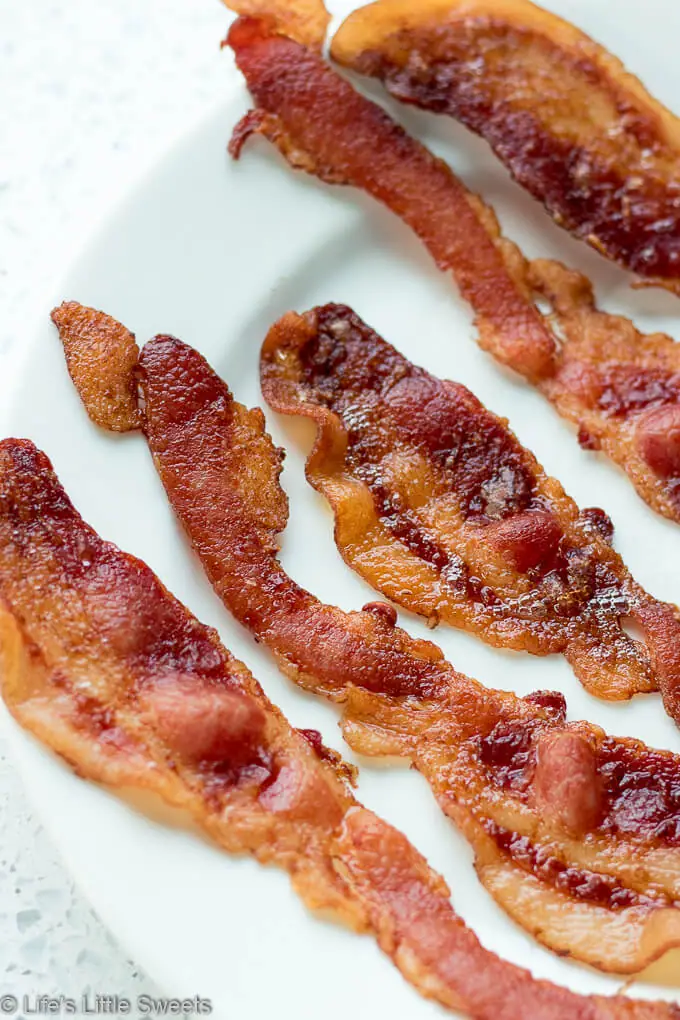 Ingredients for Oven Baked Bacon
12-ounce package of bacon (12-14 slices) *I prefer thick-cut bacon
optional: you can brush the bacon with maple syrup or sprinkle with your favorite spices, for example, Harissa, chili powder, etc.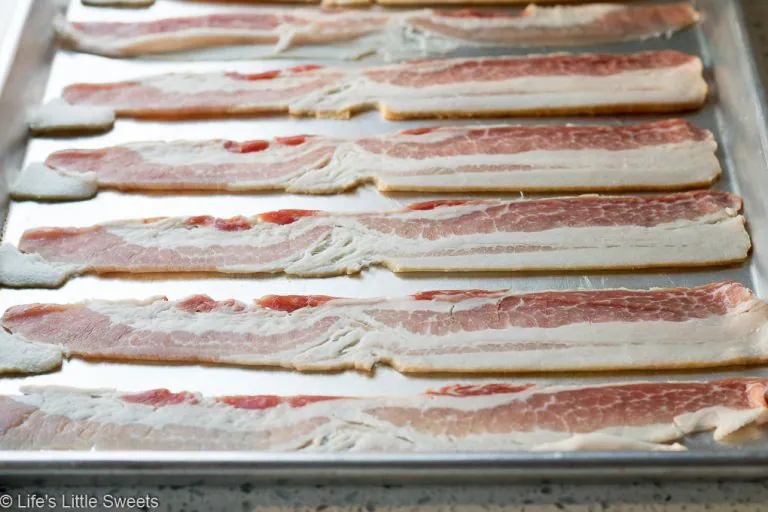 Helpful Kitchen Tools for Oven Baked Bacon
2 rimmed aluminum half sheets
2 oven-safe, cooling racks to fit in the half sheets, optional
parchment paper, cut to the size of the half sheets, optional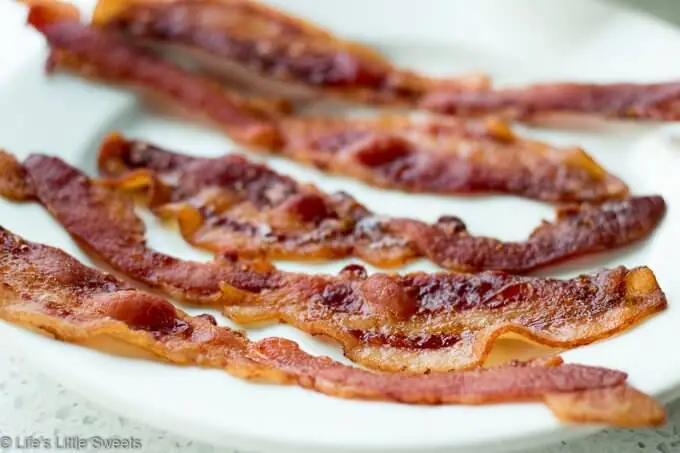 Latest Posts
If you try Oven-Baked Bacon and like it, please rate the recipe card below and let us know in the comments below.
Thank you for reading and following along!
Our Other Recipes
Check out our Recipe index and DIY index and visit our Home page to view our latest posts and our Shop to see our favorite kitchen tools!
Oven-Baked Bacon
Oven-Baked Bacon is a savory, crispy, and easy way to make a large amount of bacon right in your oven. This way of making bacon frees up your stovetop and is great for making a big breakfast, brunch, or if you need a large amount for a recipe. (paleo, gluten-free, keto)
Ingredients
16 ounces (1 pound/454 grams) bacon slices (1 whole package)
optional: you can brush the bacon with maple syrup or sprinkle with your favorite spices, for example, Harissa, chili powder, etc.
Instructions
Place two racks evenly centered in the middle of the oven. Preheat oven to 400°F. On 2 rimmed baking sheets, line the bacon so that they are not touching, divide the bacon evenly between the two baking sheets. Optionally, you can put the bacon on parchment or oven-safe baking racks so that the bacon fat can drain off the bacon.
Bake at 400 degrees F. for 15 to 20 minutes or until desired crispiness is reached
When the bacon is done, using a spatula, transfer the bacon to paper towel-lined plates to absorb oil. You can reserve any remaining oil from the baking sheets for further cooking or discard. Serve cooked bacon and enjoy!
Nutrition Information:
Yield:

7
Serving Size:

2
Amount Per Serving:
Calories:

344
Total Fat:

25g
Saturated Fat:

8g
Trans Fat:

0g
Unsaturated Fat:

15g
Cholesterol:

69mg
Sodium:

1218mg
Carbohydrates:

4g
Fiber:

1g
Sugar:

2g
Protein:

24g
Please note that the Calculated Nutrition is an estimate at best.
*This "Oven-Baked Bacon" recipe was originally published on 4/16/2019; It was updated and republished on 10/14/2020.
Latest posts by Sara Maniez
(see all)