Estimated reading time: 6 minutes
Gluten-Free Fried Tomatoes are a delicious Summer appetizer or vegetarian side dish – juicy, ripe, red tomatoes with gluten-free flour, egg, milk, and cornflour coating, fried in Canola oil, make for a crispy outer texture, sprinkle with fresh basil!
Gluten-Free Fried Tomatoes
Hi Everyone, I recently re-shot photos for an older post, Pan-Fried Tomatoes, and I thought, it would be great to have a coated-style recipe of tomatoes on the blog.
And, well, I just was craving fried tomatoes and with tomato season coming up, I couldn't resist making them!
Ingredients
4 large red tomatoes (you can also make this recipe with green tomatoes)
2 eggs
1/2 cup milk
1 cup gluten-free flour (I used Bob's Red Mill brand)
1 cup cornmeal
2 teaspoons Kosher salt
1/4 teaspoon fresh ground black pepper
1 quart Canola oil (or vegetable oil) for frying – you want to have about 1 inch in the pan for frying.
optional: fresh, chopped basil for garnishing
optional: mayonnaise for serving/dipping
Kitchen Tools
slotted spoon or fry basket utensil
deep frying pan or deep fryer
measuring spoons and cups
chef's knife
cutting board
plates and mixing bowls
Web Story
If you like this Pan-Fried Tomatoes recipe, you might also like some of our other recipes with tomatoes: Homemade Garden Fresh Salsa, Tomato Basil Mozzarella Puff Pastry Tart, Tomato Basil Mozzarella Salad and Grilled Cheese Tomato Bites on SoFabFood.
For the Gluten-Free flour, I love Bob's Red Mill brand
For the cornmeal, I love using Hodgson mill brand cornmeal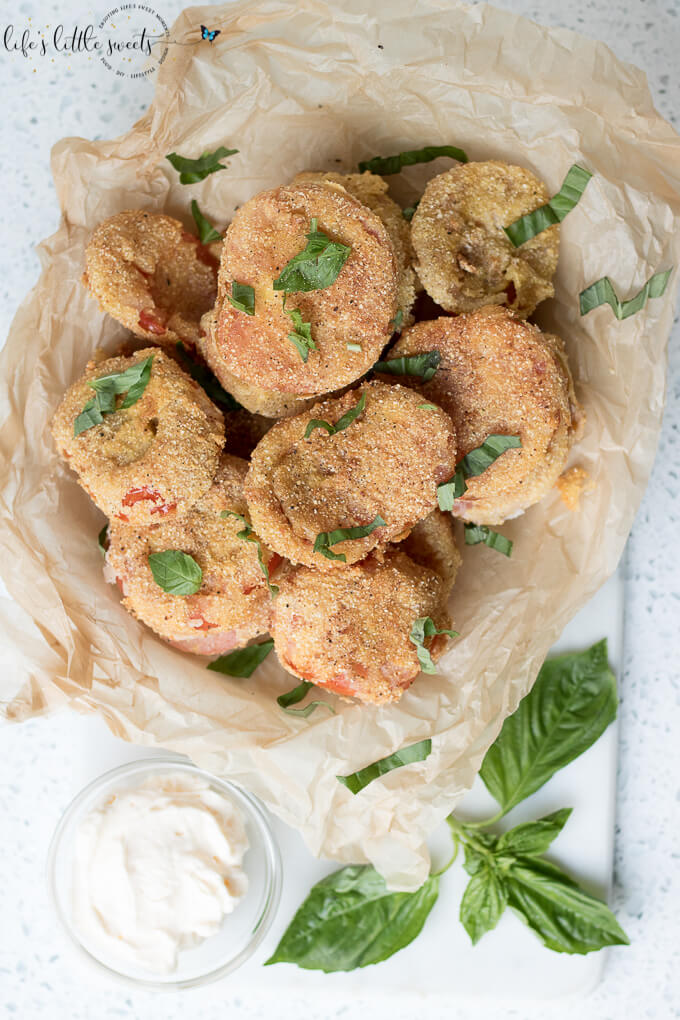 Tomato Season in New Jersey
Tomato season is as early as July 5th, it spans from July 10th through September 15th, and is as late as October 15th.
The dates depend on the specific varieties of tomatoes, of course!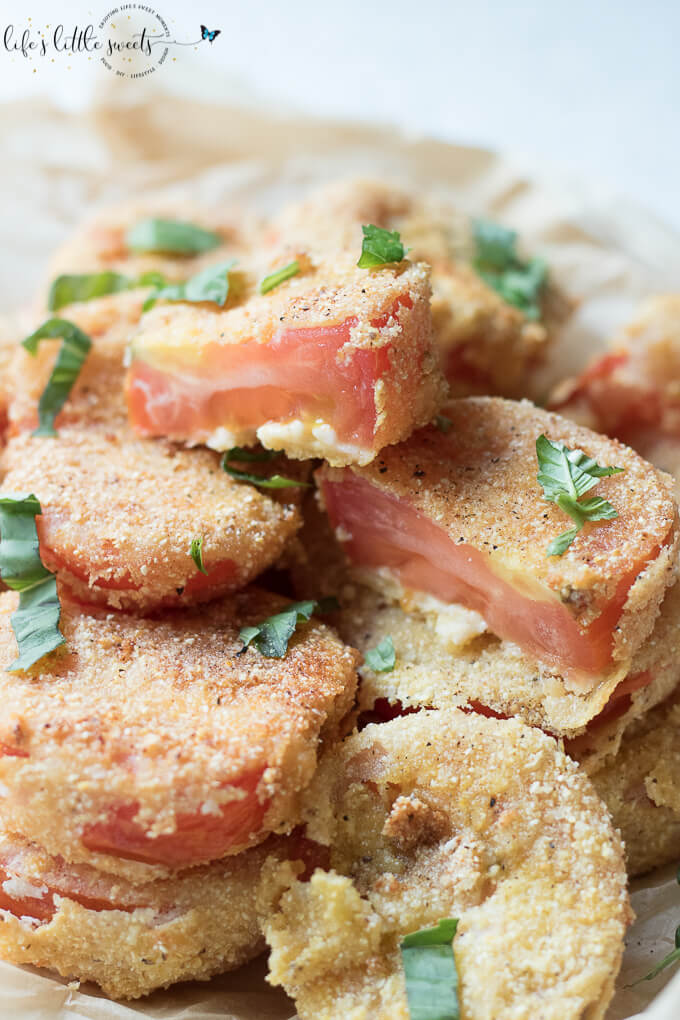 I decided to make this recipe gluten-free because, generally, we have been trying to reduce gluten and carbs from our diet, not for any specific health reasons.
So, whenever I can and if it's convenient, I try to make a recipe gluten-free.
These are great on their own, or over a salad, as a vegetarian side dish or in a burger.
We recently had them with veggie burgers and no bun and just some mayonnaise over mixed greens and it was lovely!
These are like a savory way to enjoy garden fresh flavors of tomato and basil.
This recipe would also work with green tomatoes, so if you have an abundance of tomatoes, why not fry up a few of the green ones to try them out? If they are green, they will probably take a little longer to cook.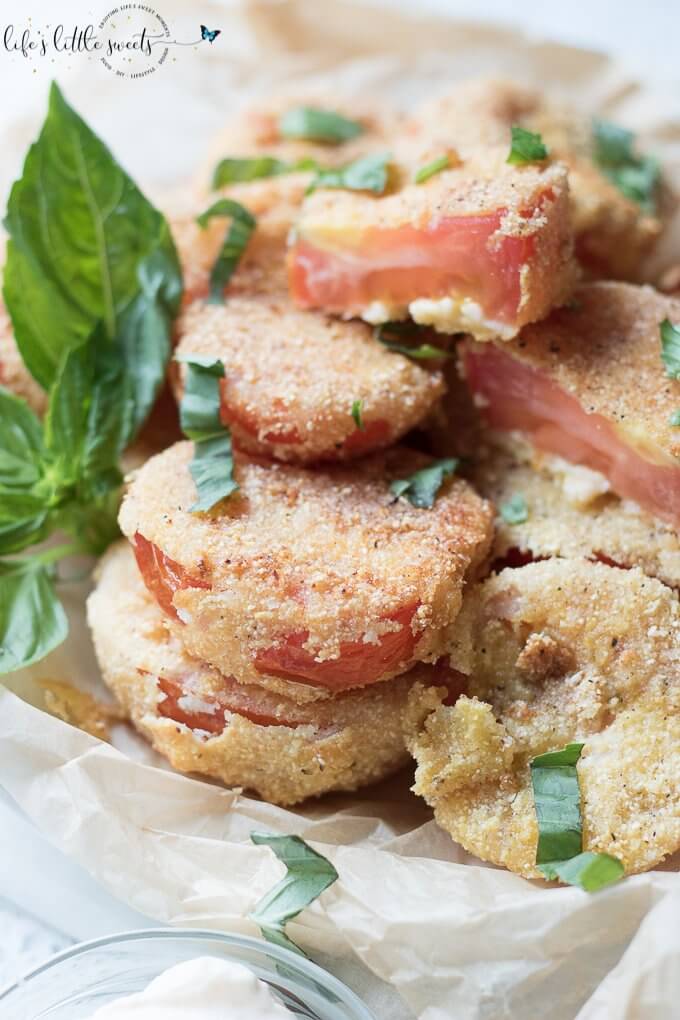 Recipe Attribution
This recipe is inspired by Best Fried Green Tomatoes
I know you will love these Gluten-Free Fried Tomatoes, let me know if you try them in the comments below!
Our Other Recipes & Posts
If you make this recipe, and like it, please give it a rating in the recipe card below and let us know in the comments at the end of the post.
Thank you for reading and following along!
Gluten Free Fried Tomatoes
Gluten Free Fried Tomatoes are a delicious Summer appetizer – juicy, ripe red tomatoes with a gluten free flour, egg, milk and corn flour coating fried in Canola oil make for a crispy outer texture, sprinkle with fresh basil!
Ingredients
4 large red tomatoes, not overly ripe, washed and sliced 1/2 inch thick
2 eggs
1/2 cup milk, I use whole milk
Instructions
Place paper towels on a plate for when the tomato slices are done frying, and set aside.
Heat oil in a pan with at least 1/2 inch of oil for frying.
Put 1 cup of gluten-free flour on a large plate for dredging.
Mix cornmeal, salt, and pepper and have in a shallow bowl for dredging.
Whisk eggs and milk in a bowl for dipping.
Dip the tomato slices into the flour, then dip in the egg mixture and finish with the cornmeal mixture. Repeat for all tomato slices. Place all prepared tomato slices in a place before frying.
Fry the prepared tomato slices in the heated oil for about 2 minutes per side or until golden brown. Make sure the slices are not crowded, you will need to fry them in batches, depending on the size of your pan.
When each slice is done, place it to cool on a plate covered in some paper towels to absorb the extra oil.
Serve with optional mayonnaise dipping and fresh chopped basil to garnish. Enjoy!
Nutrition Information:
Yield:

4
Serving Size:

1
Amount Per Serving:
Calories:

2398
Total Fat:

226g
Saturated Fat:

19g
Trans Fat:

1g
Unsaturated Fat:

204g
Cholesterol:

102mg
Sodium:

726mg
Carbohydrates:

83g
Fiber:

6g
Sugar:

10g
Protein:

17g
Please note that the Calculated Nutrition is an estimate at best.
This recipe was originally published on 6/10/2018 and updated &republished on 9/12/2019, 3/22/2021, 2/8/2023
Latest posts by Sara Maniez
(see all)