Estimated reading time: 6 minutes
Air Fryer Kohlrabi Fries are a great way to enjoy the nutritious, vegetable Kohlrabi. Enjoy with Fry Sauce or another favorite dip! (This recipe is vegan and gluten-free)
Air Fryer Kohlrabi Fries
Hi Everyone, these Air Fryer Kohlrabi Fries are a great way to enjoy Kohlrabi.
They have a minimal amount of regular olive oil, making them healthier than deep-fried French fries.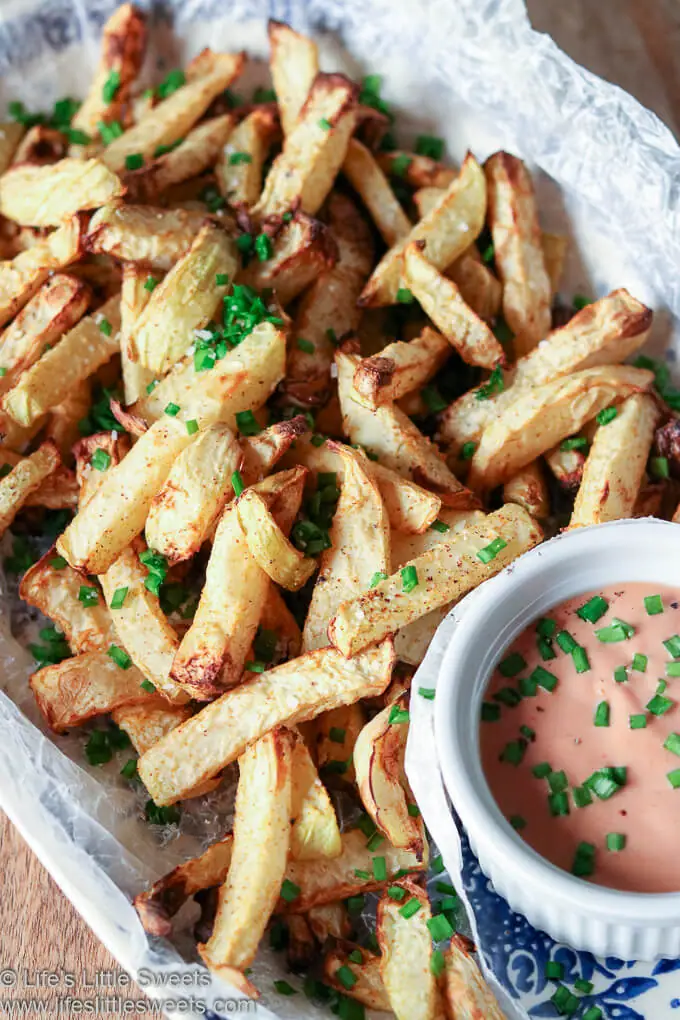 I love how Kohlrabi still retains some crunch and texture to it, even after it is cooked instead of getting mushy or soggy.
What is Kohlrabi?
I find Kohlrabi to be an incredibly versatile vegetable that is surprisingly not mainstream.
According to Wikipedia:
Kohlrabi, also called German turnip, is a biennial vegetable, a low, stout cultivar of wild cabbage. It is another cultivar of the same species as cabbage, broccoli, cauliflower, kale, Brussels sprouts, collard greens, Savoy cabbage, and gai lan. It can be eaten raw or cooked.
Where do you get Kohlrabi?
I get Kohlrabi from my organic CSA share box but you can also get it from the farmer's market.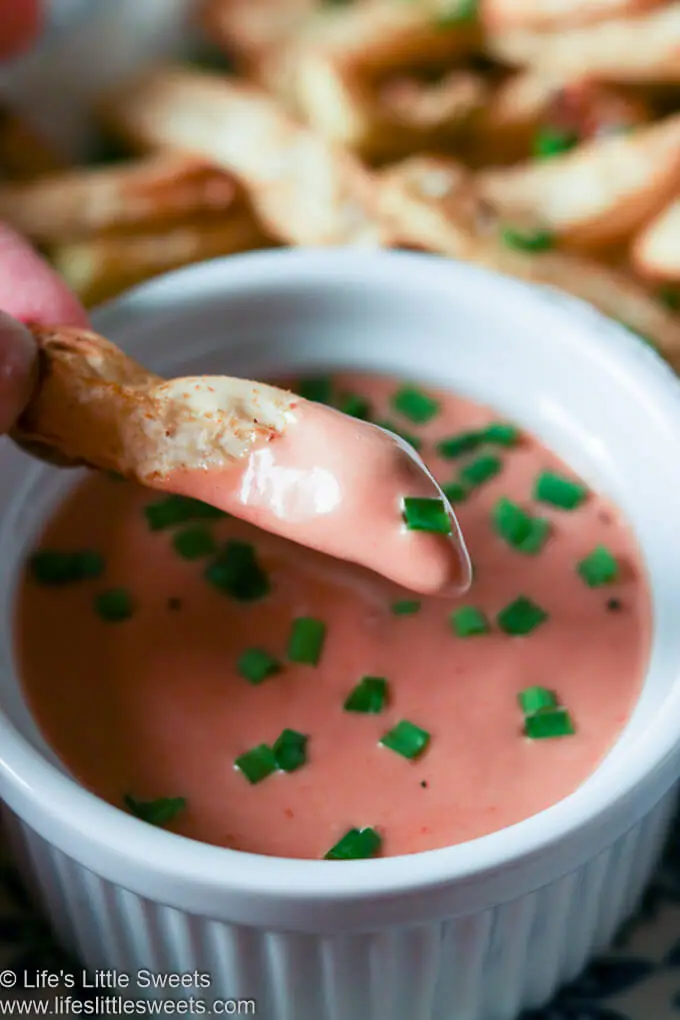 These Air Fryer Kohlrabi Fries make a great appetizer or side.
You can use the Kohlrabi greens, they are totally edible, I would use them just as you would Kale in any recipe.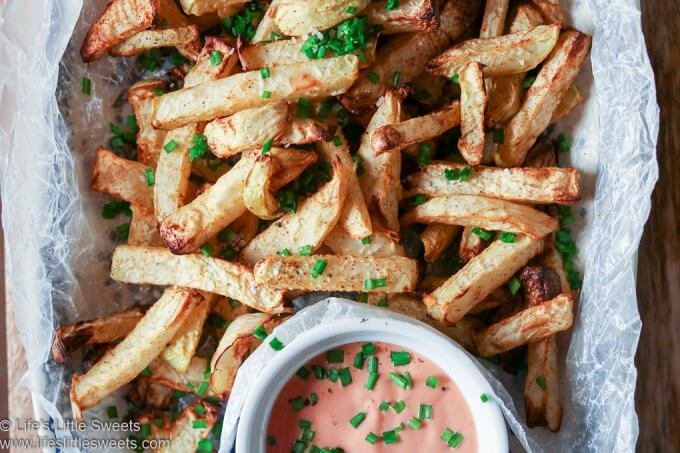 Toppings for Air Fryer Kohlrabi Fries
These Air Fryer Kohlrabi Fries are garnished with chives but you can use parsley or another favorite greet as well.
I usually sprinkle some Kosher salt or other flakey salt and fresh ground black pepper on top of the Air Fryer Kohlrabi Fries before serving.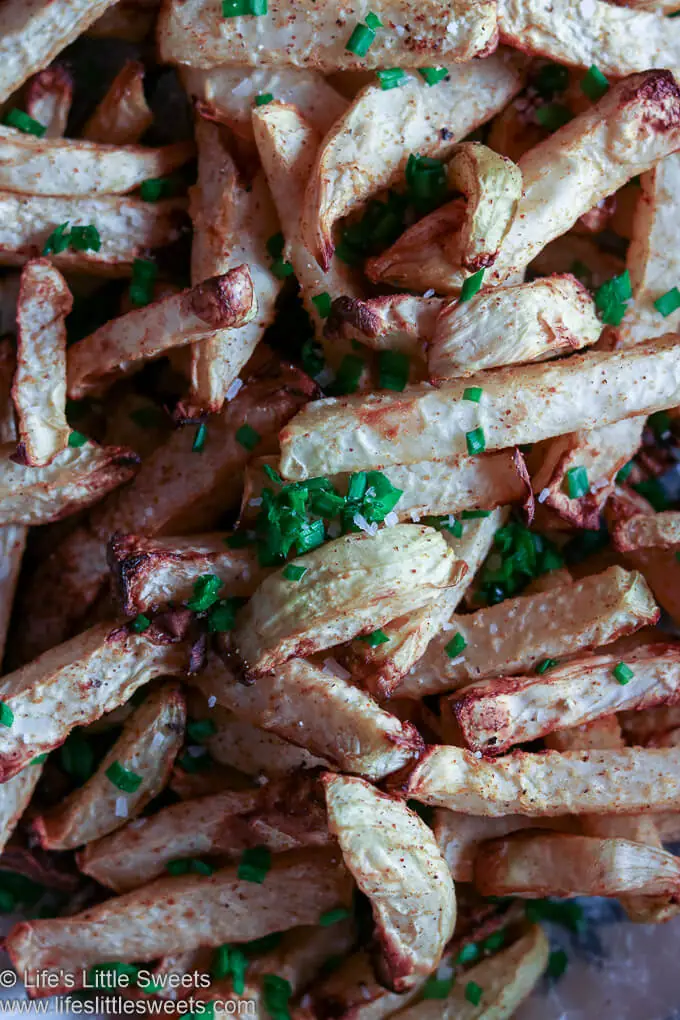 If you try this Air Fryer Kohlrabi Fries recipe and like it, please give it a rating on the recipe card at the end of the post and let us know in the comments at the end of the post.
Enjoy the recipe below and thank you for reading and following along!
Popular Recipes on the Blog Now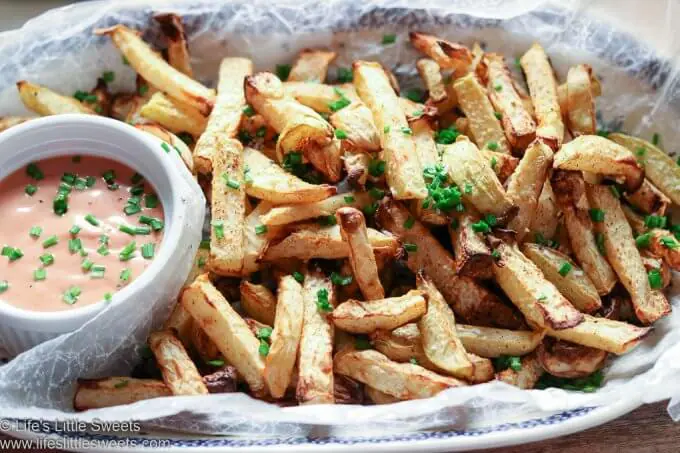 Web Story
Latest Posts
Air Fryer Kohlrabi Fries
Air Fryer Kohlrabi Fries are a great way to enjoy the nutritious vegetable Kohlrabi. Enjoy with Fry Sauce or another favorite dip!
Ingredients
2 lbs. 4 ounces Kohlrabi, tops removed, peeled, cut into 1/2 inch wide pieces
Instructions
In a large mixing bowl, add the prepared Kohlrabi pieces, add olive oil, salt, onion powder, garlic powder, smoked paprika, cumin, and black pepper. Mix to combine.
Turn the air fryer to 400°F. Add the prepared Kohlrabi and set it to 30 minutes. Halfway through cooking, toss the pieces, so that they cook evenly, and pull out the pieces that are cooked first. The time may differ between different air fryers. Make sure to check the Kohlrabi pieces when they are close to being done, so they don't burn.
Notes
This recipe makes 2-4 servings, depending on the size of the serving
Nutrition Information:
Yield:

2
Serving Size:

1
Amount Per Serving:
Calories:

81
Total Fat:

7g
Saturated Fat:

1g
Trans Fat:

0g
Unsaturated Fat:

6g
Cholesterol:

0mg
Sodium:

642mg
Carbohydrates:

5g
Fiber:

2g
Sugar:

2g
Protein:

1g
Please note that the Calculated Nutrition is an estimate at best.
This post was originally published on 10/20/2020 and updated and republished on 7/20/2021, 10/25/2022
Latest posts by Sara Maniez
(see all)