Cold Brew Iced Coffee is a favorite way to brew coffee during those hot, Summer months. Enjoy this full-bodied, brew iced with milk, cream, and optional favorite sweetener. (vegan option)
Estimated reading time: 8 minutes
Cold Brew Iced Coffee
Hi Everyone, the hot weather this past week inspired a rash of drink ideas for the blog and also solved the practical problem of helping me cool down 🙂
So, have you tried Cold Brew Iced Coffee?
Making Cold Brew Coffee is something great to do when the weather is hot.
All you have to do is put the coffee and water in the fridge overnight and in the morning you have a coffee treat.
Did you see my last coffee-inspired post on French Press Coffee?
I really love coffee and I am finally going about getting the coffee-inspired blog posts that have been kicking around in my head onto the blog…
The unicorn duck in the photo above was a goodie bag gift from a birthday party my daughter attended last month. Somehow it ended up in these photos!
No joke, it was some photo-styling help from my 4 year old 🙂
Drinking a nice tall glass of cold brew coffee makes me feel as happy as that unicorn duck 😉
This post may contain affiliate links which won't change your price but will share some commission.
Ingredients
3/4 cup coffee beans measure the beans whole, then grind to a coarse, even grind
32 ounces water (4 cups) filtered
favorite sweetener optional, amount to taste
cream, half and half, milk or non-dairy substitute optional, amount to taste
1-2 cups ice
Kitchen Tools
coffee filter (I used a No. 4 coffee filter (or a mesh reusable one) and filter it in my coffee maker)
coffee grinder
measuring spoons and cups
32-ounce mason jar with lid
paper or stainless steel straw 🙂
Web Story
Getting the Right Grind
Ideally, for grinding beans for the cold brew method (similar to the grind I use for the French Press Coffee), you want a Burr grinder that makes a larger sandy-gravel grind but you can get a similar effect by using a regular grinder like mine above.
I just pulse and shake the grinder until I get the right, even consistency.
Make sure you do not do a fine grind as you would want for an automatic drip coffee maker, that would make the coffee too bitter and the filtration process harder.
What does the unicorn duck have to do with cold brew iced coffee?
Silly, I know, but it's fun 🙂
Let's not be too serious, right?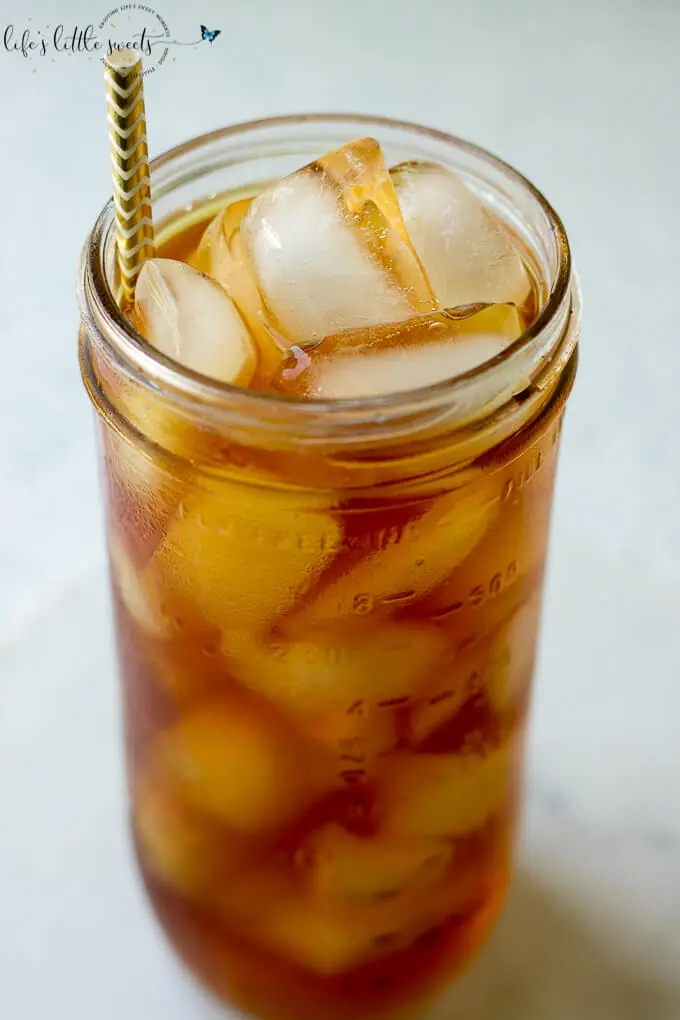 The gold straws I got off Amazon and I also recently got a set of stainless steel reusable straws which are awesome (that means, expect to see them on the blog in the future).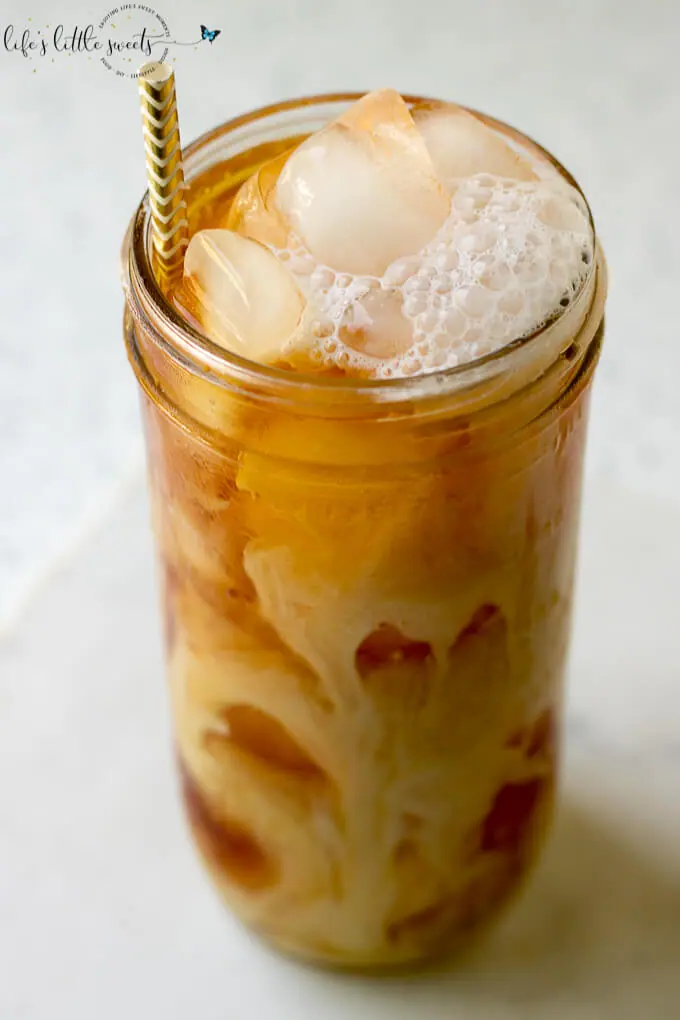 Those frothy bubbles tho…
I used a medium roast coffee in these photos (that's why the coffee is so light).
Cold perfection in a glass…after you have the basics down, you can experiment with different varieties of coffee and ratios, according to your tastes.
The variety of coffee used in these photos are @oneuponedowncoffee Kenya kichwa tembo.
It's nice to have a break from my usual dark roasts. It's full-bodied without any hardness and low acidity.
Our Other Recipes & Posts
Let me know how you like to drink your cold brew iced coffee in the comments below!
Latest Posts
This post was originally published 7/6/2018 and updated and republished on 9/16/2019, 4/20/2021
Cold Brew Iced Coffee
Cold Brew Iced Coffee is a favorite way to brew coffee during those hot, Summer months. Enjoy this full-bodied brew iced with milk, cream, and optional favorite sweetener.
Ingredients
32 ounces water (4 cups), filtered
cream, half and half, milk or non-dairy substitute, optional, amount to taste
1-2 cups ice
Instructions
Measure and grind your coffee to a coarse grind. Add the ground coffee to the lidded container.
Add 32 ounces (4 cups) filtered water to the container and stir. Allow to sit on the counter or in the refrigerator for 8 hours or overnight. When the coffee is done steeping, pour the mixture over a filter to strain out the grinds. Serve iced black or with cream, half and a half or milk, and optional favorite sweetener, enjoy!
Notes
you will need a filter, 32-ounce lidded container, measuring spoons, and cups.
Nutrition Information:
Yield:

1
Serving Size:

1
Amount Per Serving:
Calories:

387
Total Fat:

7g
Saturated Fat:

4g
Trans Fat:

0g
Unsaturated Fat:

3g
Cholesterol:

25mg
Sodium:

1054mg
Carbohydrates:

68g
Fiber:

10g
Sugar:

22g
Protein:

21g
Please note that the Calculated Nutrition is an estimate at best.
Latest posts by Sara Maniez
(see all)