Disclosure: This shop has been compensated by Collective Bias, Inc. and its advertiser. All opinions are mine alone. #FamilyCountsOnClean #KeepLifeRolling #CollectiveBias
I'm sharing a tutorial on How To Clean a Stainless Steel Farmhouse Sink, I break down the steps with some help from Scott® Paper Towels!
Estimated reading time: 8 minutes
How To Clean a Stainless Steel Farmhouse Sink
Hey Everyone, one of my favorite things after I'm done with a day of cooking meals for my family is when my dishes are all put away and the kitchen is clean. Over the years, I've shared several times about cleaning my kitchen here on the blog and on social media, especially on Instagram Stories. I usually catch up with any deep cleaning on the weekend if our schedules are not too packed. Cleaning on the weekend is like my reset button for the house and my mindset. It clears my head having a clean space before starting the week.
I want to specifically walk you through how I clean my stainless steel farmhouse sink which, at the time of my writing this post, we have had in our house for little over a year. Remember our huge kitchen renovation that I documented extensively on the blog last year? One of the best parts of that renovation is our stainless steel farmhouse sink. It's so utilitarian and it gets used a lot and from getting used a lot (like after a day of photographing recipes) it can get super messy.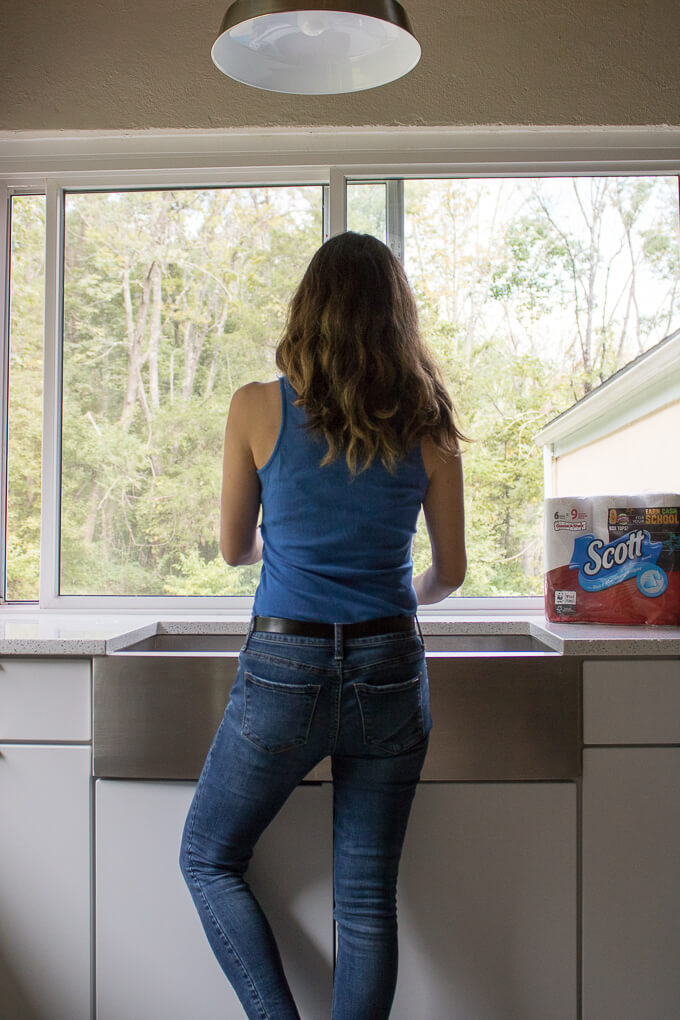 Helpful Kitchen Tools for Cleaning a Stainless Steel Farmhouse Sink
paper towels
dish soap
baking soda
vinegar (apple cider or white distilled vinegar)
sponge
scrub brush

Step-By-Step Tutorial
Step 1 – If you have a grate at the bottom of your sink, remove the grate, picking any food or debris from the grate using a paper towel or your hands.
Step 2 – Using paper towels or a sponge, wipe out any food along the bottom, sides and corners of the sink. Throw in the trash.
I found that Scott® Brand's absorbent paper towels feature unique ridges that quickly and effectively soak up the mess at the bottom of my sink.
Step 3 – Sprinkle baking soda (or preferred alternative abrasive) on bottom of sink. It doesn't have to be an exact amount of baking soda and vinegar; I used 1/2 cup baking soda for my 36 inch sink.
Step 4 – Drizzle the apple cider vinegar over the baking soda. Allow it to bubble and sit for a few minutes before scrubbing.
Step 5 – Using a sponge, scrub the bottom, sides and corners of the sink. Allow to sit for 5-10 minutes.
add more baking soda, if you need to.
At this point, if you need to clean the faucet, you can do that now.
Step 6 – Using the sprayer, rinse the sink out.
Add the grate (if there is one) back into the bottom of the sink.
Step 7 – Using a scrub brush with soap and some of the baking soda scrub the grate. If you want to spray with disinfectant now, you can. Rinse clean and allow to dry.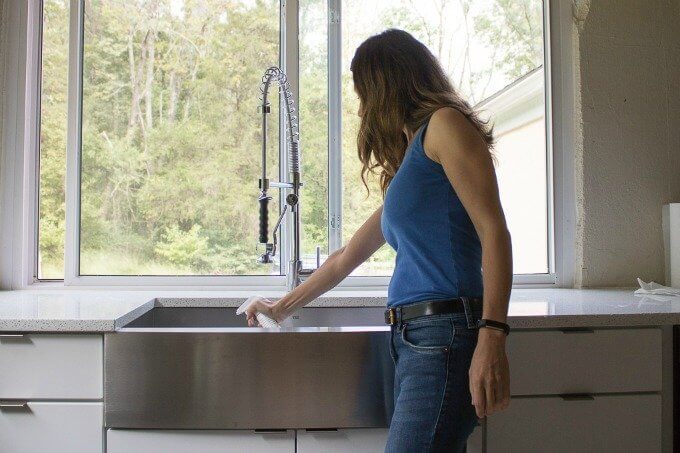 Step 8 – Wipe the outside of the sink with a damp paper towel or cloth.
I used Scott® Paper Towels – 6 CT Mega Roll for this tutorial and easily found it at Family Dollar in the paper goods aisle.
Thank you for reading and following along and special thanks to Scott® for sponsoring this cleaning tutorial!
Our Other Recipes and Posts
Latest posts by Sara Maniez
(see all)