Mother's Day is almost upon us and what better way to show you care than to make something special for your amazing Mom? These Strawberry Lemonade Cupcakes are a semi-homemade but utterly delicious Mother's Day treat full of tangy lemon and strawberry flavors.
Strawberry Lemonade Cupcakes
Our cupcakes are a tantalizing blend of lemon and strawberry. Usually, a recipe like this would take hours from start to finish. However, since we are using the semi-homemade method, preparing this sweet little treat is easy-peasy. Because let's face it, you want to make something unique for Mom, but you want to spend time with her too.
Disclosure: Some links in this post are affiliate links which means I earn a commission if you purchase through them at no extra cost to you. I only recommend brands and products that I 100% like and enjoy using. Thank you in advance for your support!
Ingredients for Strawberry Lemonade Cupcakes
Lemonade Cupcakes
Strawberry Buttercream Frosting
Kitchen Tools Needed for this Recipe
Using the pre-made products makes everything simpler while making the homemade frosting adds to the feeling that you worked hard on creating a special dessert. Simply, follow the directions on the box for the cake mix and then add the lemonade mix for that extra kick of lemonade in every bite.
The blender or food processor will completely emulsify the strawberries, but you will still want to take a moment to strain the berries. Straining them ensures there are no seeds in the frosting. That happens to be the hardest part of the recipe. With a few simple steps, you can prepare semi-homemade dessert that's full of flavor; which, is something Mom is sure to love.
Strawberry Lemonade Cupcakes
Yield: 18 Cupcakes

Prep Time: 40 minutes

Cook Time: 20 minutes

Total Time: 1 hour

These Strawberry Lemonade Cupcakes are a semi-homemade but utterly delicious Mother's Day treat full of tangy lemon and strawberry flavors.
Ingredients
Lemonade Cupcakes
1 18.25 Ounce Box of Cake Mix
1/2 Cup Vegetable or Canola Oil
3 Large Grade A Eggs
1 Cup Water
1 Ounce Lemonade Mix
Strawberry Buttercream Frosting
1 Cup Fresh Strawberries, (4 Tablespoons pureed)
4 Cups Powdered or Confectioner's Sugar
2 Sticks Butter, (16 Tablespoons)
Instructions
Lemonade Cupcakes
First, preheat your oven to 350 degrees F. and remove the butter from your fridge to soften.
Next, prepare the cake mix according to the directions on the box. Usually, this means combining the mix, oil, eggs, and water in a large bowl and mixing until well blended.
After the ingredients are blended, add one ounce of lemonade mix to the cake batter and stir it in.
Now, line your cupcake pan with decorative liners and pour the batter into the pan. Use a 1/4 cup measuring cup to transfer the mixture.
Last, place the cupcakes into your preheated oven for approximately 12 to 15 minutes. When the timer goes off, pull them from the oven and put them on a cooling rack for about 20 minutes.
Strawberry Buttercream Frosting
Start by putting the fresh strawberries into a blend or food processor. Pulse them until they are completely pureed. 
Next, strain the berries to remove any seeds or skins. Use a spoon to push the mixture through the strainer. You have about four tablespoons once this is done.
Afterward, in a stand mixer or large mixing bowl with a hand mixer, combine the softened butter and powdered sugar. Blend the ingredients until the frosting is smooth and creamy.
Then fold the strawberries into the frosting until they are completely incorporated. 
Lastly, with cupcakes cooled, load the buttercream into a frosting bag or using a butter knife, ice the tops of the cupcakes with delicious frosting. They are now ready to serve. 
Notes
The calories listed on this recipe card are an approximation. It should be noted the prep time on the recipe card includes time for the cupcakes to cool. If they are too warm with the frosting is added, it will melt. If the frosting begins to melt when applied to the cupcakes then place the buttercream in the refrigerator for about 15 minutes to firm. The cupcakes can be stored in your fridge for up to two days. 
Nutrition Information:
Yield: 18
Amount Per Serving:Calories: 380

Please note that the Calculated Nutrition is an estimate at best.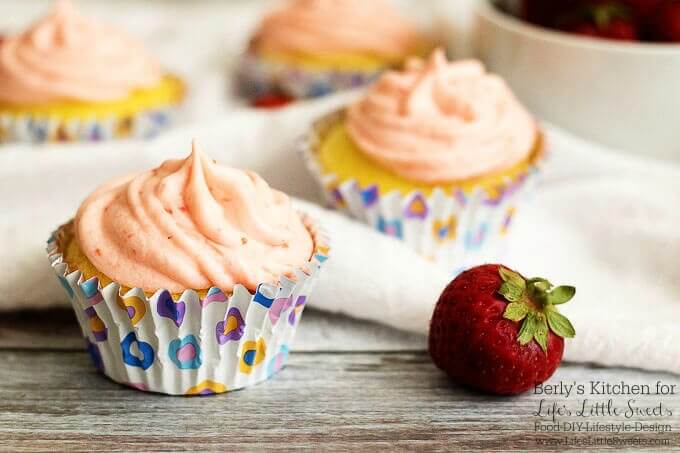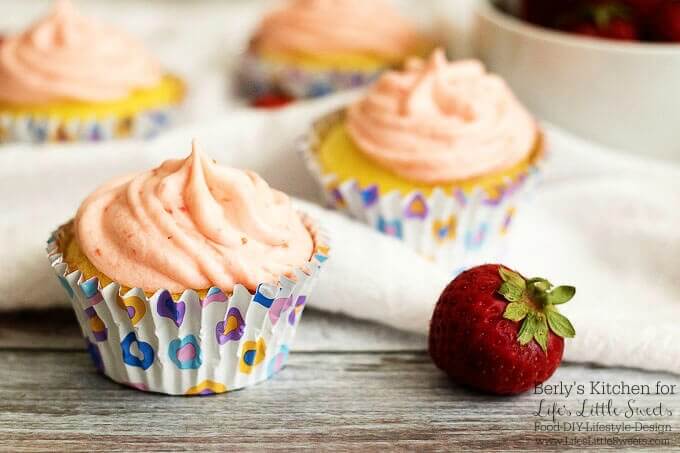 Browse our Recipe Index and our new Contributor page where you can meet the LLS recipe contributors!
What's your favorite food on Mother's Day? Please let me know in the comments below!
Pin This! ⇓
Latest posts by John Vargo
(see all)