Organic CSA Share Box Week 10 – Sharing my bi-weekly, CSA share box from Roots to River Farm (Mid-Late October).
Estimated reading time: 5 minutes
Organic CSA Share Box Week 10
Hi Everyone, it's time to share about our bi-weekly, local, organic CSA (Community Supported Agriculture) share from Roots to River Farm.
I hope you have been enjoying this seasonal, local produce series!
This week we got some extras like this triple crème cheese, sourdough bread and blueberry jam.
We have lots of root vegetables in this CSA share box.
DID YOU SEE MY LAST POST ON OUR LAST SHARE BOX?
If not, you can catch it here, Organic CSA Share Box Week 9, and our previous weeks: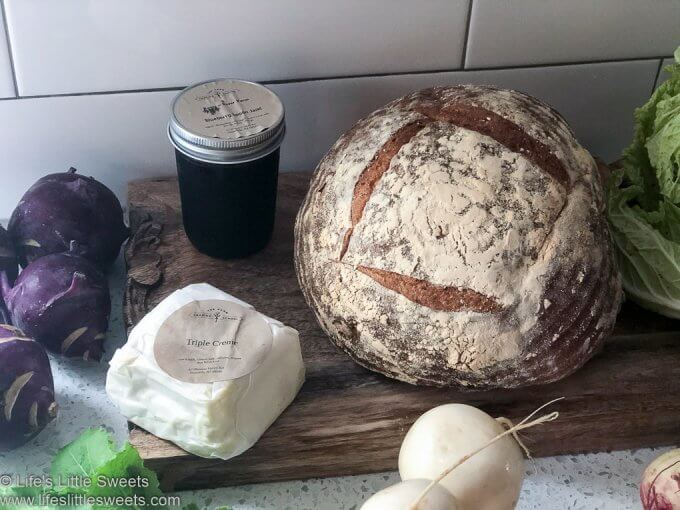 WHAT WAS IN OUR CSA SHARE BOX THIS WEEK
Every other week, I pick 5 items to be in my CSA box share, here's what I picked for this week:
Napa Cabbage (1 head): Thinking about making Cabbage Steaks or Sautéed Cabbage
Radicchio (Red, 1 head): We have made Tri Color Salad in the past, I love it in salads, it's great sautéed too.
Purple Kohlrabi (4 bulbs): We have made Air Fryer Kohlrabi Fries, and I want to make Roasted Kohlrabi, it's also great as a slaw, shredded, sautéed or added to salad.
Watermelon Radish (1 bunch): We have made Air Fryer Watermelon Radish Chips and we have made Roasted Radishes (with Daikon Radish)
Hakurei Turnip (1 bunch): I want to try these roasted, I think they would make great chips in the air fryer and of course the greens are totally edible too.
Extras (made by The Farm Cooking School)
For this CSA share box, I picked out some extras:
Sourdough Bread
Blueberry Spoon Jam
Triple Crème Cheese
I would love to know what seasonal produce you get in your area from your local farms and what you like to make with it.
What would you make from this produce? Let me know in the comments below at the end of the post.
Recipes on the Blog Popular Now
Check out our Recipe index and DIY index and visit our Home page to view our latest posts and our Shop to see our favorite kitchen tools!
Thank you for reading and following along!
Latest Posts
Latest posts by Sara Maniez
(see all)