Citrus Honey Ginger Tea is an invigorating, fresh, hot, tea drink to help banish winter health woes and it is our go-to cold & flu remedy.
Estimated reading time: 6 minutes
Citrus Honey Ginger Tea
Hi Everyone, Is it me, or for the past two months does it seem like everyone has been sick?
My family and I are *finally* feeling better after a few rounds of colds – thank goodness!
Today, I am sharing the cold and general wellness tea remedy that my family has been making to get us through: Citrus Honey Ginger Tea.
This recipe uses fresh ingredients to make a hot tea drink versus ready-made tea from a box.
We sometimes need to go above and beyond to banish those energy-zapping illnesses, my friends, and this is one of those times!
Gather up some lemons, limes, fresh ginger root, coconut oil (optional), and raw creamed honey, and let's do this!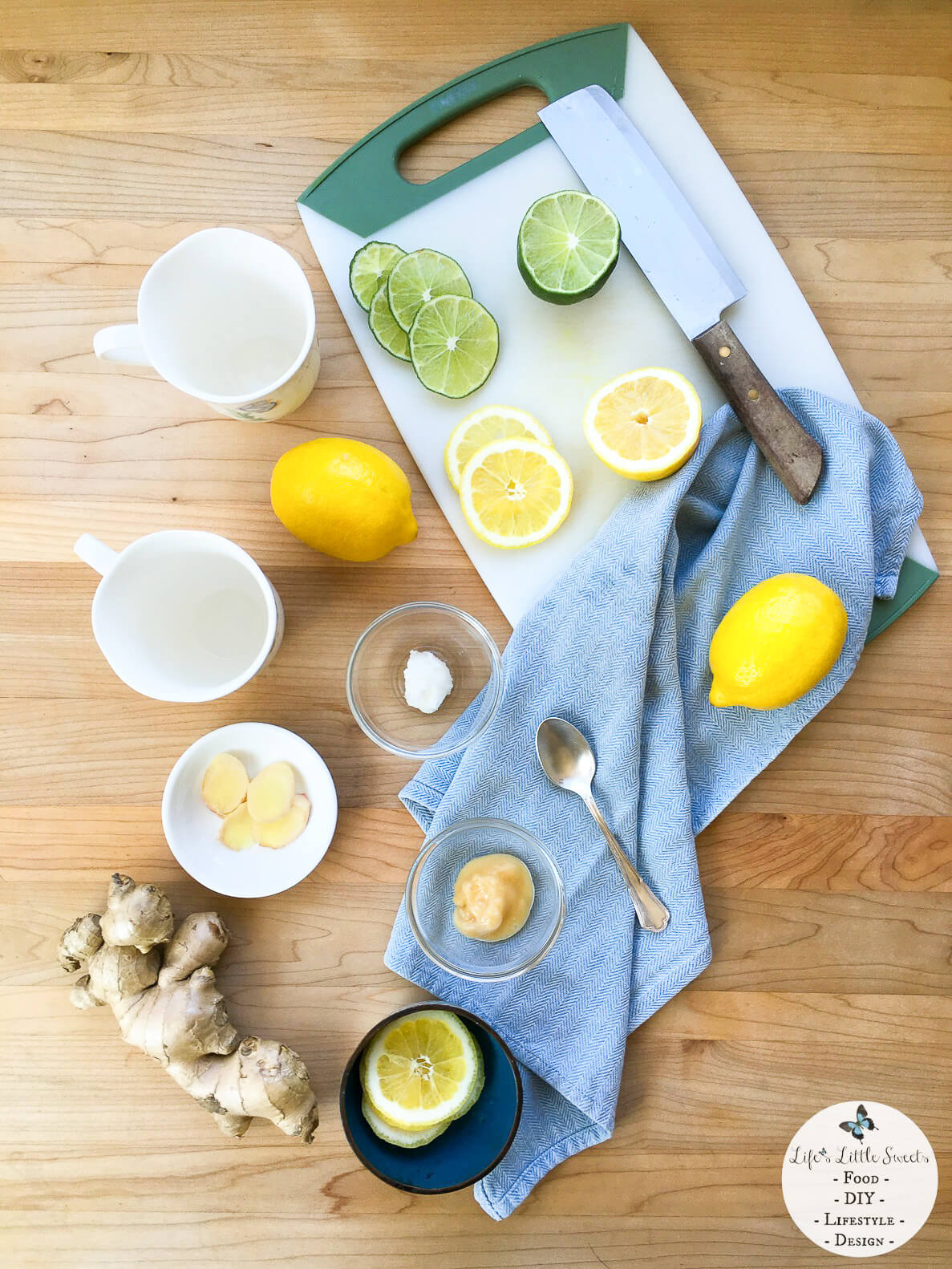 I say that the coconut oil is optional for a good reason.
I am one of those coo-coo "coconut oil people" that puts the stuff in everything – this habit started when I was pregnant when I had a nutritionist and was "hyper into" getting good fats into everything I ate – every chance I had (and I still am but perhaps not with the same intensity that comes with being in the "pregnancy state of being").
Everyone has different preferences and dietary needs at different points in their life, not to mention some people don't like drinking coconut oil in beverages, like, say, my husband Eric – drinking beverages with coconut oil grosses him out.
To tell you the truth, it took some getting used to for me when I first started adding it to my coffee (what I mainly add it to besides cooking & baking with it).
If coconut oil is not your thing, no worries, just skip it!
I am not a nutritionist or in the health care sector at all but I can speak to my (and my husband's) personal experience that drinking a cup of Citrus Honey Ginger Tea a few times a day (at the most) when we had our colds several times over the past 2 months – it alleviated the symptoms of our congestion and at the very least, made us "feel" slightly better while we drank our tea.
Even if you don't have a cold, maybe just feeling a little lethargic, the kinda cloudy day might bring, this can lighten things up and make you feel warm and bright again.
I did some internet research on the health benefits of every ingredient in Citrus Honey Ginger Tea and below are my findings.
Ingredients
1 cup hot water
1 tablespoon fresh squeezed lemon juice, or to taste
1 tablespoon fresh squeezed lime juice
1 tablespoon organic honey
2 slices or to taste fresh sliced ginger
1 teaspoon organic virgin coconut oil
Kitchen Tools
heat safe mug
tea kettle
spoon, for stirring
measuring spoons and cups
peeler
cutting board
chef's knife
Web Story
Health Benefits
Lemon: As a refreshing drink, lemonade helps you to stay calm and cool. The health benefits of lemons are due to their many nourishing elements like vitamin C, vitamin B6, vitamin A, vitamin E, folate, niacin thiamin, riboflavin, pantothenic acid, copper, calcium, iron, magnesium, potassium, zinc, phosphorus, and protein. – organicfacts.net

Lime: The health benefits of lime include weight loss, skincare, improved digestion, relief from constipation, eye care, and treatment of scurvy, piles, peptic ulcer, respiratory disorders, gout, gums, urinary disorders, etc. The first fruit that comes to mind in terms of medicinal uses is reliable lime. – organicfacts.net

Organic Raw Honey: Raw honey is never strained, filtered, or heated. Research suggests it's loaded with many trace minerals, organic enzymes, antioxidants, plus antibacterial and anti-fungal properties that make it a powerful package of health. Its rich origins mean that it's loaded with a more interesting taste and flavor. – doctoroz.com

Ginger (root): Ginger has a long history of use for relieving digestive problems such as nausea, loss of appetite, motion sickness, and pain. The root or underground stem (rhizome) of the ginger plant can be consumed fresh, powdered, dried as a spice, in oil form, or as juice. – medicalnewstoday.com

Coconut Oil: Coconut oil is made by pressing the fat from the white "meat" inside the giant nut…Coconut oil's saturated fat is made up mostly of medium-chain triglycerides, or MCTs…Fans of coconut oil point to studies that suggest the MCT-saturated fat in coconut could boost your HDL or "good" cholesterol…Coconut oil does have antioxidants, compounds that may help reduce the risk of disease. -webmd.com *I chose this article because it balanced out the "hype" surrounding coconut oil, I think including it in my diet in small, reasonable amounts can be helpful and apart from the possible internal health benefits, as a moisturizer, it really helps dry skin – especially when I'm sick 🙂
Above is a photo collage showing how to make Citrus Honey Ginger Tea start to finish 🙂
Our Other Tea & Drink Recipes
Latest Recipes and Posts
Citrus Honey Ginger Tea
Citrus Honey Ginger Tea is an invigorating, fresh, hot, tea drink to help banish winter health woes and it is our go-to cold & flu remedy.
Ingredients
1 cup hot water
1 tablespoon fresh squeezed lime juice
2 slices or to taste fresh sliced ginger
Instructions
Bring water to boil in your tea kettle. Place lemon juice, lime juice, honey, coconut oil (optional), and ginger slices in the bottom of your favorite tea mug.
Carefully pour hot water over the ingredients. Stir until ingredients are dissolved. Add additional slices of lemon and lime, if desired. Enjoy!
Nutrition Information:
Yield:

8
Serving Size:

1
Amount Per Serving:
Calories:

19
Total Fat:

1g
Saturated Fat:

0g
Trans Fat:

0g
Unsaturated Fat:

0g
Cholesterol:

0mg
Sodium:

2mg
Carbohydrates:

4g
Fiber:

0g
Sugar:

2g
Protein:

0g
Please note that the Calculated Nutrition is an estimate at best.
Latest posts by Sara Maniez
(see all)