Chocolate Chip Cookies (DF + SF): Dairy-free, Soy-Free & only 7 ingredients!
Estimated reading time: 6 minutes
Chocolate Chip Cookies (DF + SF)
This recipe uses coconut oil + Madhava Coconut Sugar, Enjoy Life Semi-Sweet Chocolate Mini Chips (these are dairy-free, nut & soy free!).
This was my first time baking with Enjoy Life Semi-Sweet Chocolate Mini Chips and they are great to bake with.
They are dairy-free, nut, and soy-free as well as being Non-GMO Project verified.
I found them after researching chocolate chips without soy lecithin.
The chocolate is tasty and there is no noticeable difference between these and regular chocolate chips, except for the mini size which is, well, cute:)
Short of making my own chocolate (a subject for another post someday?), this is the next best thing to getting soy-free chocolate morsels, they also come in a larger chunky size which I haven't tried but look good as well.
I have a sweet tooth, I like sweet things but sweet does not always have to mean refined, white sugar.
I am always on the lookout for more natural alternatives to sugar (Check out Honeyed Non-GMO Cornbread).
In this recipe, I used Madhava Coconut Sugar (also Non-GMO Project verified) as an alternative to refined white or brown sugar.
It looks similar to brown sugar and it can be used in a 1:1 ratio as a replacement for regular sugar.
It is as sweet as sugar but has a more natural, rich flavor to it.
I had a sensitivity to dairy in my early twenties and for some reason, I do not anymore.
I try to avoid dairy that has any added sugar, flavors, or extra processing. When I do have dairy I go for organic and full-fat dairy products.
It sounds weird to say "full fat" because I grew up during the "no fat" craze and remember drinking skim milk throughout my childhood, I also used to pick the cheese off pizza and avoided butter for YEARS.
Fast forward to recent years when I learned that processed foods can take a toll on one's health, my food state of mind is everything in moderation, and strive for whole and unprocessed foods whenever possible.
We got off to a rough start but can I just say I am so glad I am finally friends with butter!
Okay, so why am I posting my Dairy-Free Chocolate Chip Cookie recipe as I am loving on butter?
While my dairy "sensitivity" drifted in and out of my life (I don't even know if it was definitely lactose intolerance), my husband, Eric, on the other hand, is lactose intolerant and has been his whole life, starting in early childhood.
I sympathize and want him to be able to enjoy yummy cookies and other good food and not have to suffer for it.
Food is not fun if you can't enjoy and experience it together 🙂
Ingredients for Chocolate Chip Cookies (DF + SF)
2-1/4 cups flour
3 teaspoons baking powder
1 cup coconut oil, (room temperature-very important!)
1-1/2 cup Madhava coconut sugar
1 teaspoon vanilla extract
2 eggs
1-10 ounce package of Enjoy Life Semi-Sweet Chocolate Mini Chips
Helpful Kitchen Tools
measuring spoons and cups
mixing bowls
baking spatula
medium cookie scoop
regular spatula
parchment paper or silicone baking mat
rimmed baking sheets
Web Story
Recipe Tips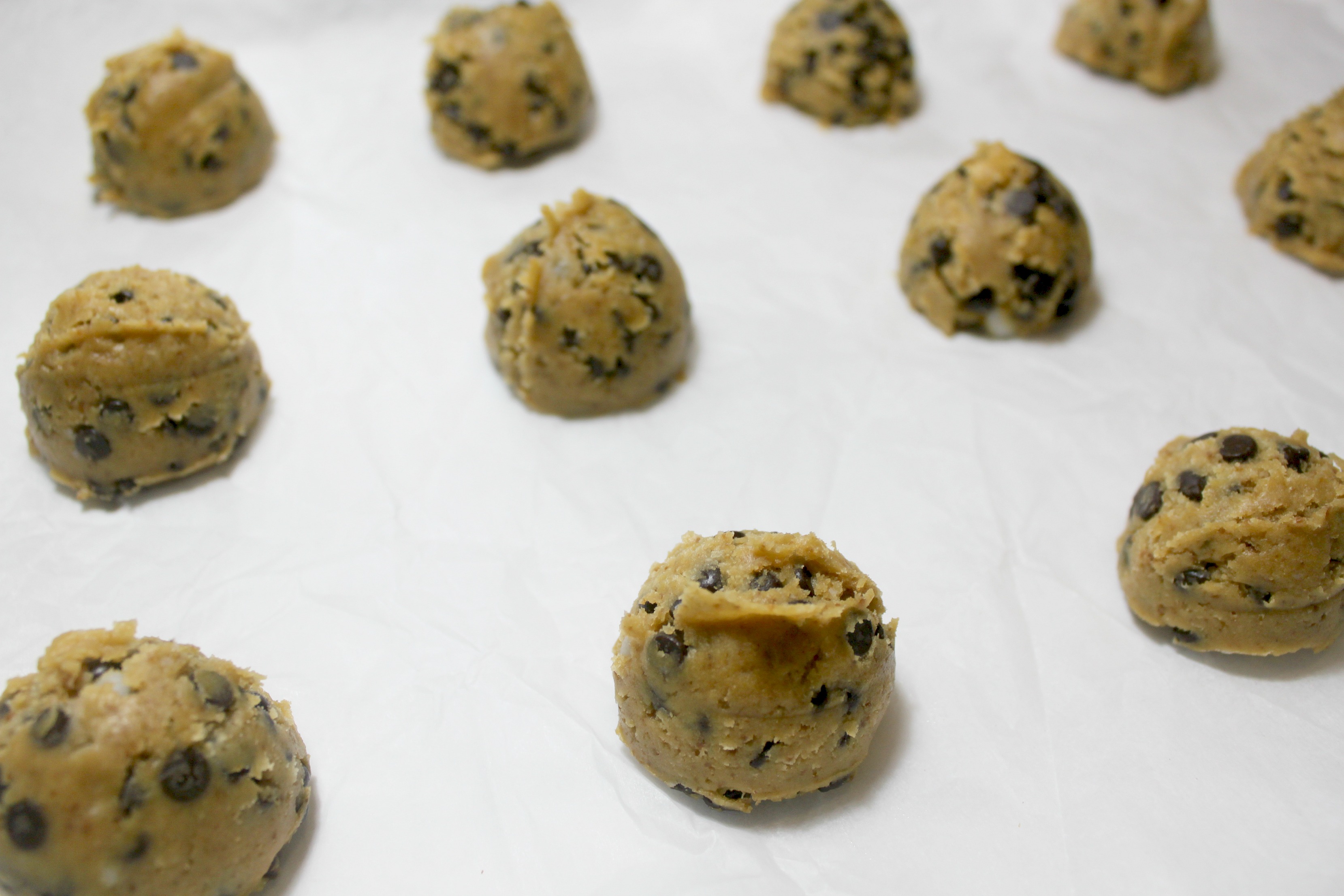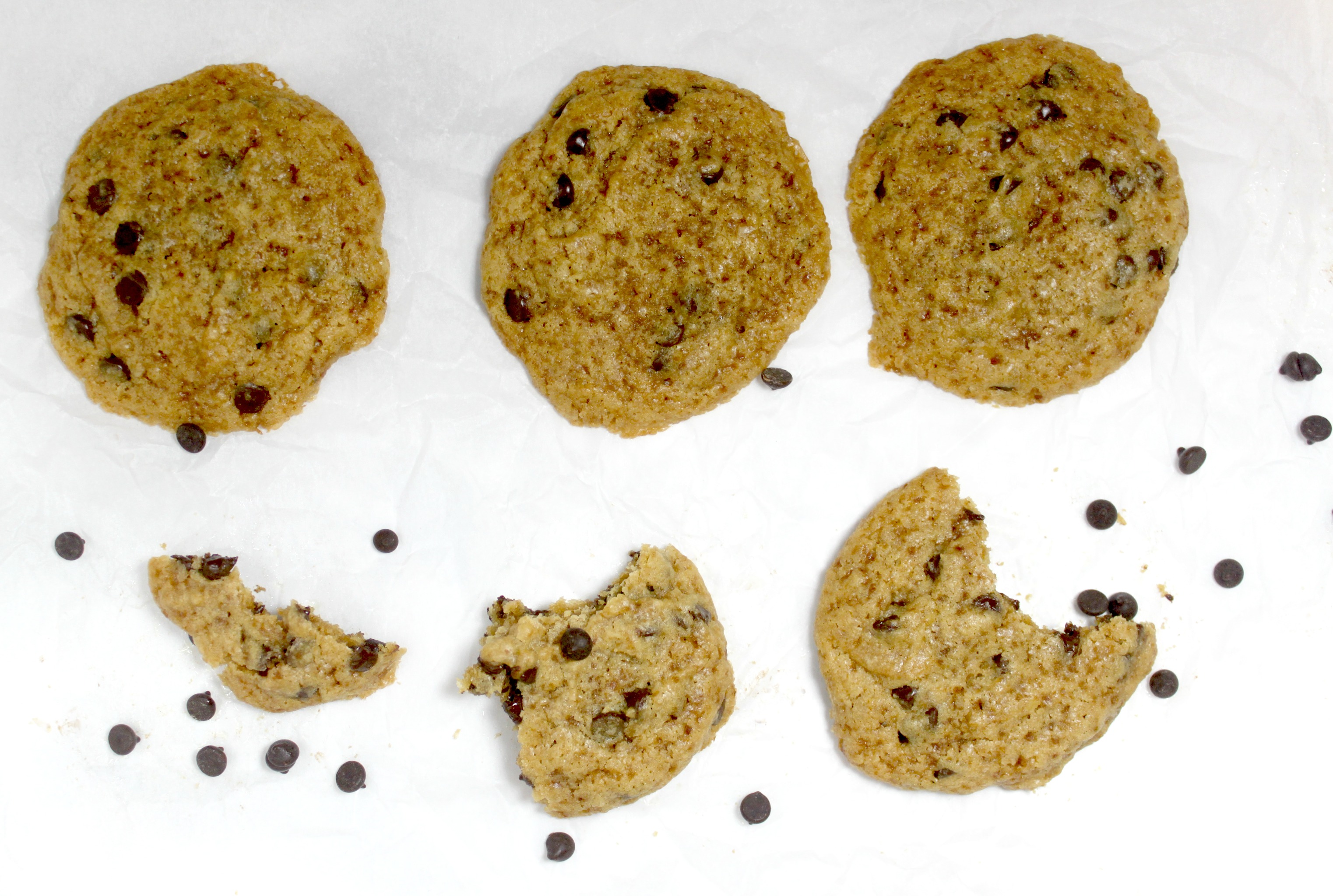 Recipe Notes, Alternatives and Thoughts
With this particular recipe, I do not recommend refrigerating the dough, unless it's already scooped into preformed dough balls. The dough is easy to handle at room temperature and when this dough is cold, it makes it difficult to scoop – can you tell I already tried this?
These cookies come out softer when baked for 12 minutes (see above cookie bites photo collage) and slightly drier but still soft when baked for 14 minutes (see below picture with blue striped plate with milk). Remember to keep the oven door shut during baking 🙂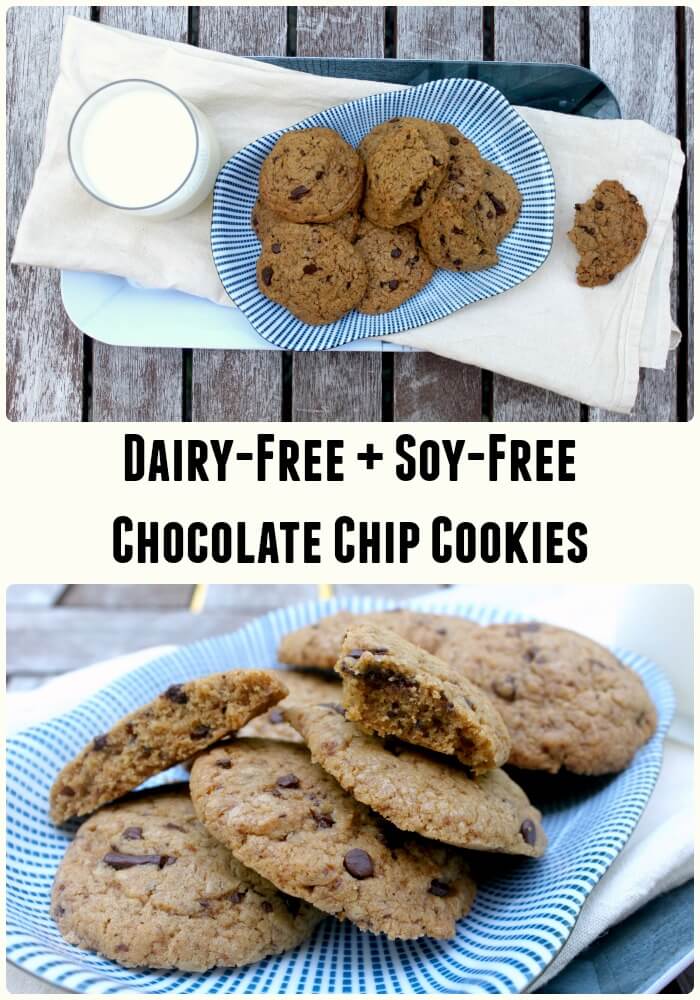 Best Wishes & Happy Baking!
Latest Recipes and Posts
If you like this recipe, you might also want to check out some of our other recipes:
Chocolate Chip Cookies (DF + SF)
Dairy-free, Soy-Free & only 7 ingredients!
Ingredients
Instructions
Make sure all ingredients are at room temperature before starting. Line 2 cookie sheets with parchment. Preheat oven to 350 degrees F. Mix flour and baking powder in a small mixing bowl and set aside.
Put coconut oil in a large mixing bowl and mix on medium-high for 30 seconds. Add the Madhava coconut sugar and vanilla, mix until creamed, stopping to scrape down sides to ensure even mixing. Add eggs and mix until combined. Add flour in 1/2 cup at a time until combined, stopping to scrape sides down, if necessary. Add Enjoy Life Semi-Sweet Chocolate Mini Chips.
Using a medium cookie dough scoop, scoop cookies onto a cookie sheet, evenly spaced because they will spread, 12 dough balls to a sheet. Bake 12-14 minutes. Yield will depend on the size of the scoop and how generously proportioned they are.
Nutrition Information:
Yield:

30
Serving Size:

1
Amount Per Serving:
Calories:

231
Total Fat:

11g
Saturated Fat:

8g
Trans Fat:

0g
Unsaturated Fat:

2g
Cholesterol:

12mg
Sodium:

60mg
Carbohydrates:

32g
Fiber:

1g
Sugar:

18g
Protein:

3g
Please note that the Calculated Nutrition is an estimate at best.
Latest posts by Sara Maniez
(see all)