Estimated reading time: 7 minutes
This Apple Cider Vinegar Drink Recipe has water, apple cider vinegar, mint leaves, optional thyme, optional Wildflower honey, and optionally served with ice. A healthy, tasty, and refreshing alternative to regular water, especially during hot weather! (enjoy hot or cold, gluten-free, makes 1 serving)
Estimated reading time: 7 minutes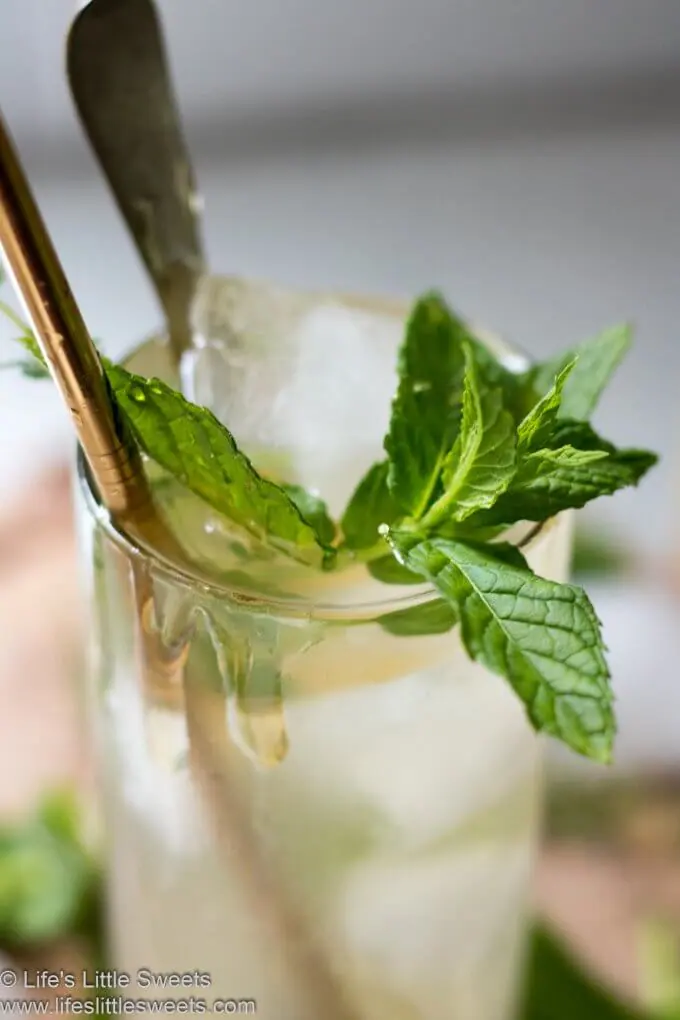 Apple Cider Vinegar Drink Recipe
Hi Everyone, are you looking for a healthy drink besides regular water?
You have to try this Apple Cider Vinegar Drink recipe or you could also call it Apple Cider Vinegar Lemon Mint Water.
I make sure to answer a bunch of questions that you may have about apple cider vinegar and you can check them out below (quick links in the table of contents).
Ingredients
1 cup cold water
fresh juice from 1 lemon, use more or less based on your taste preferences for acidity
1-2 teaspoons apple cider vinegar
1-3 fresh mint leaves
1 Thyme sprig, optional
1 tablespoon Wildflower honey, optional
ice, optional
What are the health benefits of drinking apple cider vinegar (diluted)?
Here are some health benefits of drinking apple cider vinegar (diluted, in a safe amount per day).
it can improve digestion and is a natural laxative
it can lower blood sugar levels
it can improve insulin sensitivity
it is said to reduce belly fat (in combination with proper diet and workouts)
it can lower blood pressure and improves heart health
it is said to lower cholesterol
Why do I drink (diluted) apple cider vinegar?
Personally, I like to drink it on a hot, humid day and it has the effect of clearing my head.
It has a tangy flavor and it allows me to drink more water when I do not feel like drinking water.
I find that this recipe has a cooling effect on the body.
What are the side effects of drinking apple cider vinegar?
Here are some possible side effects from drinking apple cider vinegar (source: healthline.com):
Delayed stomach emptying
Digestive side effects (general)
Low potassium levels and bone loss
Erosion of tooth enamel
Throat burns
Skin burns
Drug interactions
Always make sure that it is diluted before drinking!
What does apple cider vinegar taste like?
Apple cider vinegar diluted in water tastes tangy, clean, sharp, and slightly sweet – this is just my opinion.
What do you think it tastes like, let me know in the comments at the end of the post.
What herbs can I use with this recipe?
I love using any edible, fresh, garden herb that is fragrant.
You can use mint (Spearmint, peppermint or other favorite kind of mint species), thyme, basil, or rosemary.
What kind or brand of apple cider vinegar is good for this recipe?
The higher quality vinegar you have the better!
I currently enjoy using Bragg Organic (raw, unfiltered) Apple Cider Vinegar and it is gluten-free.
So, far, I haven't found a better brand than that and I really enjoy it for this recipe and others for adding a fresh, tangy flavor to food and drinks.
How much water do you mix with apple cider vinegar?
You can mix 1–2 tablespoons (15–30 ml) of apple cider vinegar with 1 cup (237 ml) of plain water.
It is said that ingesting undiluted vinegar of any kind can damage your throat and esophagus, so make sure it's always mixed with water.
How do you drink apple cider vinegar for weight loss?
I will first say that this is not a weight loss blog at all and you should consult your doctor before implementing any advice.
According to the Healthline website, I heard that the amount of apple cider vinegar, used for weight loss, is about 1–2 tablespoons (15-30 ml) per day, mixed with water.
They say that it is good practice to spread this out into 2–3 doses throughout the day, and it may be best to drink it before meals.
I have heard that it makes your digestion slower and that it's best to consume ACV on an empty stomach instead of a full stomach.
Again, I would ask your healthcare professional first if this is right for you.
Can I drink apple cider vinegar every day?
Although drinking diluted apple cider vinegar on a daily basis can have health benefits for some people, they say not to consume over 8 ounces (237 ml) per day (diluted, of course) over the course of many years because it may contribute to low blood potassium levels and osteoporosis.
If you are not used to the taste, I recommend starting with a small amount and work your way up.
Can I drink apple cider vinegar with normal water?
Yes, you can.
You can also try this recipe with sparkling water.
Kitchen Tools
2-cup wet measure
measuring spoons and cups
colander, for washing herbs
tall glasses
long spoon, like a cocktail spoon, for stirring
ice maker
If you make this recipe, and like it, please give it a rating in the recipe card below and let us know in the comments at the end of the post.
Latest Posts
Thank you for reading and following along!
Check out our Recipe & DIY indexes, visit our Home page to view our latest posts & categories, visit our Blog page to see our posts in consecutive order and, our Shop to see our favorite kitchen tools!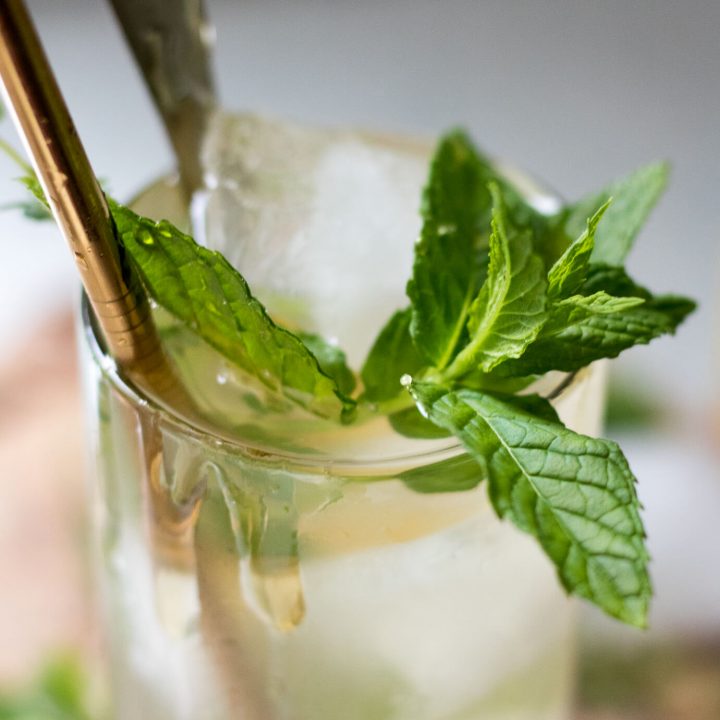 Apple Cider Vinegar Drink Recipe
This Apple Cider Vinegar Drink Recipe has water, apple cider vinegar, mint leaves, optional thyme, optional Wildflower honey, and optionally served with ice. A healthy, tasty, and refreshing alternative to regular water, especially during hot weather! (enjoy hot or cold, gluten-free, makes 1 serving)
Ingredients
1 cup cold water
fresh juice from 1 lemon, use more or less based on your taste preferences for acidity
ice, optional
Other Optional Herbs
Instructions
In a tall glass, add cold water, apple cider vinegar, fresh lemon lemon juice, washed mint leaves, optional thyme sprig, stir in optional wildflower honey or sweetener of choice. Add ice, if you wish, and enjoy!
To Have Hot: In a mug, add apple cider vinegar, lemon juice, washed mint leaves, and optional honey. Pour hot water (heated to 170 degrees F, for white tea) over the ingredients and stir until combined. Add optional thyme sprig, remove the leaves if you wish or keep them in for a stronger tea. Enjoy!
Notes
This recipe makes 1 serving, however, you can make a larger amount of this, just keep the ratios of the ingredients the same and multiply by number of servings
Option to use dried herbs: You can use dried herbs in place of fresh herbs, if fresh ones are not available, just make sure that they are contained in a T-Sac (tea bag) and generally, dried herbs are stronger so you would want to use them in a 1 (dried herbs):3 (fresh herbs) ratio. I linked with affiliate links to dried herb options, in the ingredient list here in the recipe card.
A Note on Herbs: I suggest just picking 1-2 herbs so that the recipe is not too over-powering in scent and flavor. Some herbs may have medicinal properties, please check with your healthcare provider, if you have any questions or concerns about the effects of the herbs on your body/system.
Nutrition Information:
Yield:

1
Serving Size:

1
Amount Per Serving:
Calories:

118
Total Fat:

1g
Saturated Fat:

0g
Trans Fat:

0g
Unsaturated Fat:

0g
Cholesterol:

0mg
Sodium:

24mg
Carbohydrates:

32g
Fiber:

5g
Sugar:

21g
Protein:

2g
Please note that the Calculated Nutrition is an estimate at best.
Latest posts by Sara Maniez
(see all)