Estimated reading time: 7 minutes
Whisks are a must-have in every home and professional kitchen. When we think about a whisk, we normally think about the most common balloon whisk. However, there are many different kinds and they all have different purposes.
Whisks are among one the most common kitchen tools. That is because they have so many different purposes. They can mix, stir, and even mash.
Whether you're baking a cake or trying out a new salad dressing, there is a certain whisk that will help you.
What Is a Whisk?
First off, this kitchen utensil has a handle at one in and some kind of stirring mechanism on the other. It can be wired looped together at the end or straight rods with balls at the tips. They can be used to mix, stir, fold, and blend ingredients in your recipe.
The following are some of the most common types of whisks used every day at home and they're also in professional kitchens.
Balloon Whisk
A balloon whisk is the most common of the eight. It is the one that you will normally see at the stores. It has a wide head that is perfect for most common kitchen tasks and creates more airflow and movement than some of the other kinds.
Balloon whisks can be used for whipped cream, egg whites, eggs, and mixing other wet ingredients.
Dough / Danish Whisk
To all of my fellow bakers, this is the best option for you. A dough whisk is designed to effortlessly cut through thick batters but also gently fold in other ingredients.
It can be used for sticky batters and bread doughs.
Mini / Bar Whisk
Imagine your traditional balloon whisk, but smaller, and you've got a mini whisk. They're perfect for when you're creating a small portion of food unless it is thick or hard to whisk. They're small in size, so they're easy to store and can be put right into a kitchen drawer
They can be used for whisking eggs, dressings, like a vinaigrette, or different alcoholic drinks at the bar.
Nonstick / Silicone Whisk
A nonstick whisk is yet another form of a balloon whisk. However, this time it is the same size, the only difference is that the wires are made out of silicone so that it's safe for nonstick pots and pans. Silicone can also be used to cover the metal, which ends up making it a little stronger than plain silicone.
They're great for making things like sauces and gravy.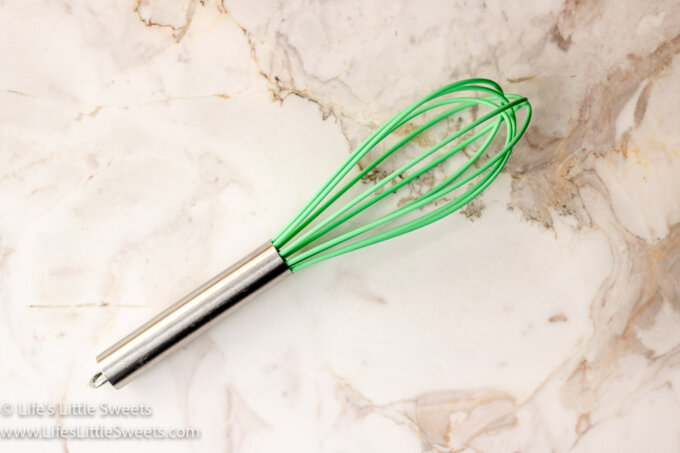 Ball / Kettle Whisk
A ball, kettle, and whisk have straight wires with small balls at the tips, instead of looping around. They're great for when you're needing a tool that can help you get certain things out of tight corners.
They do have silicone versions that you can get that you can use on nonstick pans.
Ball whisks are particularly good to use for soups, sauces, and other condiments.
French Whisk
Think balloon whisk, but slimmer and you have a French whisk. Since they're slim which helps get things out of tight corners. However, the wires are a little closer together, which makes it somewhat harder to clean.
They're used for batters, custards, and sauces.
Flat Whisk
A flat whisk gets its name from just that, being flat. It is signed to help scrape the edges of mixing bowls, pots, etc without having any waste. It can also help with stirring, mixing, and getting things out of tight spaces.
They're used for gravy and certain sauces.
Sauce Whisk
A sauce whisk has a bar that runs from the handle to spirals, or coils, at the other end. It helps quickly and effectively stir sauces without making a mess or making large motions. It is great for stopping sauce burn at the bottom of the pan.
They're used for sauces, dips, and salad dressings.
Related Posts
Latest Posts
First published: 4/10/2023
Latest posts by Allison Lancaster
(see all)