This shop has been compensated by Collective Bias, Inc. and its advertiser. All opinions are mine alone. #CollectiveBias #NatureMadeWellness
Having guests over? Let's talk about ideas for welcome gifts for the guest room. I have some ideas to make your guests feel welcome, comfortable, and right at home.
Estimated reading time: 8 minutes
Welcome Gifts for the Guest Room
Hi Everyone, beautiful Autumn is here with all the hustle and bustle. Friends, it's the calm before the busy, frenetic and fun holiday season. With all those gatherings the holidays bring, it is quite possible that you will have guests over this upcoming holiday season. Why not be prepared and enter the season with some grace and by showing your guests some love with thoughtful guest room favors. I have some ideas and thought-starters for making your guest(s) feel right at home; check out the list below to get some ideas!
The Key to Success
To make any guest feel welcome, think about them and their particular interests. Remember their tastes, what they like and what is seasonally appropriate. Before shopping or just gathering what you are going to populate your guest room with, take a few moments to think about the person you are preparing your guest room for.
#1 – Candles (scented or unscented)
Candles are a great way to make a guest feel at home with the warm and cozy atmosphere it provides. They can be scented with a fresh scent or perhaps you know the favorite scent your guest would like. Keep in mind that you might want an unscented candle if someone has a sensitivity to scents. I personally love candles and they are so nice for setting a calm mood and atmosphere. I find them particularly nice in the Autumn to Winter months as the weather gets cooler.
#2 – Essential Oil Diffuser
Just in keeping with the idea of scent – you can put an essential oil diffuser in your guest room. You can make your guest room seem like a spa and transport your guest with the scents of essential oils. I am relatively new to essential oil diffusers, but I am already like, "where have you been my whole life?". They can just totally change the atmosphere of a room by what essential oils you are diffusing.​
#3 – A Sweet Treat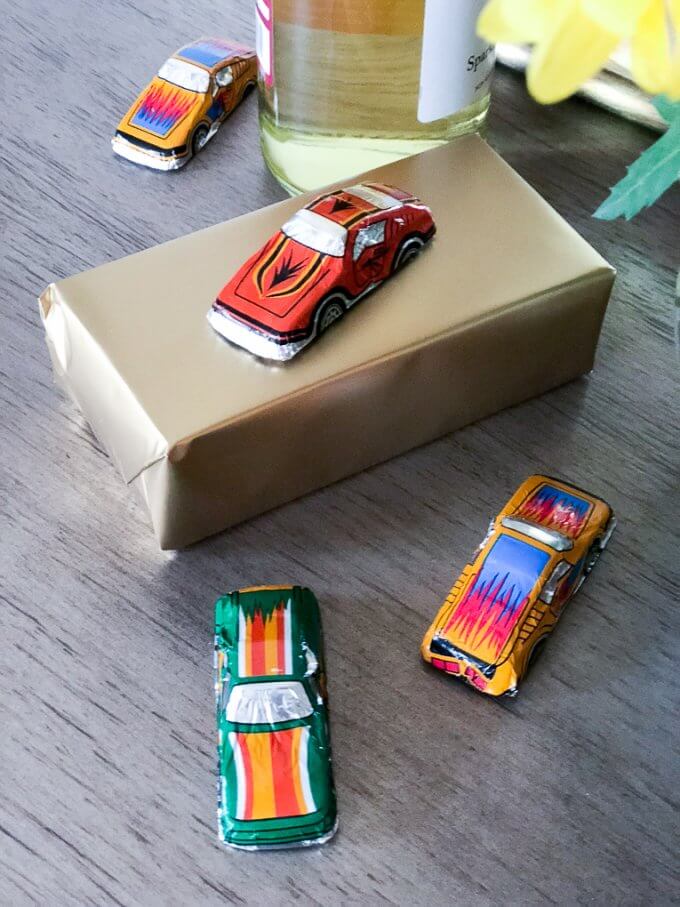 Depending on the tastes of your guest, you might want to include their favorite candy. For example, my Mother-in-Law, loves dark chocolate covered fresh blueberries from a particular candy store in the area. I got her these ahead of an overnight stay at our house. I had the candy store wrap the chocolate box in gold paper and you can see it pictured in the photo along with chocolate wrapped candy cars too (our family likes cars, so I thought that would be fun). Keep in mind the tastes of your guest(s), know what they love and enjoy – that is key. You might have someone that enjoys another kind of sweet, perhaps something other than chocolate. Which leads me to…​
#4 – Fresh Fruit
Having seasonal fresh fruit available is a nice touch – and healthy too! For example, it's the height of apple season here, so I have included fresh apples from a recent apple picking trip. Whatever the type of fruit, make sure it's fresh, delicious and already washed.
Speaking of fresh, that leads me to…
#5 – Fresh Flowers
Seasonally appropriate flowers are wonderful and cheer up any room. Make sure your guest is not allergic to flowers, as some people are. The flowers do not need to be expensive, they can be just wildflowers from your yard or garden. You could do dried flowers too, if that's easier but fresh flowers shows an extra effort. ​

#6 – Nature Made® Melatonin Adult Gummies and Vitamin D3 Adult Gummies
We all want happy guests, right? I know when I travel, I sometimes have forgotten my vitamins and I am so bummed out. I want my guests to feel assured that they are going to have a good sleep. That's why I put Nature Made® Melatonin Adult Gummies in the guest room. These gummies are great tasting and an easy way to help support sleep.†​ They provide 2.5 mg of melatonin!Like my mom always says, "A well-functioning immune system is foundational for your health." So, I put Nature Made® Vitamin D3 Adult Gummies ​in the room too. I learned that Nature Made® Vitamin D3 Adult Gummies helps support bone, teeth, muscle and immune health.†​ These gummies contain 2000 IU of vitamin D3 per serving​ and D3 is also the body's preferred form of vitamin D!* Growing up, my parents always took vitamins and instilled getting proper nutrition in me. Next time they visit, I will be ready for them with these Nature Made® Gummies 🙂
I found both products near the Pharmacy section at Walmart.

#7 – Something to Drink
I think it's a great idea to include a refreshing drink just for your guest upon arrival. Since it's Autumn, I bought sparkling cider but of course, I would say, tailor it to your guests tastes. Try to find out what they like. Having bottles of water in the room is also a nice touch.
#8 – Include a Note
Include a note of welcome and/or thanks for your guest. It's always nice to get a hand-written note from someone. It can be on plain paper, but bonus points for something hand-crafted or special. You can also mail them a note recapping the visit and then they will get it when they get home – what a nice surprise that would be.
#9 – More Ideas
Other ideas can include, but not limited to: books for reading, a special gift you know your guest will like, fresh guest towels, candy or snack bars, guest passes to your gym or a local gym, maps of the area (if they are not familiar), guest soap, seasonal decor, etc. – the sky's the limit and the more personal your welcome gifts for the guest room, the better!
† These statements have not been evaluated by the Food and Drug Administration. These products are not intended to diagnose, treat, cure or prevent any disease.
*Vitamin D3 is more effective than vitamin D2 at raising and maintaining adequate levels of circulating vitamin D in the body.†​
Latest posts by Sara Maniez
(see all)