Here is a typical, weekly Family of 3 Grocery Haul from this month's week of May 11th, 2016 at Stop & Shop. Check out a video of showing every item and our total cost below!
Estimated reading time: 3 minutes
Family of 3 Grocery Haul
This is the very first grocery haul shared here on Life's Little Sweets.
I like watching grocery hauls from other bloggers like Mama Natural or Pretty Wee Things and have wanted to share one for a while.
I go through every item in the video and I originally shared this grocery haul on Snapchat (follow @lifeslilsweets).
(My voice is a little misaligned with the video – sorry about that!)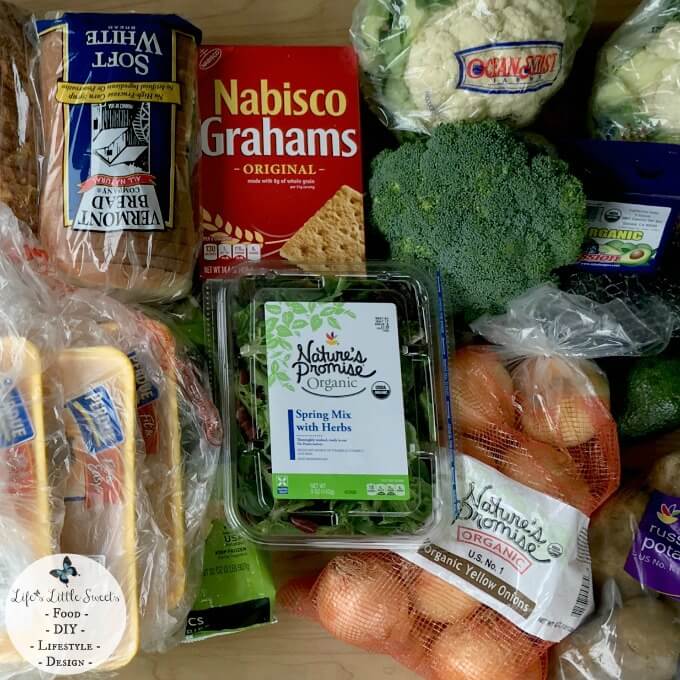 Coupons, Rewards Cards & Grocery Stores
I think sharing one of my family's typical grocery hauls is a great way for you to get to know some of the typical things we buy, our habits, about us in general, etc.
I share exactly how much this grocery haul costs too further below!
I do not practice "extreme couponing" and I use coupons if they are convenient and relevant to what I buy.
I make sure to plan ahead by always having a list before I enter the store of exactly what I need so that I never get sidetracked.
Having a list ready before you shop also makes it easier if I am shopping with my toddler daughter which is usually the case!
I also go to the same stores regularly and alternate between certain grocery stores.
This haul is from Stop & Shop but Shop Rite is another I frequent as well.
I use each store's rewards card every time I shop as well and will purchase items that are on sale/special if I am presented with the choice.
Do We Meal Plan?
At this point, we do not meal plan and I do not practice freezing meals ahead of time.
I will have a rough idea of what I want to make for the week and go with that.
With the way I cook, I have gotten to the point where I can put together a dinner in 30 minutes or under an hour based on the food I buy and how I prepare it.
The Grocery Haul Total Cost
The total cost, including tax for this week's Family of 3 Grocery Haul is $126.19.
This does not include 1-2 extra trips I may do in any given week if I am buying fresh fish for a dinner that same day or picking up the specific item(s) for a recipe post for the blog.
I hope you enjoyed this Family of 3 Grocery Haul post and video!
Thank you for reading and watching!
Latest Posts
Latest posts by Sara Maniez
(see all)