This shop has been compensated by Collective Bias, Inc. and its advertiser. All opinions are mine alone. #ElevateSuperFoods #CollectiveBias
Let's talk about How To Get Your Afternoon Back & how my family loves salad for dinner – try having Salad for Dinner with Ready Pac elevĀte Salads at Wegman's. I saved time that I would have spent preparing dinner and instead spent the afternoon having fun with my family :D Check out the Snapchat story clip of my husband Eric on a unicycle below to see what we did with our extra free time!
Estimated reading time: 7 minutes
Salad For Dinner
If you follow my Instagram feed, you will know that it is common practice in my family to have salad for dinner. Our salads usually consist of a healthy variety of greens, various vegetables and sometimes a protein (usually chicken or fish) on top.
When I do not know what to make and have run out of ideas, I make salad for dinner. When I want to eat clean, I make salad for dinner. When we eat too much around the holidays and need to detox, we make salad for dinner. When in doubt – it is always, salad for dinner!
[bctt tweet="How To Get Your Afternoon Back & Salad For Dinner with Ready Pac elevĀte Salads at Wegman's #ad #ElevateSuperFoods#CollectiveBias @elevate_foods @Wegmans" username="lifeslilsweets"]
I usually do my grocery shopping for the whole week, early in the week on Sunday or Monday. I went to my local Wegman's and picked up Organic Sunny Caesar and Organic Southwest Salad Ready Pac elevĀte Salads. I make most of our meals from scratch but I do like to have some items on hand for when I get behind, or if I am tired or have a lack of time. I plan on sharing a typical grocery haul post soon so keep a eye out for that!
About Ready Pac elevĀte Salads at Wegman's
The ingredients in Ready Pac elevĀte Salads at Wegman's are vegan, non-GMO Project verified (something that I have mentioned many times on this blog before!), Certified gluten free and USDA organic.
Their superfood line of

8 salad recipes

feature ingredients like ancient grains, plant-based proteins, nutrient-dense greens, nuts, legumes, and seeds that are rich in

omega 3 and 6 fatty acids

and full of naturally occurring vitamins and antioxidants.
They are Non-GMO Project Verified, Organic or Gluten Free and

they never use antibiotics

in their chicken. To me, these salads are a win on so many levels!
Ready Pac elevĀte Salads Have Clean Ingredients
I love all the clean and healthy ingredients in the Ready Pac elevĀte Salads, they are:
Anti-oxidant rich
High in omegas
Includes Plant-based proteins
5 of the 8 are USDA Organico
7 of the 8 are Gluten-Free
3 include Antiobiotic-free chicken
3 are vegetarian
1 is 100% vegan
Ready Pac elevĀte Salads Align with my #RecyclingGoals
The packaging is fully recyclable packaging, are printed with Soy-based inks and are FSC Certified material. After we were done with dinner, I just gave the packaging a rinse and put it in my recycling bins. No dirty dishes to deal with and it was easy as pie!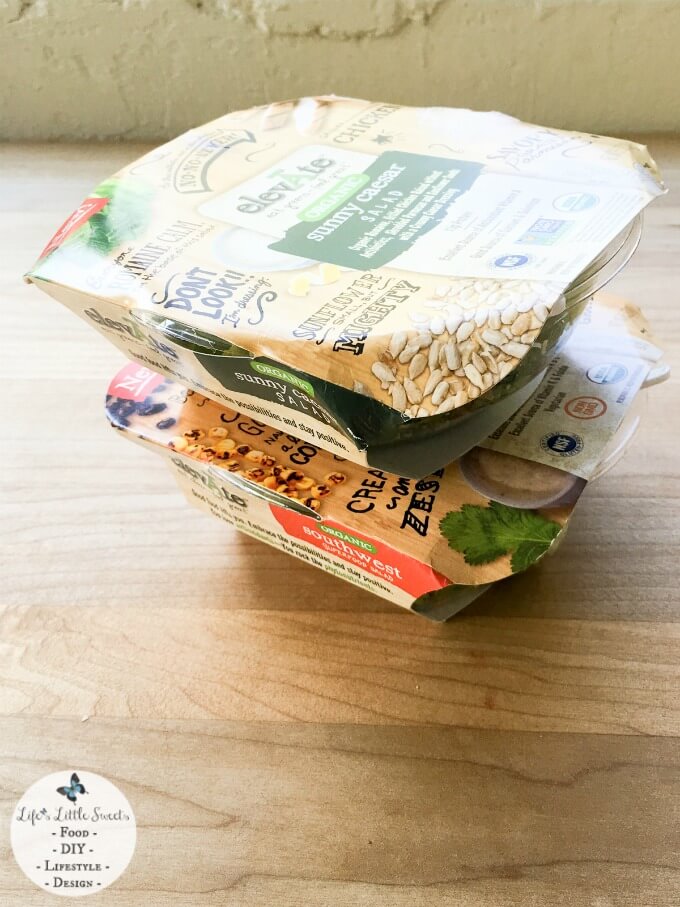 How I Got My Afternoon Back & You Can Too!
I was so tired after a blogging conference I went to this past Saturday (stay tuned for a whole post about that). Early in the week, on Monday, I did my grocery shopping as usual and picked up the Organic Sunny Caesar and Organic Southwest Ready Pac elevĀte salads.
Monday afternoon, I just wanted to enjoy some time with my family since I was gone all of Saturday. I normally start cooking around the time Eric gets home from work in the afternoon. Now that we have more daylight, I have been pining to get outside more with him and my daughter and enjoy the days.
The weather is really getting gorgeous here in New Jersey, although still a little cool, it's a nice preview of the Summer to come. In the picture below, Eric goes up and down our driveway – on a unicycle – much to the delight and entertainment of my daughter 🙂
Eric has many talents and it very athletic. Check out this video of him on a unicycle from my Snapchat (follow @lifeslilsweets).
Eric enjoyed the
Organic Sunny Caesar
S
alad
and I had the
Organic Southwest Salad
, they were so good! I can also see these as perfect salads to
bring to work
.
I was able to spend quality time with my family, enjoy the gorgeous weather and get outside of the kitchen!
Thank you for reading and special thanks for Ready Pac elevĀte Salads at Wegman's for sponsoring this post!
Do you ever have a salad for dinner? If so, what kind(s) of salads do you like to make? Please let me know in the comments below!
Latest posts by Sara Maniez
(see all)