This recipe requires only four ingredients (flour, yeast, salt, and water – how pure is that?), a little handling of the dough and with minimal effort, the result is fresh bread – you baked yourself!
Estimated reading time: 8 minutes
No-Knead Bread
Hi Everyone, bread can be simple and easy to make and it's amazing that most people do not realize this – I certainly did not!
Freshly baked bread is a far superior experience compared to commercially produced bread with all those additives and preservatives.
This recipe post was originally published on 4/9/2015 and updated and republished with new photos on 3/30/2021
How I Started Baking This Bread
Baking bread always intimidated me – perhaps it is the idea of working with yeast that seemed unpredictable and the rising time involved.
It seems like more work than it really is.
Yes, there is rising time, a minimum of 3 hours, plus 30 mins or so for the second rise but one can do other things during that time and just plan around it.
This bread recipe is very forgiving because I have left out it for several hours more than the minimum for the first rise and it still came out great.
I found with every loaf, I became more practiced and confident in my bread baking abilities.
I decided several months ago, to bake our own bread instead of buying it from the grocery store but we still buy some bread from local bakeries and grocery store-bought.
Reasons for baking our bread versus Store-bought
to reduce and cut out the amount of processed food we eat by making our food from scratch
to save some money on the grocery bill
to learn, enjoy and feel comfortable baking bread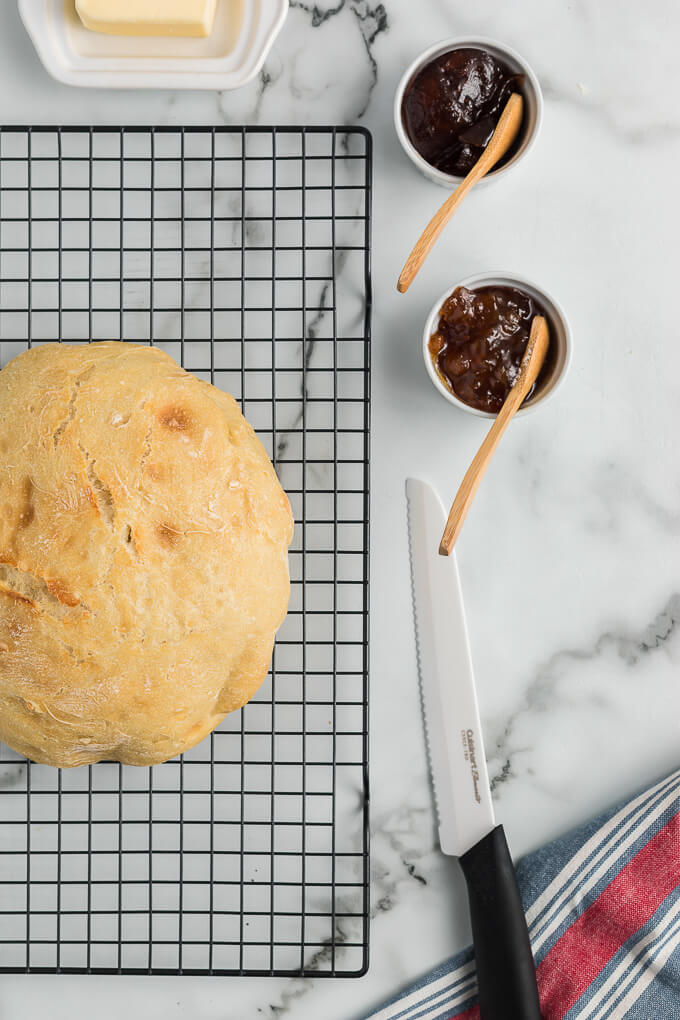 How Often to Bake This Bread
Depending on the season, I bake this bread a couple of days a week and bake 1-2 loaves and I also enjoy baking other types now but this particular recipe is so simple and easy that it has become our staple bread for many meals.
A "Gateway" Bread Recipe
This super-simple no-knead bread recipe was my "gateway bread" recipe to baking bread and I hope it will become your staple bread too or at least a fun activity to try!
Ingredients
3 cups of flour, with extra for the board, I love Hodgson Mill, Non-GMO Project Verified Flour or King Arthur Organic Unbleached All-Purpose flour
About 1/4 teaspoon dry active yeast, (check the date, make sure it's fresh), I use Hodgson Mill Fast-Rise Yeast
About 1 teaspoon of kosher salt or preferred type of salt, (for taste), I use Morton Kosher Salt
1-1/2 cups of hot water, 130° F, I use water hot out of the tap, make sure you do not boil or it will kill the yeast.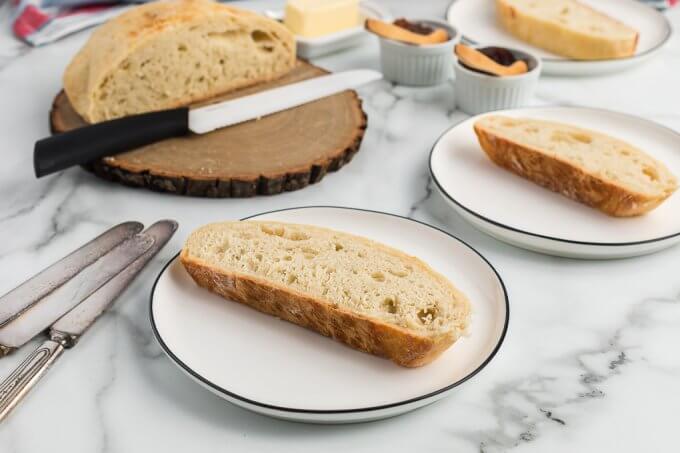 Kitchen Tools
measuring spoons and cups
2-cup wet measure
digital kitchen thermometer
2 large mixing bowls
parchment paper
dough scraper (flexible and stiff)
pastry board surface (to work the dough on)
Dutch oven
bread knife
cutting board
bread keeper or large, airtight container for storage
What Kind of Dutch Oven To Use
Please note that you will need a Dutch Oven for this recipe or an oven-safe pot (up to 450° F) with a lid, make sure the handle on the lid is oven safe!
I have had great results with my Calphalon Unison Dutch Oven or Lodge Dutch Oven but there are many others out there as well.
I recommend also using a pastry mat and bench or dough scraper.
I link to all the helpful kitchen tools in the recipe card at the end of the post.
Recipe Notes, Alternatives, and Thoughts
You can try a different type of flour, I have used wheat on many occasions with success. I find that wheat flour seems drier and add a few tablespoons of water extra.
Room temperature butter or extra virgin olive oil with salt, pepper, and other desired spices are nice accompaniments for this bread.
If you have the taste for something sweet try some Nutella and fruit or use it for making French toast.
This bread works well when making strata.
Recipe Attribution
Jenny Jones inspired me to attempt making bread on a regular basis with her faster no-knead recipe.
She also has a great video and shows you how to make the bread.
Latest Recipes and Posts
Let Us Know How Your Bread Comes Out
If you make "No-Knead Bread" and post a picture on social media, be sure to #lifeslittlesweets and link back to the post, thank you in advance!
If you make this recipe, and like it, please give it a rating in the recipe card below and let us know in the comments at the end of the post.
Check out our Recipe & DIY indexes, visit our Home page to view our latest posts & categories, visit our Blog page to see our posts in consecutive order and, our Shop to see our favorite kitchen tools!
Thank you for reading and following along!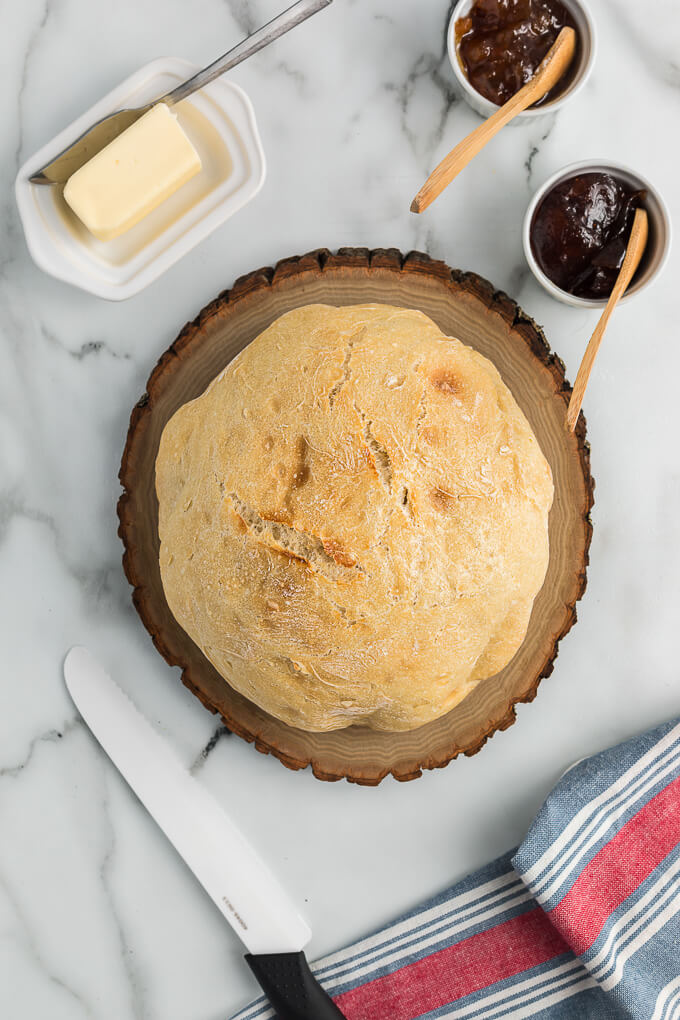 No-Knead Bread
Yield:
11 slices (1 loaf)
Additional Time:
3 hours
30 minutes
Total Time:
4 hours
20 minutes
This recipe requires only four ingredients (flour, yeast, salt, and water – how pure is that?), a little handling of the dough and with minimal effort, the result is fresh bread – you baked yourself!
Instructions
In a large mixing bowl, add 3 cups flour, 1/4 teaspoon active dry yeast, and salt, and whisk to combine.
In a 2-cup wet measure, add 130-degree water, then add it to the dry ingredients.
Mix the water and dry ingredients until combined.
Cover and allow to double in size (about 3 hours).
When the dough has doubled in size, turn the dough out on a floured surface. Using a dough scraper turn the dough over about 11 times.
Put a piece of parchment (large enough to go beyond the edges of the bowl) in a large mixing bowl. Return the dough to the mixing bowl, cover, and allow to rise 30 minutes.
Put a lidded Dutch oven in the middle rack of the oven. (Make sure the knob on the rim is oven safe!) Preheat the oven to 450 degrees F.
When the oven is preheated and the dough is ready, carefully take the Dutch oven out of the oven, (make sure to use oven mitts!). Place the dough with the parchment paper in the Dutch oven and cover. Return the Dutch oven to the oven. Bake for 30 minutes with the lid on and then 10 more minutes with the lid and parchment paper removed.
When the bread is done, allow it to cool on a wire rack for 5-10 minutes before serving. Enjoy!
Nutrition Information:
Yield:

11
Serving Size:

1 slice
Amount Per Serving:
Calories:

168
Total Fat:

1g
Saturated Fat:

0g
Trans Fat:

0g
Unsaturated Fat:

0g
Cholesterol:

0mg
Sodium:

302mg
Carbohydrates:

35g
Fiber:

1g
Sugar:

0g
Protein:

5g
Please note that the Calculated Nutrition is an estimate at best.
Latest posts by Sara Maniez
(see all)