This plant based Chocolate Strawberry Lassi is a great alternate to an Indian yogurt drink. It is so hydrating along with being creamy and refreshing.
Chocolate Strawberry Lassi
It's a regular drink in India especially during the hot weather. Since it is a tropical country this beverage is mostly enjoyed all year round. Lassi is a native drink of North India and it's a must in the mornings. Originally Lassi is only a combination of yogurt, sugar, and water/ice. Over the years we have derived many variations and today I present a new variety of this hydrating beverage Chocolate Strawberry Lassi.
We are generally fond of yogurt and therefore my fridge is stocked with a variety of plant based yogurt alternatives. However, I never tried a vegan version of lassi. Hence, this was a good chance for me to create vegan lassi and enjoy it while remembering my childhood days. To my surprise I was able to bring out the exact taste of lassi along with some twist.
Strawberries are at its peak so definitely these berries were in my mind. However, with the addition of little cocoa powder this lassi became kid-friendly as well. I was so happy seeing my daughter drinking it happily and praising it all the time. My entire family loved it and approved of this beverage. In fact they demanded me to make it every day until its super warm outside. So, I have to make a grocery trip today to stuff my refrigerator with the awesome ingredients again.
Ingredients for Chocolate Strawberry Lassi
2 cups plain vegan yogurt (almond/coconut/soy)
1 cup unsweetened almond milk
½ tbsp. unsweetened cocoa powder
2 tbsp. pure maple syrup
1 cup chopped fresh strawberries
1 cup crushed ice
Disclosure:  Some links in this post are affiliate links which means I earn a commission if you purchase through them at no extra cost to you.  I only recommend brands and products that I 100% like and enjoy using.  Thank you in advance for your support!   
Useful tools needed for Chocolate Strawberry Lassi
A knife
A cutting board
A spoon
A blender
Serving glasses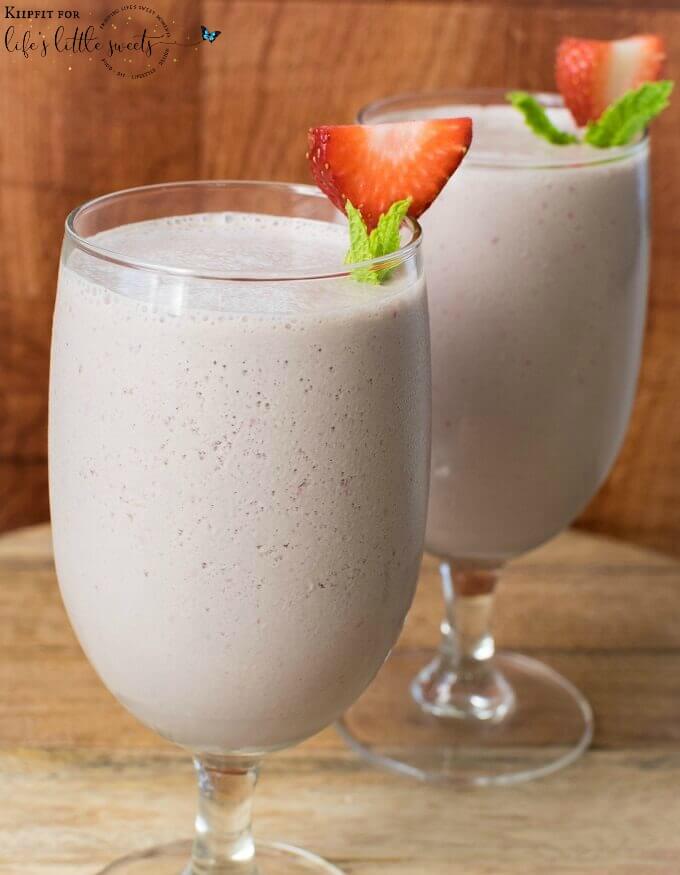 Chocolate Strawberry Lassi is a great alternative to smoothies as well. Sometimes, we get bored of the same combination and flavors every day. At that time this Chocolate Strawberry Lassi comes in handy to bring a change to your taste buds and yet provide you with the same nutrition and flavor.
Well, now I will insist you to get to your kitchen and quickly blend this lassi and enjoy it as much as we did. I am sure Chocolate Strawberry Lassi is going to be your next favorite beverage.
Chocolate Strawberry Lassi
This plant based Chocolate Strawberry Lassi is a great alternate to an Indian yogurt drink. It is so hydrating along with being creamy and refreshing.
Ingredients
2

cups

vegan plain yogurt

(almond/coconut/soy)

1

cup

unsweeetetend almond milk

1/2

tbsp

unsweeetetend cocoa powder

2

tbsp

pure maple syrup

1

cup

chopped fresh strawberries

1

cup

crushed ice
Instructions
In a blender combine all the ingredients and blend it smooth.


Pour the lassi into the serving glasses and garnish with mint leaves and some strawberries pieces.

I am Gunjan Dudani from kiipfit.com. In my blog I share healthy vegan recipes that I create in my own kitchen. My fascination with healthy and vegan recipes began over two years ago, when I realized that as a result of being over-weight I had developed certain health related complications. I understood that the one way I could improve my health and set an example for my little daughter to follow was to transform my diet. But I also knew that no transformation in my diet could be sustainable unless what my family and I ate are also delicious and fun to eat. And hence, kiipfit was born! Over the past two years I have gained thousands of followers and my recipes have been featured in some of the leading blogs and food journals of the country.
Latest posts by Gunjan Dudani (see all)