Disclosure: This shop has been compensated by Collective Bias, Inc. and its advertiser. All opinions are mine alone. #DogsLoveNutrishDISH #CollectiveBias
This DIY No-Sew Fleece Dog Bed is the easiest dog bed you will ever make! Customize it with you favorite solid or patterned fleece and upcycle an old standard pillow you already have. Your dog(s) will love their new, fluffy bed!
Estimated reading time: 7 minutes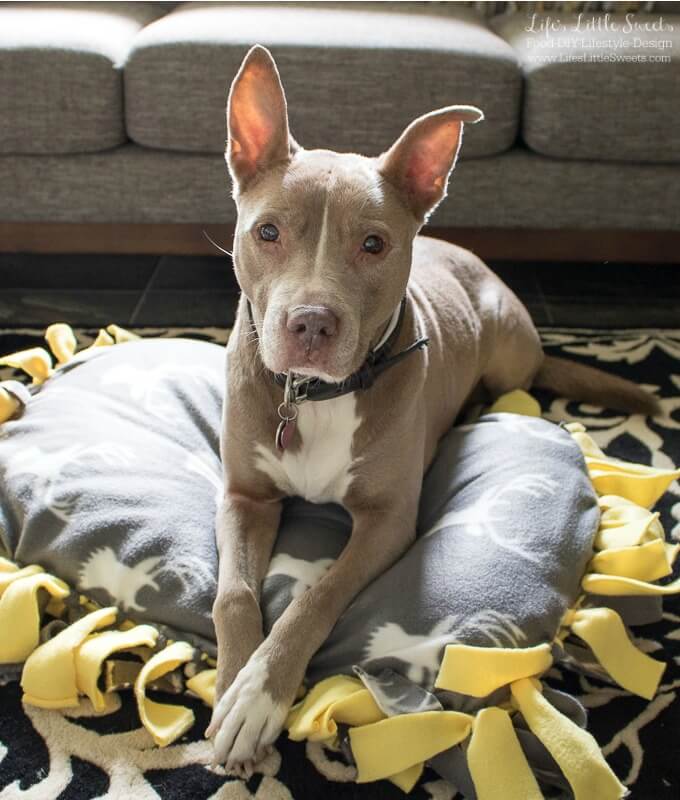 DIY No-Sew Fleece Dog Bed
Hello Everyone, I love this DIY No-Sew Fleece Dog Bed and I am so happy to share it with you! It's the easiest DIY dog bed tutorial you will come across and you can create a cute, new dog bed for your furry friend in hardly any time at all.
Our dog Cayli is the star of this DIY and she loves Rachael Ray™ Nutrish® DISH Dog Food. P.S. – I have a coupon for you! (Coupon Details: Save $4.00 on DISH, the coupon is good through this year, they can print 2x and it's not applicable online – must be redeemed in-store.)
This DIY No-Sew Fleece Dog Bed uses a standard (20 x 26 inches) pillow size. It's perfect if you have an extra in your house or are replacing your bed's pillows, why not upcycle it and make a dog bed for your pet?
This DIY No-Sew Fleece Dog Bed is perfect because it's light and portable and since it's so easy to make, you will want to make one for every room!
Cayli was a rescue dog and I have told her story before on the blog. She deserves all the love we can give her and as soon as we gave her this dog bed, she knew it was hers and has been sleeping with it every night! I want to make her another for other rooms.
It's actually the perfect size for our other, smaller dog Chloe, a Miniature poodle, but Cayli seems to like sleeping with it. It would be easy enough to double the size to make it larger and just use 2 pillows for larger dogs.
About Rachael Ray™ Nutrish® DISH Dog Food
I learned that Rachael Ray™ Nutrish® DISH Dog Food has real U.S. farm raised chicken or beef is the first ingredient, whole ingredients and their ingredients are safely USA cooked.
About Rachael's Rescue®
Rachael's Rescue® was created for all of the forgotten pets – the ones who might not have someone who loves them as much as they deserve. A portion of proceeds from each sale of Nutrish is donated to The Rachael Ray Foundation, which helps animals in need through Rachael's Rescue. Through December 2016, Rachael's Rescue has donated more than $17.5 million dollars to pet charities and other organizations that do good for animals. The funds are used for food, medical supplies, treatments, and more for animals in need. Many more animals around the country need help, and through Rachael's Rescue, together we can make a difference in the lives of many four-legged friends.
Cayli loves munching on the DISH Beef & Brown Rice Recipe flavor of Rachael Ray™ Nutrish® DISH Dog Food.
DIY No-Sew Fleece Dog Bed Step-By-Step Tutorial
Step #1 – Gather your tools & materials
scissors for cutting through 2 layers of fleece
2 yards of fleece material – you can do 2 of the same or 2 different fleece solids or patterns, you can match the colors of the decor of the room that you want to have the dog bed in.
1 standard pillow (20 x 26 inches)
Step #2 – Cut the fleece
Layer the 2 yards of fleece on top of each other. Place the pillow centered in the middle and using scissors, cut 1 inch strips almost to the pillow. It doesn't need to be exact but try to have even strips. When you get to the corners, you can either cut the corner out or just cut around in a "sunburst" pattern.
Step #3 – Tie the fleece
Tie the fleece into double knots making sure that the 2 pieces are lined up correctly. Leave 1 edge open so you can place the pillow in the middle.
Step #4 – Stuff the fleece with the pillow
Sandwich the standard pillow right in the middle of the pocket created by the knotted fleece and double knot the last edge. If you want to trim the edges shorter you can. I left them long and only trimmed any uneven edges. Give this to your dog to snuggle with!
To learn more about Rachael Ray™ Nutrish® DISH Dog Food, visit here
How would you customize this dog bed? Please let me know in the comments below! Best, ~Sara
Pin This! ⇓

Latest posts by Sara Maniez
(see all)