Disclosure: This shop has been compensated by Collective Bias, Inc. and its advertiser. All opinions are mine alone. #PerfectLunchbox #CollectiveBias
These Grilled Peanut Butter and Jelly Sandwich Bites are a new twist on a classic snack – the perfect snack for after school! (6 minutes, serves 1)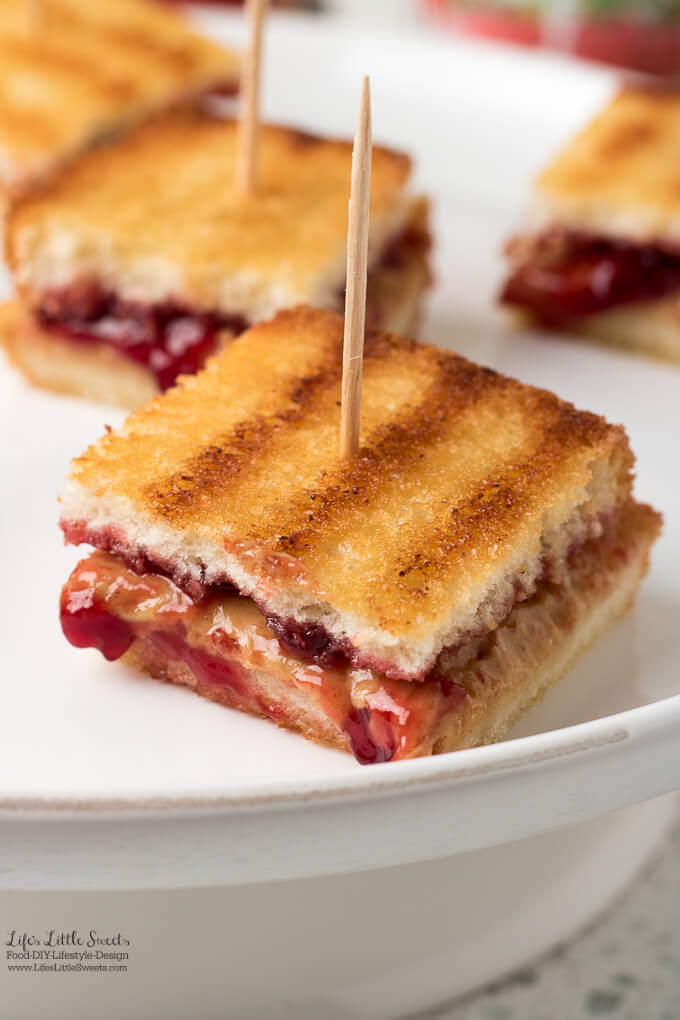 Grilled Peanut Butter and Jelly Sandwich Bites
Hi Everyone! These Grilled Peanut Butter and Jelly Sandwich Bites are so easy to make – only 6 minutes and 4 ingredients!
I can't believe how fast this Summer flew by! My daughter M., is going back to school soon and I have some recipes in my back pocket for those after school snacks. I remember when I was little, having a snack right after school was so important because I would always be SO hungry!
Those ingredients are Jif peanut butter, Smucker's fruit spreads (I used Red Raspberry Jam (seedless) for this recipe), sliced bread and unsalted butter. You can serve them with new Mott's® 100% Juice Juice Pouch (I love the Apple Mango!).
I found all the ingredients for this Grilled Peanut Butter and Jelly Sandwich Bites recipe easily at Stop & Shop.
To get those grill marks, you will need to use a stove top grill pan. You can certainly toast the bread in the butter using any regular skillet as long as it can fit 2 slices of bread.
Make sure to wait until the grilled bread is off the pan to spread the peanut butter and jam so that they don't get runny and melt-y!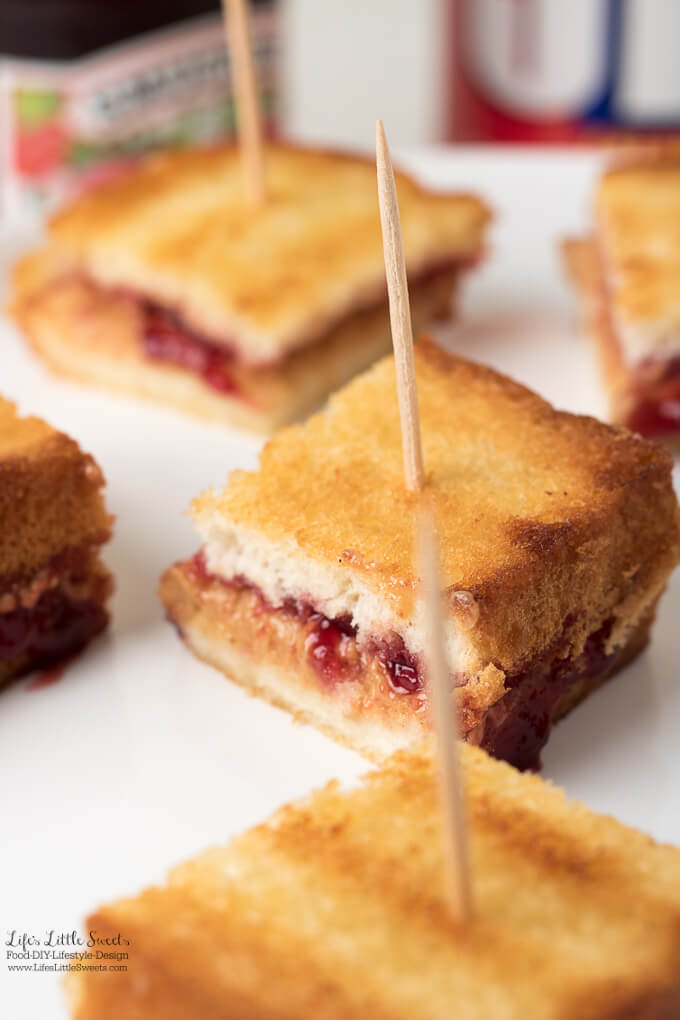 I know I would have loved coming home to these Grilled Peanut Butter and Jelly Sandwich Bites after school when I was a little kid 🙂
These Grilled Peanut Butter and Jelly Sandwich Bites are: warm, toasty, sweet, savory, easy to make, simple and delicious!
I know you will enjoy these Grilled Peanut Butter and Jelly Sandwich Bites!
Grilled Peanut Butter and Jelly Sandwich Bites
Yield: 1 person

Prep Time: 1 minute

Cook Time: 5 minutes

Total Time: 6 minutes

These Grilled Peanut Butter and Jelly Sandwich Bites are a new twist on a classic snack - the perfect snack for after school! (6 minutes, serves 1)
Ingredients
1 dollop Smucker's fruit preserve, I used seedless raspberry
1-2 tablespoons Jif peanut butter, I used smooth
2 slices bread, I used white bread
1-2 tablespoons unsalted butter
6 toothpicks, optional
Instructions
Using a grill pan on the stove top, melt butter over medium heat. When the butter is melted, spread it in the pan until the pan is coated. Add 2 slices of bread. Grill until the bread is toasted with grill marks to your desired level of toasting.
Transfer bread to a cutting board or plate. Spread Jif peanut butter on one side and the dollop of Smucker's fruit preserve on the other side. Put the sides together to make a sandwich. Slice the sandwich into 6 even pieces. Optionally, you can use toothpicks to keep the bites together. Enjoy!
Recommended Products
As an Amazon Associate and member of other affiliate programs, I earn from qualifying purchases.
Nutrition Information:
Yield: 1 Serving Size: 1
Amount Per Serving:Calories: 753 Total Fat: 43g Saturated Fat: 18g Trans Fat: 0g Unsaturated Fat: 20g Cholesterol: 61mg Sodium: 643mg Carbohydrates: 81g Fiber: 8g Sugar: 24g Protein: 17g

Please note that the Calculated Nutrition is an estimate at best.
What's your favorite after school snack? Please let me know in the comments below! Best, ~Sara
Pin This! ⇓
Sara is an architectural designer turned work-at-home Mom.She lives in New Jersey by way of New England and New York, with her husband, two kids under 5 and family dog Cayli. She loves design, being creative and spending time with family and friends. She loves checking out local businesses and eats and being apart of the local farm to table community.
Latest posts by Sara Maniez (see all)