Flaxseed Egg: Flaxseed "eggs" are useful in bread, muffins, waffles, pancakes, cakes, quick bread, cupcakes, fritters, cookies, and other recipes. I reference making a flaxseed "egg" in some of my recipes and I am sharing this tutorial on how to do this useful basic recipe.
Estimated reading time: 4 minutes
How to Make a Flaxseed Egg
Hey Everyone, why make a flaxseed egg for use in baking? It's Good For You! Health benefits of flaxseed include Omega-3 essential fatty acids, fiber, and lignans (which have antioxidant qualities).
Certain baking recipes taste exceptionally well without eggs, for example, when I was working on my Soft Strawberry Scones recipe, I liked how they turned out so well without the eggs, I decided to publish the vegan version of the recipe.
If I am out of eggs, having flaxseed on hand, allows me to bake without eggs.
With the soaring price of eggs, using flaxseed in your baked goods allows you to save those precious eggs for your morning scramble instead!
Flaxseed is beneficial to lactating mothers as well!
You can buy stabilized flaxseed, for example, I like Hodgson Mill Flaxseed and I always keep a box of it in my refrigerator.
You can also get whole flaxseed and grind it yourself, using a spice grinder or a coffee grinder (make sure it's cleaned out first!).
I prefer to use a simple, small, inexpensive coffee grinder.
Make sure to use it right away or store it in an airtight container in the refrigerator because freshly ground flaxseed will go rancid relatively, if left out.
Ingredients
1 tablespoon ground flaxseed
2.5-3 tablespoons water
Kitchen Tools
small bowls
measuring spoons and cups
small wire whisk, spoon or fork
cover or wrap to wrap the bowl while it thickens
baking spatula for adding it to the recipe that you made it for.
Web Story
Gather your ingredients: 1 tablespoon ground flaxseed, plus 2.5 tablespoons of water:
Combine the ingredients:
Mix the flaxseed and water until combined evenly:
Cover the flaxseed mixture and let sit at least 5-10 minutes until thickened or if using later, put in the refrigerator until ready to use: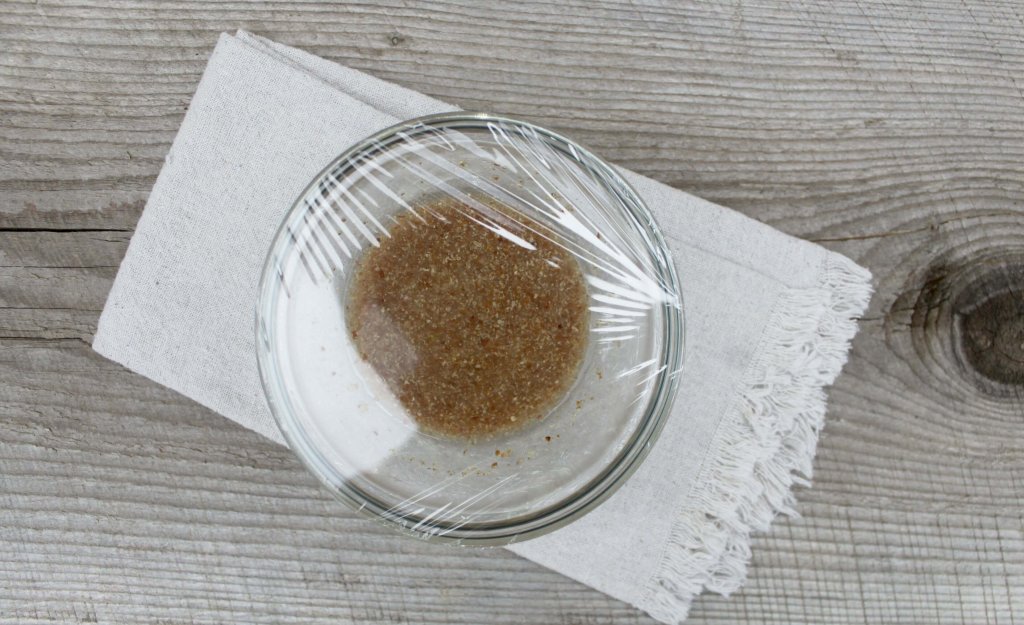 A flaxseed egg, ready to use!
Recipe Notes
• Flaxseed might change the texture and will definitely have some effect on the color of your recipe's end result.
Latest Recipes and Posts
If you make this recipe, and like it, please give it a rating in the recipe card below and let us know in the comments at the end of the post.
Check out our Recipe & DIY indexes, visit our Home page to view our latest posts & categories, visit our Blog page to see our posts in consecutive order and, our Shop to see our favorite kitchen tools!
Thank you for reading and following along!
How to Make a Flaxseed "Egg"
Get more flax in your diet! Flaxseed "eggs" are useful in bread, muffins, waffles, pancakes, cakes, quick bread, cupcakes, fritters, cookies, and other recipes.
Instructions
Mix ground flaxseed with water until combined.
Cover and let sit for 5-10 minutes, or put in the refrigerator for later use.
Nutrition Information:
Yield:

1
Serving Size:

1
Amount Per Serving:
Calories:

49
Total Fat:

4g
Saturated Fat:

0g
Trans Fat:

0g
Unsaturated Fat:

3g
Cholesterol:

0mg
Sodium:

5mg
Carbohydrates:

3g
Fiber:

2g
Sugar:

0g
Protein:

2g
Please note that the Calculated Nutrition is an estimate at best.
Latest posts by Sara Maniez
(see all)