Soft Strawberry Scones (V): When I think of the word "scone", I think of a crumbly, dry, stale, bread-like baked good sparsely dotted with shriveled inedible raisins. These strawberry soft scones are exactly opposite of that; they are soft and moist. They are as satisfying as any scone baked with butter, regular sugar or milk/cream. They have FRESH strawberries in them and only a tablespoon of coconut sugar. They are completely dairy-free, using coconut oil instead of butter and unsweetened coconut milk instead of cream or milk. I like these drizzled with a generous amount of Coconut Caramel Sauce.
Disclosure: Some links in this post are affiliate links which means I earn a commission if you purchase through them at no extra cost to you. I only recommend brands and products that I 100% like and enjoy using. Thank you in advance for your support!
Soft Strawberry Scones (V) Full Tutorial
Gather your ingredients:
• Tools: A dough scraper is very useful for this recipe as the dough is sticky and wet. Though not necessary to this recipe, a pastry mat is helpful for working the dough.
Mix your dry ingredients // Mix in the coconut oil // Make a well in the center:
• Flaxseed: Flaxseeds must be ground to get the full health benefits they offer like those wonderful Omega3s and fiber. I recommend Hodgson Mill Milled Flaxseed; I always keep a box of it in the refrigerator and sprinkle it on Greek yogurt, add it to bread that I bake and sneak it into anything else I happen to be making. For when I do grind whole flaxseeds fresh, I used Bob's Red Mill Organic Whole Flaxseed and this humble grinder. When grinding flaxseeds fresh, remember, that they can go rancid fairly quickly if they are left out, so either refrigerate them or use them right after grinding. View my tutorial on how to prepare a flaxseed "egg" here.
• Coconut Milk: I love coconut milk. It's rich and creamy and I can use it in so many things. I find it nourishing and energizing. I am addicted to the stuff. I do like to sample a variety of brands but I have been loving So Delicious Unsweetened Coconut Milk (the green container!) and I get it at my grocery store in the refrigerated milk isle. I have tried the unsweetened vanilla flavor (the purple container) and it is also very good for drinking but for baking, I would stick to the unsweetened plain one as not to throw off the other ingredients.
• Coconut Sugar – It's unrefined and a nice alternative to refined white sugar. I have been using Madhava Coconut Sugar with success in my baking and an example of this is here.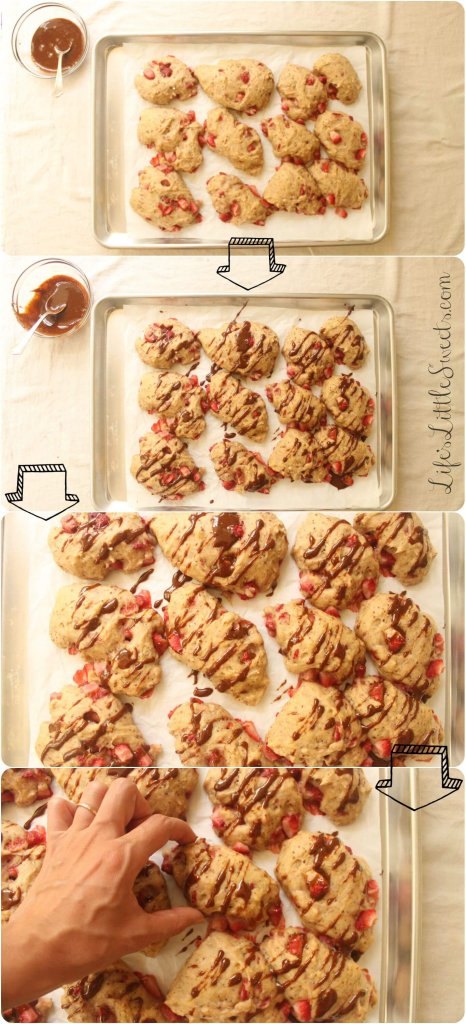 Soft Strawberry Scones
Yield: 12 scones

Prep Time: 20 minutes

Cook Time: 14 minutes

Total Time: 34 minutes

These soft strawberry scones are dairy-free, egg-free, refined sugar-free, and have only 8 ingredients! Serve with a rich coconut caramel sauce on top.
Ingredients
2-1/2 cups all-purpose flour
2 tablespoons coconut sugar
1 tablespoon baking powder
1/4 teaspoon kosher salt
1/3 cup of coconut oil
2 flaxseed "eggs", (1 tablespoon ground flaxseed + 2.5 tablespoons water, stir & let stand for 5 mins until thickened)
3/4 cup coconut milk, (unsweetened)
1-1/2 cups diced fresh strawberries, (no larger than 1/2" chunks, make sure to pat dry before cutting to remove excess water after washing)
Glaze:
1/2 cup coconut sugar
1 tablespoon + more for desired consistency for drizzling
1/2 teaspoon vanilla extract, (optional)
Instructions
Preheat oven to 350 degrees F. Prepare the flax eggs and set aside to set up for a least five to 10 minutes. Line a baking sheet with parchment paper.
Prepare coconut caramel glaze by combining 1/2 cup coconut sugar and 1 tablespoon unsweetened coconut milk, set aside to let coconut sugar dissolve. You can also heat mixture in microwave for 10 seconds, stop to stir, then heat 10 seconds more, stir again to get it to dissolve and get it warm for drizzling.* this step can also be done later while the scones are baking.
Combine dry ingredients (flour, coconut sugar, baking powder, and salt) in a large bowl. Using your fingertips, or a pastry blender if you have one, cut in the coconut oil until the mixture is course, be sure not to melt the oil with your fingers. Make a well in the center and set aside.
In a medium mixing bowl, pour coconut milk, prepared flax eggs, diced fresh strawberries and mix together. Pour mixture into the well in the flour mixture. Using either a fork or your hands, mix together until just combined.
Turn the wet, sticky dough out onto a lightly floured surface) use dough scraper or knead the dough with your hands (10-12 strokes) then divide in half. Working with the first half, form a disk about 6 inches and using your dough scraper or knife, cut into 6 wedges (they don't have to be perfect!) and place onto baking sheet. Repeat with second half of dough.
Bake for 12-14 minutes, should be stiff to the touch when tapped. Allow to cool for 5 minutes on baking sheet before transferring to the wire cooling rack. Serve warm drizzled with coconut caramel glaze. For storage, keep up to 3 days in an airtight container in refrigerator and put in toaster oven or a few seconds in the microwave to warm up.
Notes
Did you make this recipe? Tag @lifeslittlesweets and hashtag it #lifeslittlesweets
Recommended Products
As an Amazon Associate and member of other affiliate programs, I earn from qualifying purchases.
Nutrition Information:
Yield: 12 Serving Size: 1
Amount Per Serving: Calories: 221Total Fat: 10gSaturated Fat: 8gTrans Fat: 0gUnsaturated Fat: 2gCholesterol: 16mgSodium: 175mgCarbohydrates: 29gFiber: 2gSugar: 12gProtein: 3g

Please note that the Calculated Nutrition is an estimate at best.
Thoughts & Alternatives:
• Try substituting the strawberries for another type of berry or a mix of two or more types, I have tried raspberries & blackberries and had positive results with them.
• This Soft Strawberry Scones recipe works also using butter instead of coconut oil, sugar instead of coconut sugar, eggs instead of flax eggs and milk/cream instead of coconut milk in the same amounts. I have endlessly mixed and matched ingredients for this recipe and they come out great every time.
Recipe Attribution:
Soft Strawberry Scones is inspired by, "Scones," p. 128, in the "Better Homes and Gardens New Cook Book," Special Edition, 2007.
Our Other Recipes and Posts
If you make this Soft Strawberry Scones (V) recipe and post a picture, be sure to #lifeslittlesweets, thanks!
DO YOU LOVE STRAWBERRIES OR SCONES? HOW DO YOU LIKE TO HAVE STRAWBERRIES? SHARE IN THE COMMENTS BELOW!
Latest posts by Sara Maniez
(see all)