This Single-Layer Chocolate Ganache Cake Recipe is a from scratch cake recipe that is easy to make. Topped with creamy and smooth chocolate ganache, this cake recipe is perfect for any occasion. (12 slices)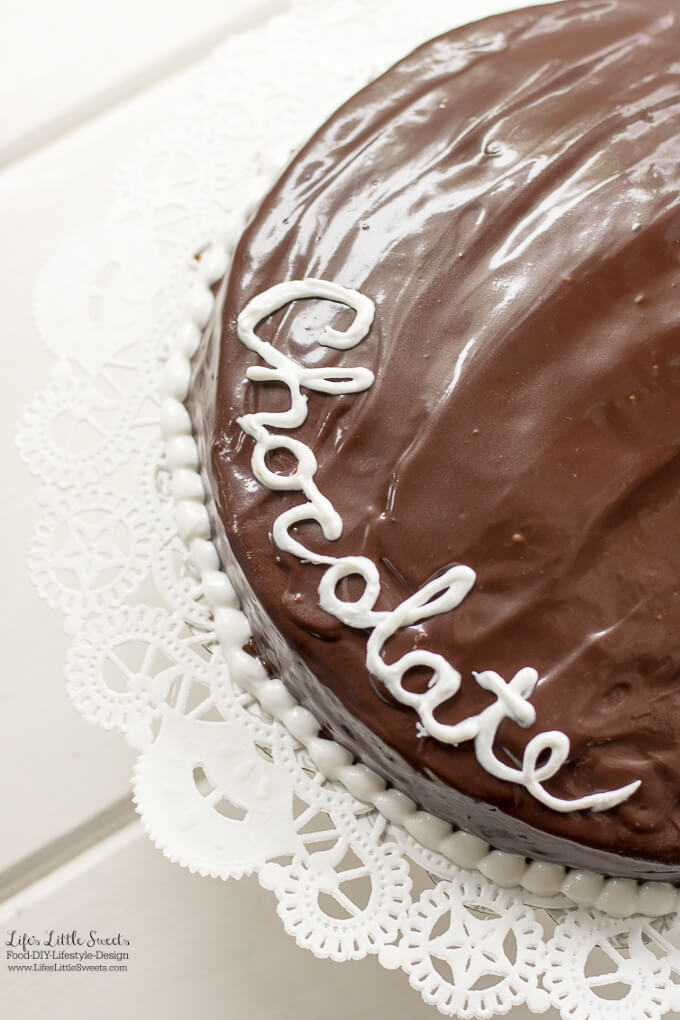 Single-Layer Chocolate Ganache Cake Recipe
Hi Everyone! Here's a strong dose of chocolate for you today. I haven't had a cake recipe on the blog in awhile and this is the perfect time of year to have one. For our family, there are plenty of holidays and birthdays in the Spring and Summer.
This Single-Layer Chocolate Ganache Cake Recipe is easy to make with standard pantry ingredients. It makes 12 slices so it can serve a small party.
This recipe is inspired by my first recipe blog post on the blog (ever) Gluten-Free Mocha Cake. One of these days, I want to update the photos on that post!
I will be sharing a Mocha version of this Single-Layer Chocolate Ganache Cake Recipe which is non-gluten free very soon.

Who can resist a slice of this Single-Layer Chocolate Ganache Cake Recipe? Sometimes you just need a dose of chocolate!
I simply wrote "Chocolate" on the side of it because I also make a mocha version of it on the same day and they looked exactly the same so I had to come up with a way to tell them apart. I also added a little white beading along the base that adds some flair but also practically covers up any rough edges.
Disclosure: Some links in this post are affiliate links which means I earn a commission if you purchase through them at no extra cost to you. I only recommend brands and products that I 100% like and enjoy using. Thank you in advance for your support!
I used a Wilton 9 inch doily underneath the cake over the cake stand.
I suggest using an offset spatula to help spread the ganache.
Later on, I added "Happy Birthday" because this cake was for my Father-in-Law, Michel, for his recent birthday this past weekend. The mocha version that I will be sharing later on was also for his birthday party. I wanted to have the chocolate for the young kids and the mocha for the adults 🙂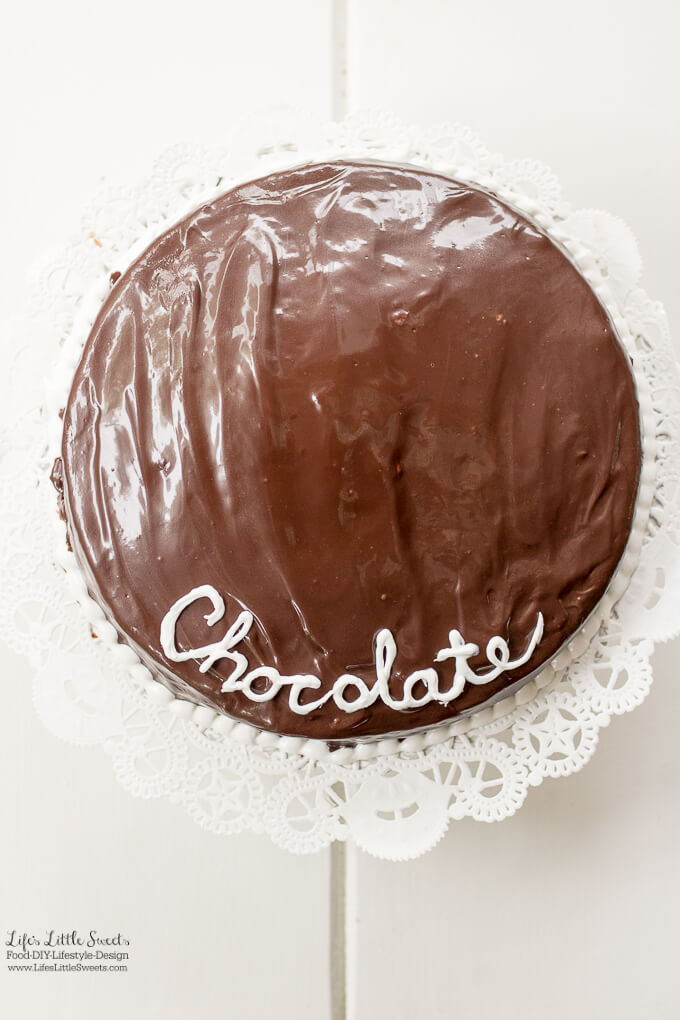 I love making cakes and would love to have more on the blog, one of these days I will take one of those cake decorating courses.
I hope you enjoy this Single-Layer Chocolate Ganache Cake Recipe as much as my family does!
Single-Layer Chocolate Ganache Cake Recipe
Yield: 12 slices

Prep Time: 10 minutes

Cook Time: 30 minutes

Total Time: 40 minutes

This Single-Layer Chocolate Ganache Cake Recipe is a from scratch cake recipe that is easy to make. Topped with creamy and smooth chocolate ganache, this cake recipe is perfect for any occasion. (12 slices)
Ingredients
Chocolate Cake Recipe
1 cup cake flour, can substitute all-purpose flour
1 cup granulated sugar, I use organic
1/2 cup unsweetened cocoa powder, I suggest using highest quality available
1/2 teaspoon baking soda
1/4 teaspoon baking powder
1/4 teaspoon salt, I suggest using kosher salt
3/4 cup buttermilk, If you do not have buttermilk, can substitute 3/4 cup regular milk with 1 tablespoon fresh lemon juice, stir and allow to sit for 5 minutes
1/3 cup canola oil, can substitute vegetable oil
1 teaspoon vanilla extract
1 large egg, I use farm fresh eggs whenever possible
Ganache Recipe for Frosting
1/2 cup heavy whipping cream, can substitute coffee creamer if whipping cream is unavailable
6 ounces semi sweet chocolate chip morsels, use highest quality chocolate available, can substitute dark chocolate morsels as well
1 tube white decorating frosting with preferred tip (4.25 ounce/120 grams), optional if lettering or decorating, I use Betty Crocker piping frosting available in the grocery baking aisle
Instructions
Chocolate Cake Recipe
Preheat your oven to 350 degrees F.
Grease and lightly flour a 9 x 2 inch round cake pan. Tap out the excess flour.
Using a large mixing bowl, stir together cake flour, granulated sugar, unsweetened cocoa powder, baking soda, baking powder and kosher salt - make sure the dry ingredients are well blended. 
Add the buttermilk, oil and vanilla, beat until just combined and add the large egg, then beat more until combined. You don't want to over beat the batter, so it will not be tough. Spread batter into the prepared pan.
Bake 30 to 35 minutes or until a toothpick comes out clean when inserted into the middle. 30 minutes always works best for me but baking time will depend on one's individual oven. *While the cake is baking, closer to when it's done, you can work on the chocolate ganache frosting (see instruction below), if you want you can also wait until the cake is completely cooled.
When the cake is done baking, allow to cool in the cake pan on a trivet or wire rack for 10 minutes, then remove from cake pan (you can use a plate to flip it over from the pan being careful not to drop the cake) and let cool completely on wire rack before frosting with chocolate ganache.
When cake is completely cool, frost with chocolate ganache. Use an offset spatula to spread the ganache. You can cool the cake in the refrigerator to allow the ganache to harden up before using the white decorating frosting for lettering.
Chocolate Ganache for Frosting
Heat heavy whipping cream in a small or medium saucepan until it is almost boiling. Remove from heat. Pour 6 ounces of semi sweet chocolate morsels into the hot cream making sure that the chocolate morsels are covered by the liquid. Cover and let sit for 5 minutes. 
After 5 minutes, stir in one direction, slowly and steadily until combined and smooth. Spread over the cooled chocolate cake, spread with an offset spatula starting in the middle and working your way to the edges and sides if you wish.
You can cool the cake in the refrigerator to allow the ganache to harden up before using the white decorating frosting for lettering. Serve and enjoy!
Notes
I suggest refrigerating this cake and not leaving it out because it has cream in the ganache.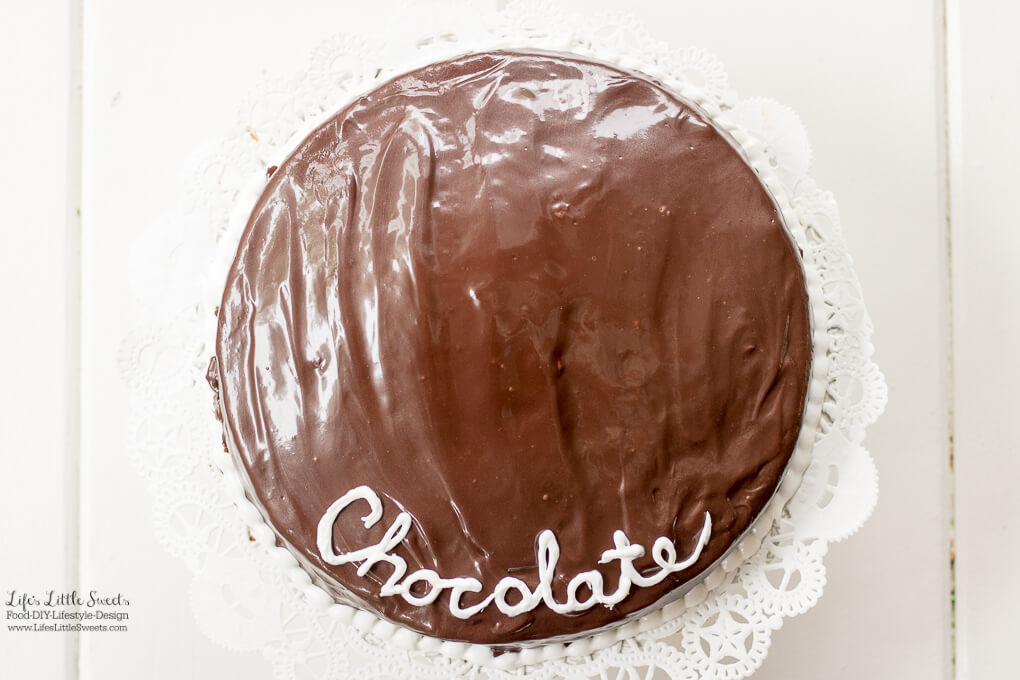 What's your favorite cake recipe? Please let me know in the comments below! Best, ~Sara
Pin This! ⇓

Sara is an architectural designer turned work-at-home Mom.She lives in NJ with her husband, two kids under 5 and dog. She loves design, being creative and spending time with family and friends.She enjoys and shares baking, vegan, traditional & family recipes as well as DIY, lifestyle, organization and design ideas.
Latest posts by Sara Maniez (see all)