Stinging Nettle Crustless Quiche is savory, with 3 kinds of cheese (shredded Parmesan, Cheddar, and Mozzarella), foraged, local Stinging Nettles (Urtica dioica), and local farm eggs. (gluten-free, vegetarian)
Estimated reading time: 8 minutes
Stinging Nettle Crustless Quiche
Hi Everyone, it's time to share a new foraged recipe, this Stinging Nettle Crustless Quiche recipe which is a version of my Quiche Lorraine recipe, here on the blog. If you want to add a traditional, homemade crust to this recipe, check out that recipe for ingredients and instructions.
At the time of my writing this recipe post, I have a couple other Stinging Nettle (Urtica dioica) recipes on the blog (with more to come!): Nettle Pesto and Sautéed Stinging Nettles.
I encourage you to check out those posts because I post a lot of information about identifying Stinging Nettles and their nutritional information in case you are not that familiar with them.
What if I don't have Stinging Nettles?
Stinging Nettles are unique on their own but I would say they are most similar to spinach or another leafy, green vegetable (think kale, Swiss chard, turnip or beet greens, etc.). If you do not have Stinging Nettles on hand, then you can substitute the same amount with any of those leafy, green veggies that I just listed.
I made sure to share a few recipe process photos as I usually try to do in the post and also in the recipe card below.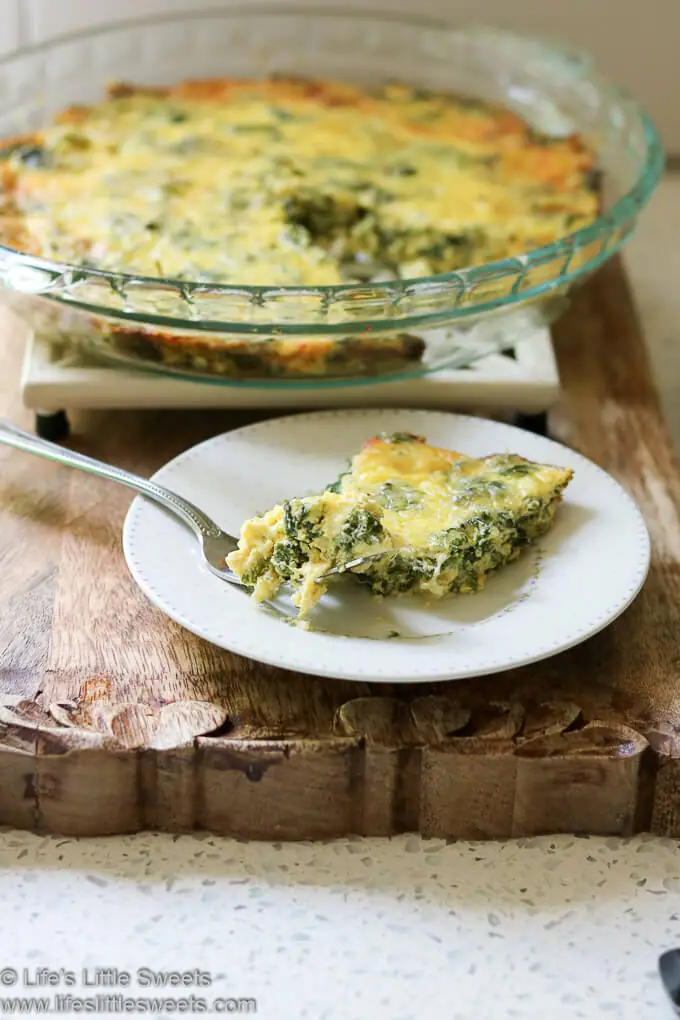 This post may contain affiliate links which won't change your price but will share some commission.
Foraging Reference Book
I use the book, Northeast Foraging, when I am studying new-to-me, local, wild edibles and I have added the Amazon Affiliate link below (I recommend always making sure to consult other local experts that you personally and who are knowledgeable know before trying something new):
I also recently downloaded the "Picture This" plant and tree identification app and used it with success. That could be helpful, if you are trying to ID stinging nettle on your property or somewhere else.
Web Story
Recipe Process Photos for Stinging Nettle Crustless Quiche
Here are some recipe process photos for this Stinging Nettle Crustless Quiche recipe:
I have all the directions in the recipe card at the end of the post.
If you make this Stinging Nettle Crustless Quiche recipe, and like it, please give it a rating in the recipe card below and let us know in the comments at the end of the post.
Thank you for reading and following along!
Stinging Nettle Crustless Quiche
Stinging Nettle Crustless Quiche is savory, with 3 kinds of cheese (shredded Parmesan, Cheddar and Mozzarella), foraged, local Stinging Nettles and local farm eggs. gluten-free, vegetarian
Ingredients
1 cup half and half (or substitute the same amount heavy cream)
3 large eggs
2/3 shredded Parmesan cheese, divided (1/3 for the quiche batter and 1/3 for topping before baking) or same amount similar dry, aged cheese
1/3 cup shredded Mozzarella cheese (inside batter) or same amount similar soft cheese
2/3 cup shredded extra sharp cheddar cheese (inside batter) or same amount similar medium cheese
1/8 teaspoon ground nutmeg
1/4 teaspoon Black pepper, amount to taste, plus more for serving, if desired
Instructions
Grease a 9-inch pie plate, set aside. Preheat the oven to 350 degrees F.
In a medium-large mixing bowl, add half and half, 3 eggs, cheeses, Kosher salt, fresh ground black pepper, ground nutmeg and whisk to combine. Add the cooked sauteed Stinging Nettles (full directions here, make sure all extra moisture is squeezed out), stir to combine.
Pour the quiche filling into the prepared crust in the pan. Sprinkle the remaining 1/3 cup Parmesan cheese evenly on top of the quiche batter before baking. Bake for 20-30 minutes or until golden brown on edges. When done, a knife inserted into the middle should come out clean. Cool on a trivet and serve. Add extra salt and pepper, to taste for serving. Enjoy! Makes 12 slices/servings.
Nutrition Information:
Yield:

12
Serving Size:

1
Amount Per Serving:
Calories:

53
Total Fat:

4g
Saturated Fat:

2g
Trans Fat:

0g
Unsaturated Fat:

1g
Cholesterol:

54mg
Sodium:

138mg
Carbohydrates:

1g
Fiber:

0g
Sugar:

0g
Protein:

4g
Please note that the Calculated Nutrition is an estimate at best.
Latest posts by Sara Maniez
(see all)