Ginger Golden Milk is loaded with anti – inflammatory properties and healing agents. Its vegan, paleo friendly and gluten free too.
Jump to Recipe or Print Recipe
Ginger Golden Milk
Golden Milk has been around since ancient times. Especially, in India, in olden times it was used as medicine because of its antibiotic properties. Even today Golden milk (haldi ka doodh) is given to people who are recovering from illness or any bruises. Turmeric has many health benefits. Root turmeric paste is also used as face mask or in many beauty products. It's a versatile ingredient and has many uses for internal and external consumption.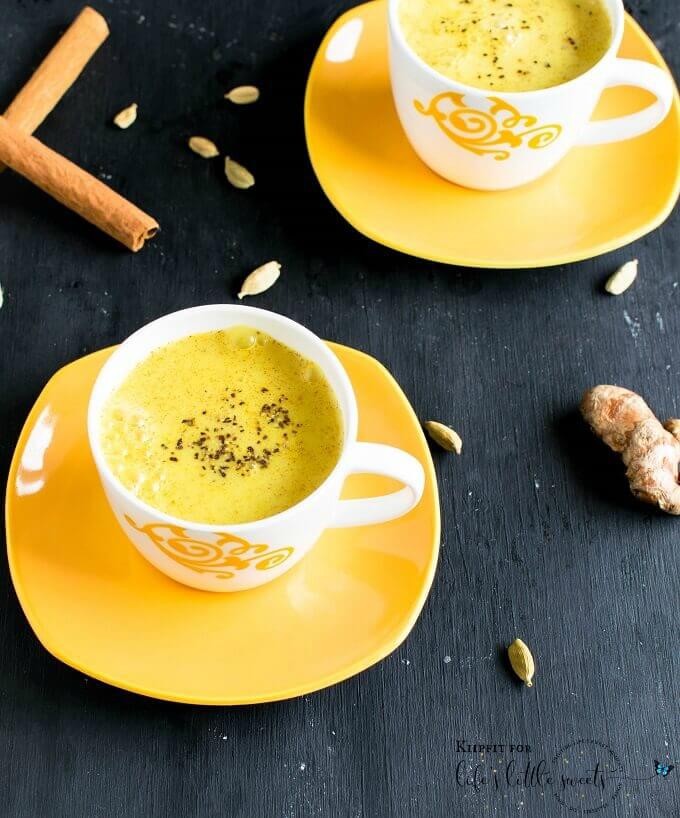 Ingredients for Ginger Golden Milk
2 cups unsweetened coconut milk
1 tbsp. brown sugar
1 tsp crushed ginger root
1 small pod of root turmeric (crushed)
Pinch of cinnamon powder
Pinch of cardamom powder
Pinch of ground black pepper

Disclosure:  Some links in this post are affiliate links which means I earn a commission if you purchase through them at no extra cost to you.  I only recommend brands and products that I 100% like and enjoy using.  Thank you in advance for your support!   
Useful Kitchen Tools for Ginger Golden Milk
A saucepan
A spoon
Mortar and pestle
Fine strainer
Serving cups
At this time of the year the temperatures go up and down quite a bit. 2 days back it was chilly and we were snuggling under a warm blanket. Today it's nice and toasty outside. The drawback about this weather is that it brings a lot of viral infections and allergies. But thanks to this golden milk with root turmeric as the main ingredient we can boost our immune system and also protect ourselves from many infections.
I would highly recommend using fresh root turmeric for this recipe to benefit the true anti – inflammatory properties from this golden milk. Also, by using fresh root ginger the taste enhances for this golden milk. Lastly, make sure to add a pinch of crushed black pepper to even out the sweetness. Black pepper also helps with cold, cough and congestion.
Ginger Golden Milk is super easy to make and is desirable for any season. If desired you may use any sweetener of your choice in this recipe in place of brown sugar. I personally like the thickness and the sweet flavor of brown sugar. Therefore, I always use brown sugar to sweeten my golden milk. However, maple syrup would also blend well in this recipe.
Ginger Golden Milk
Ginger Golden Milk is loaded with anti – inflammatory properties and healing agents. Its vegan, paleo friendly and glute free too.
Ingredients
2

cups

unsweetened coconut milk

(tetra pack)

1

tbsp

brown sugar

1

tsp

crushed root ginger

1

small

pod of root turmeric

(crushed/minced)

Pinch of cinnamon powder

Pinch of cardamom powder

Pinch of crushed black pepper
Instructions
In a saucepan combine coconut milk and sugar on a medium flame. Stir it so that the sugar dissolves nicely.

Then add ginger and turmeric. Stir continuously until golden color starts showing.

Now add rest of the ingredients and stir again.

Let it cook at a low flame for 2-3 minutes. (Do not boil).

In the serving cups strain the warm golden milk and serve immediately.
Recipe Notes
Use mortar and pestle to crush ginger and turmeric.
Make sure to crush ginger and turmeric separately.
Try to use fresh root turmeric instead of turmeric powder. The taste with root turmeric is definitely better.
Make sure to strain golden milk before consuming.
Be sure to sign up for the Life's Little Sweets e-mail newsletter for more updates and FREE recipes!
Pin This! ⇓
I am Gunjan Dudani from kiipfit.com. In my blog I share healthy vegan recipes that I create in my own kitchen. My fascination with healthy and vegan recipes began over two years ago, when I realized that as a result of being over-weight I had developed certain health related complications. I understood that the one way I could improve my health and set an example for my little daughter to follow was to transform my diet. But I also knew that no transformation in my diet could be sustainable unless what my family and I ate are also delicious and fun to eat. And hence, kiipfit was born! Over the past two years I have gained thousands of followers and my recipes have been featured in some of the leading blogs and food journals of the country.
Latest posts by Gunjan Dudani (see all)