This Easy Caramel, also called Dulce de Leche, yields a deliciously sweet, dreamy and smooth spread for your coffee, cakes & desserts with only 1 ingredient!
I have enjoyed this Easy Caramel as a layer in a cake, in my coffee, on pancakes – not to mention apples, ice cream and even pretzels – if you can imagine a food with caramel, let this Easy Caramel be its companion!
Disclosure:  Some links in this post are affiliate links which means I earn a commission if you purchase through them at no extra cost to you.  I only recommend brands and products that I 100% like and enjoy using.  Thank you in advance for your support!  
The "Calphalon Unison Nonstick 5-qt. Dutch Oven with Clear Cover" that I use for this recipe.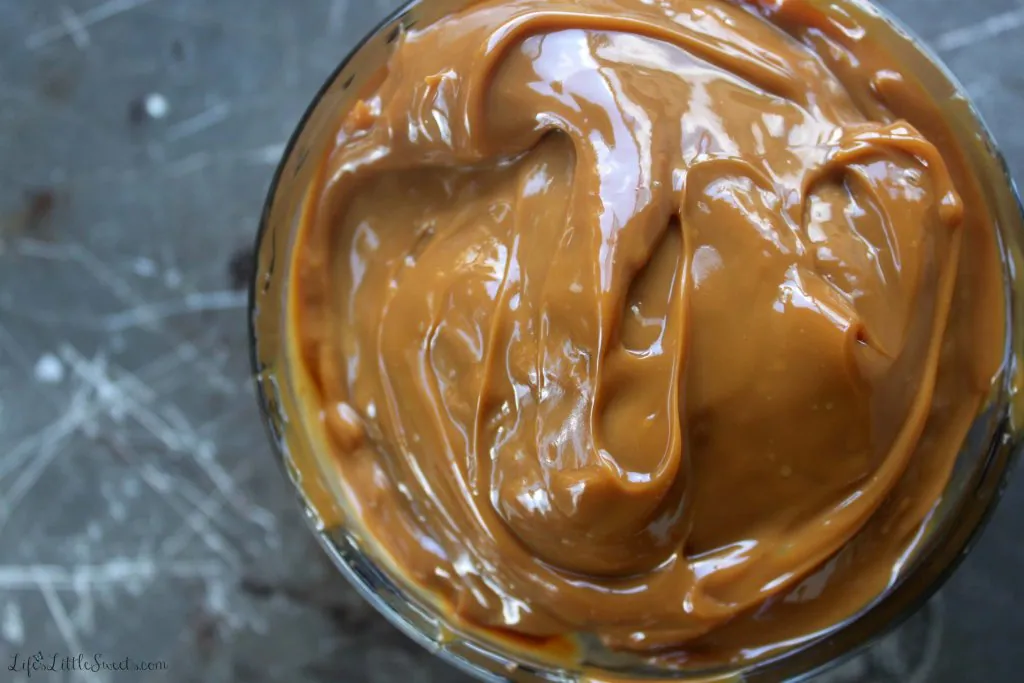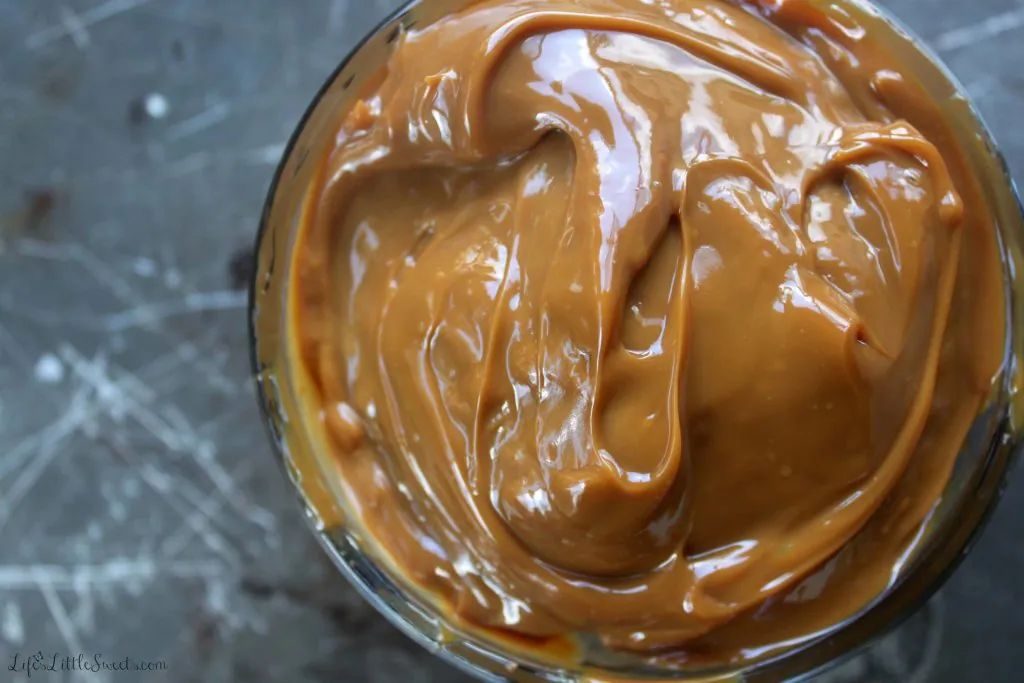 All you need is 1 can or several cans of sweetened condensed milk (because why make only 1??), cook them on the stove top for 3 hours and allow to cool completely and you will be in caramel heaven!  **It is important to remember that the cans need to be covered with water then entire time they are cooking as outlined in the recipe below.**  When I make Easy Caramel, I do several at a time to make a large batch, then I have a supply of caramel for months.  I love having it in my coffee (how many times have I mentioned that?) or drizzled on a dessert; it goes well with so many different desserts.  There is a significant cost savings to making your own Easy Caramel too: a can of sweetened condensed milk cost about $1.30 and I have seen a jar of caramel sell for over $6 at the store!  You can even put it in mason jars and give them as gifts!
Easy Caramel (Dulce de Leche)
Total Time:
3 hours
1 minute
This Easy Caramel, also called Dulce de Leche, yields a deliciously sweet, dreamy and smooth spread for your coffee, cakes & desserts with only 1 ingredient!
Ingredients
1 large pot of water, (I use a Dutch oven)
1 or more 14 ounce, (397 grams) can(s) of sweetened condensed milk
Instructions
Fill a large pot or Dutch oven with water. Place as many cans as you want to make in the water (you can make a lot at once!).
Bring to a simmering boil, keep it at a simmer, covered and cook for 3 hours. Important: You must make sure the water level is over the cans while it is cooking. Letting the water level lower than the cans could cause then to explode! Check the water level every half hour and leave the lid on so the water will not evaporate away. It is helpful to have a pot with a clear lid. After 3 hours turn the stove off and using tongs, take the cans out of the water and allow them to cool completely. Important: Do not open the cans until they are completely cool or you will get hot caramel sauce everywhere. I recommend allowing to cool 6-8 hours or overnight. Store in the refrigerator.
Notes:There is another way to make this without boiling it in the can (in case cooking something in a can freaks you out, it freaked me out a little bit at first but I have done this several times now) you can try transferring the sweetened condensed milk into mason jars and cooking them the same way in those - I have not personally tried this mason jar method yet, so I can not speak to it but I know other people do this.
[bctt tweet="Check out this amazing recipe from @lifeslilsweets Easy Caramel, Dulce de Leche!"]
Sharing is caring, if you like this recipe, please share using the links at the bottom of this post or the share buttons to the left of the screen.  If you make Easy Caramel (Dulce de Leche) and post a picture on social media, be sure to #lifeslittlesweets  and link back to the post, thank you in advance!
[bctt tweet="Easy Caramel (Dulce de Leche)" username="lifeslilsweets"]
Be sure to sign up for the Life's Little Sweets e-mail newsletter for more updates and FREE recipes!
Please tell me what you like to have caramel on or what's your favorite caramel dessert/food in the comments below! Thank you!
Latest posts by Sara Maniez
(see all)