This Hamburger Vegetable Soup is hearty and flavorful and warms you from head to toe. And with so many veggie combinations available, it's totally customizeable to your tastes!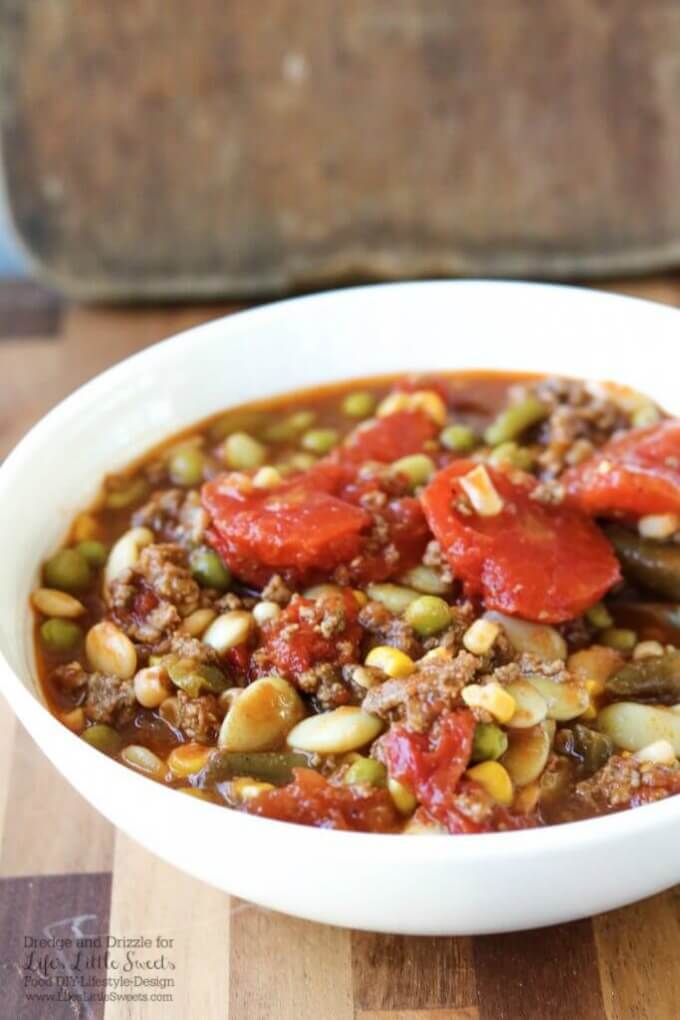 Hamburger Vegetable Soup
Hamburger Vegetable Soup is another one of those recipes that makes me think of home. As in, my Michigan home of Decatur. My parents have a number of staple soups they like to make. They originally got this Hamburger Vegetable Soup from my aunt. They enjoy it right away, freeze it to enjoy later, give it away to people around town, and sometimes they even make it for the soup suppers that benefit the Human Services food pantry in their small town. But my favorite was when I lived close enough for them to donate some to ME. Now that I'm over 1,000 miles away I gotta make the stuff myself. *sigh* But that's good news for you because I was able to get it out on the internet for you to try!
Ingredients for Hamburger Vegetable Soup:
Coconut or olive oil
Onion
Garlic
Hamburger
Salt
Pepper
Water
Stewed tomatoes
Tomato sauce
White corn
Yellow corn
Lima beans
Green beans
Peas
Onion soup mix
Beef bouillon cube
Chicken bouillon cube
Sugar
Kitchen Tools Needed for Hamburger Vegetable Soup:
Cutting board
Knife
Dutch oven or large pot
Large mixing spoon
Can opener
Measuring cups
Measuring spoons
What's really great about this Hamburger Vegetable Soup is it's customizeable. Don't like lima beans? Don't add lima beans. Want more peas than the recipe calls for? Go for it. As long as the tomato base, hamburger, and seasonings are there, it will be tasty. My husband doesn't care for large chunks of tomatoes in his soup so he just leaves them for me. If you don't like them either you could smoosh them up a bit. I wouldn't use diced tomatoes as a substitute though because I don't think they taste the same. (I love big chunks of tomatoes and if you do too, you should check out my Chicken Paprikas recipe.)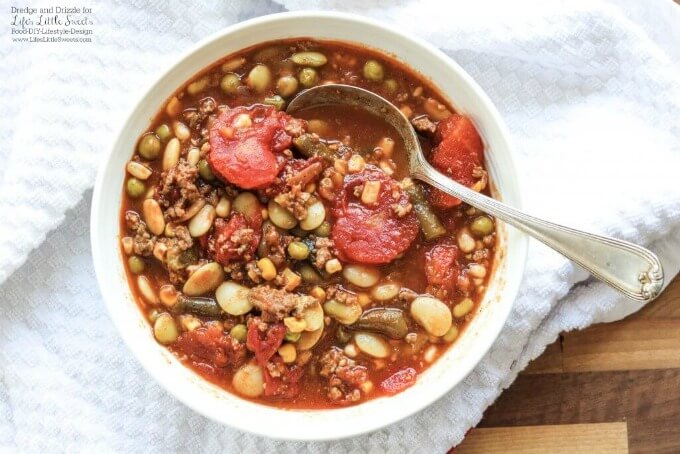 I hope you love this Hamburger Vegetable Soup as much as my family and I do! Come back and let me know what you added to yours!
Hamburger Vegetable Soup
Cook Time:
1 hour
15 minutes
Total Time:
1 hour
25 minutes
This Hamburger Vegetable Soup is hearty and flavorful and warms you from head to toe. And with so many veggie combinations available, it's totally customizeable to your tastes!
Ingredients
2 tbsp coconut or olive oil
1 medium yellow onion, diced
2 cloves garlic, diced
2 lbs ground beef, 90/10 works best
1 tsp salt
pepper, to taste
3 cups water
3 14.5 oz cans stewed tomatoes
16 oz tomato sauce
15 oz canned yellow corn, drained
11 oz canned white corn, drained
10 oz frozen lima beans
10 oz frozen green beans
10 oz frozen peas
1 packet onion soup mix
1 beef bouillon cube
1 chicken bouillon cube
1 tsp sugar
Instructions
In a dutch oven or large pot, warm the oil on medium heat.
Add the onions and garlic and cook until the onions are translucent. 
Add the ground beef, salt, and pepper and cook until the beef is no longer pink.
Add the rest of the ingredients and stir.
Simmer for about an hour before serving.
Nutrition Information:
Yield:

10
Amount Per Serving:
Calories:

298
Please note that the Calculated Nutrition is an estimate at best.
What's your favorite soup? Please let me know in the comments below! Best, ~Sara xo
Pin This! ⇓
After working as a technical writer for the pharmacetical industry for over 15 years, Heather finally found a way to combine her love of creative writing with her love of food and launched her blog, Dredge and Drizzle. While the photography aspect of food blogging was a huge learning curve, she embraced the challenge and looks for ways to improve her craft a little bit each day. She also thinks food should always taste as good as it looks and loves to have "Test Kitchen Saturdays" to experiment with flavors. Heather lives in Jacksonville, Florida with her Chief Taste-Tester and husband Rudy and their youngest son Sullivan (Sully). Three young adult children (Cassidy, Zach, and Ethan) pop in once in awhile to see what's cookin'.
Latest posts by Heather Buentello (see all)