Visit to the Strawberry Festival at Peddler's Village – We are sharing pictures from this past weekend from the Strawberry Festival at Peddler's Village in New Hope, PA. (19 Photos)
Estimated reading time: 6 minutes
Table of contents
Visit to the Strawberry Festival at Peddler's Village
Hi Everyone, I'm sharing some photos I snapped (just with my iPhone) of the Strawberry Festival this past weekend at Peddler's Village in New Hope, PA.
We actually didn't plan ahead to go there. Eric had been on a bike ride earlier that day and noticed it going on and suggested we all go there as a family in the afternoon.
*New* I made a widget for my new Instagram Lifestyle account, @preppyroots where you can shop the feed:
Peddler's Village is located at 2400 Street Rd, New Hope, PA 18938. As quoted from Wikipedia, Peddler's Village is:
Peddler's Village is a 42-acre, outdoor shopping mall development in Bucks County, Pennsylvania, featuring 60+ retail shops and merchants, full and quick-service restaurants, a 66 room hotel and a family entertainment center.
There are tons of shops and vendors at Peddler's Village. It reminds me of a small Disney ,in a way, the way it's arranged and designed.
They have some pretty gardens to walk around. There are pigeons that the kids can look at.
It's a cute place to shop for gifts or if you are a tourist. We like going there around the holidays, as they do a light set up in the Winter, close to Christmas.
The Strawberry Festival was held at the start of the strawberry season here in the New Jersey/PA area.
It was pretty busy early on and while we were there.
The weather was perfect and it actually felt more like Summer than Spring.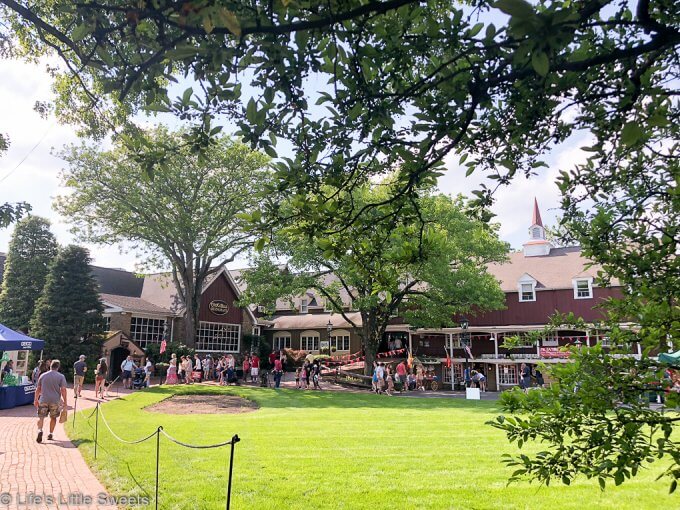 My daughter kept wanting to do selfies together during the trip there.
Don't forget to check out our recent post Strawberry Recipes Collection!
Thank you for reading and following along!
Latest Posts
Latest posts by Sara Maniez
(see all)