Like Mexican and Mediterranean food and don't want to choose? This Cilantro Lime Hummus may seem like an unlikely combination at first, but one taste and you'll be sold!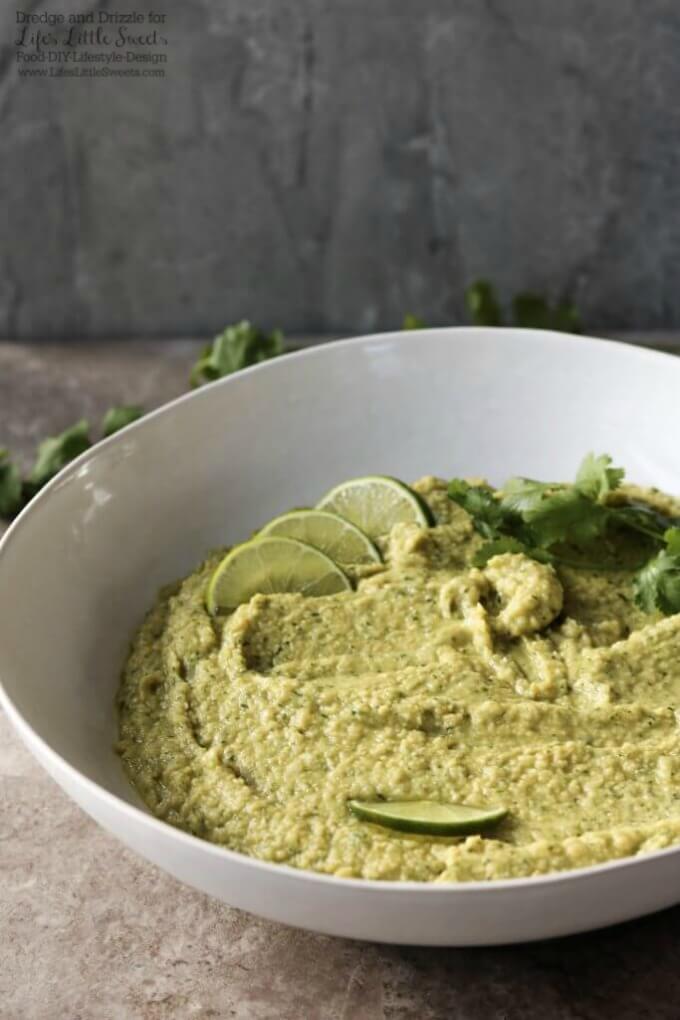 Cilantro Lime Hummus
I was a very spoiled foodie when I lived in Indianapolis. There were a lot of great places to eat with a lot of variety, no matter which part of town you were in. Cajun, Mexican, German, it was all delicious. When I moved to Jacksonville, I had a hard time finding places I liked. It took me a few months to figure it out, but what I found was that Jacksonville has a really great food truck scene. I started a food truck group at work and we tried to hit a truck at least once a week. My favorite by far is the Fusion Food Truck. True to its name, it fuses Indian, Thai, and Mediterranean cuisines. Their Cilantro Lime Hummus inspired me to create my own version.
Ingredients for Cilantro Lime Hummus:
Garbanzo beans (Chickpeas)
Garlic
Cilantro
Limes
Garlic powder
Cumin
Salt
Kitchen Tools Needed for Cilantro Lime Hummus:
Can opener
Cutting board
Knife
Measuring cups
Measuring spoons
Citrus juicer
Zester
Food processor
A few things: If you want a creamier hummus, you can take the time to peel the membranes off the garbanzo beans. I know it's time-consuming but it really does make a difference. I don't do it every time, and it's totally optional. Also, when I get the Cilantro Lime Hummus from the food truck, they serve it with pita bread. I usually use tortilla chips when I make my own. That's the beauty of fusing cuisines, so much variety! Let me know how you served your Cilantro Lime Hummus!
Cilantro Lime Hummus
Ingredients
3 15 oz. cans garbanzo beans, drain two, reserve liquids from 3rd
4 garlic cloves, peeled
2 packed cups cilantro
2 limes, juice and zest
1 tsp garlic powder
1 tsp cumin
1 tsp salt
Instructions
Add all ingredients to food processor and blend to desired consistency.
Chill for at least an hour before serving with pita bread or tortilla chips.
Notes
For a creamier hummus, peel membranes off of garbanzo beans.
Nutrition Information:
Yield:

12
Amount Per Serving:
Calories:

100
Please note that the Calculated Nutrition is an estimate at best.
What's your favorite flavor of hummus? Please let me know in the comments below!
Pin This ⇓
After working as a technical writer for the pharmacetical industry for over 15 years, Heather finally found a way to combine her love of creative writing with her love of food and launched her blog, Dredge and Drizzle. While the photography aspect of food blogging was a huge learning curve, she embraced the challenge and looks for ways to improve her craft a little bit each day. She also thinks food should always taste as good as it looks and loves to have "Test Kitchen Saturdays" to experiment with flavors. Heather lives in Jacksonville, Florida with her Chief Taste-Tester and husband Rudy and their youngest son Sullivan (Sully). Three young adult children (Cassidy, Zach, and Ethan) pop in once in awhile to see what's cookin'.
Latest posts by Heather Buentello (see all)