Estimated reading time: 7 minutes
I walk you through How To Make Pizza Dough with this quick and easy recipe. This pizza dough tutorial has only 5 minutes of resting time allowing you to bake up some homemade pizza faster than you think is possible and you can customize it with your favorite toppings! (1 recipe makes 2 individual pizzas or 1 large pizza)
How To Make Pizza Dough
Hi Everyone, I love a good pizza night.
This recipe makes having pizza night at home entirely possible!
I have done homemade pizza just using my No-Knead Bread recipe before and that works out awesome but I wanted a recipe that's just a little more meant to be pizza from the get-go.
I recently did this recipe for a pizza night where we invited family over and it worked out great.
We had a few different pizza flavors and there was plenty to feed everyone because I made 3 dough recipes that yielded 6 pizzas.
I have included pictures of every step to make the dough for this tutorial and I think you will find it very straightforward and easy to follow.
Ingredients
1 (.25 ounces) package of active dry yeast, I use Hodgson Mill quick-rise brand
1 tsp granulated white sugar
1 cup warm water, 110 degrees F/45 degrees C
2 1/2 cups bread flour, I use King Arthur brand, if you don't have bread flour, you can substitute all-purpose flour, have extra flour on hand for rolling out the dough
2 tablespoons olive oil, regular
1 tsp Kosher salt
1 teaspoon cornmeal, I like Hodgson Mill brand
Kitchen Tools
measuring spoons and cups
pastry mat
2-cup measure
dough scraper
mixing bowls
baking spatula
Web Story
How To Make Pizza Dough Process Photos
The full printable recipe is down at the bottom of the post but here are some step-by-step photos to walk you through the process.
I made notes of some of my favorite tools that I use for making the pizza dough as well.
Prepare a floured surface. I use a pastry mat.
I just use a 2-cup Pyrex wet measure for mixing the yeast, oil, and water.
For the flour, I love King Arthur Bread Flour.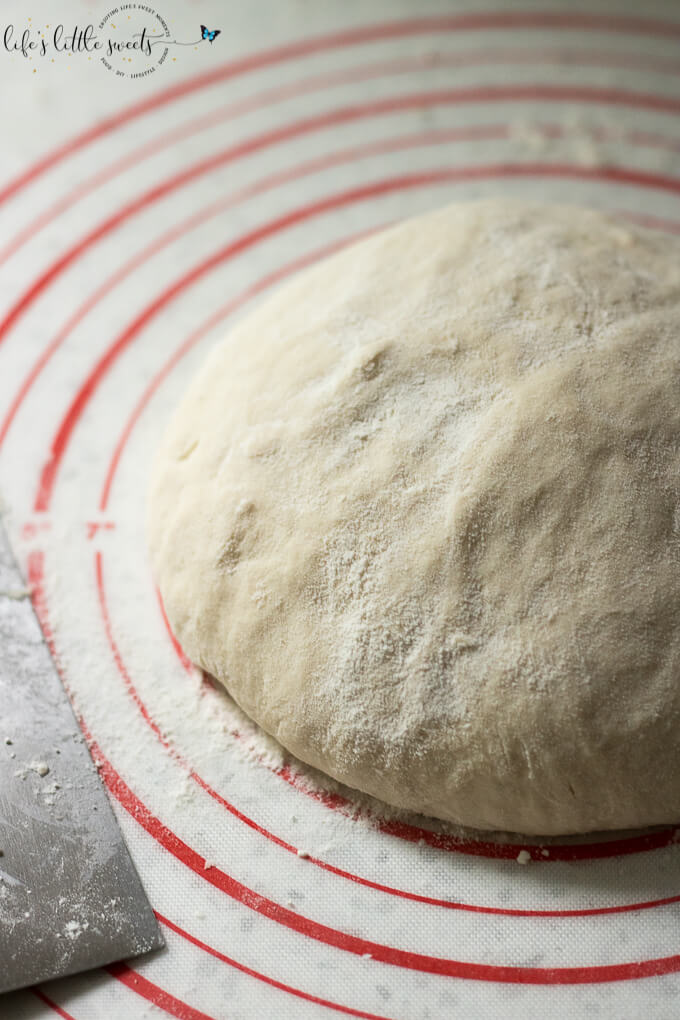 I suggest putting flour on the rolling pin.
You can roll it out thin if you prefer thin-crust pizza or slightly thicker if you want it thicker. I usually roll it out to be 10-11 inches in diameter.
If you make this pizza dough recipe, please let me know what you decide to top it with in the comments below!
Recipe Attribution
If you like this How to Make Pizza Dough recipe tutorial, you might also like 5-Ingredient White Pizza.
This recipe is inspired by Quick and Easy Pizza Crust.
If you make this recipe, and like it, please give it a rating in the recipe card below and let us know in the comments at the end of the post.
Thank you for reading and following along!
How To Make Pizza Dough
Additional Time:
5 minutes
I walk you through How To Make Pizza Dough with this quick and easy recipe. This pizza dough tutorial has only 5 minutes resting time allowing you to bake up some homemade pizza faster than you think is possible and you can customize it with your favorite toppings! 1 recipe makes 2 individual pizzas or 1 large pizza
Instructions
Prepare a floured surface.
In the warm cup of water, add the package of yeast, 2 tablespoons olive oil and sugar, set aside for 5 minutes.
In a large mixing bowl, combine bread flour and kosher salt.
Add the yeast-water mixture to the flour mixture and combine completely.
Put dough onto the prepared floured surface and using a dough scraper or your hands to knead 10 times to form a ball. Divide in half. You can rest the dough for 5 minutes to relax it, if necessary.
Using a floured rolling pin, take each ball one at a time and roll out into a 10 inch round shape.
Carefully transfer the dough to the baking surface. I just pick it up by the ends and do it quickly, you can always flip it over or if you don't want to take any chances, roll the dough out on the actual baking surface.
To Cook the Pizza:
Preheat oven to 450 degrees F.
Add desired toppings to prepared pizza dough.
Bake on a pizza stone or a half sheet covered with parchment paper or a silicone baking sheet that has corn meal spread on it (or sprayed with Canola oil) for 15-20 minutes or until golden brown.
After baking, allow the pizza to cool for 5 minutes before slicing. Enjoy!
Nutrition Information:
Yield:

4
Serving Size:

1
Amount Per Serving:
Calories:

984
Total Fat:

24g
Saturated Fat:

7g
Trans Fat:

0g
Unsaturated Fat:

15g
Cholesterol:

0mg
Sodium:

555mg
Carbohydrates:

166g
Fiber:

6g
Sugar:

2g
Protein:

23g
Please note that the Calculated Nutrition is an estimate at best.
"How to Make Pizza Dough" was originally published on 6/11/2018
Updated & republished on 11/16/2019, 3/18/2021, 9/17/2022, 2/2/2023 
Latest posts by Sara Maniez
(see all)