This Lemon Water With Honey recipe is perfect for having in the morning, in place or tea or coffee. Being both sweet and refreshing, it's a warm, soothing drink when you need it. (refined sugar free, vegan option using agave nectar)
Estimated reading time: 5 minutes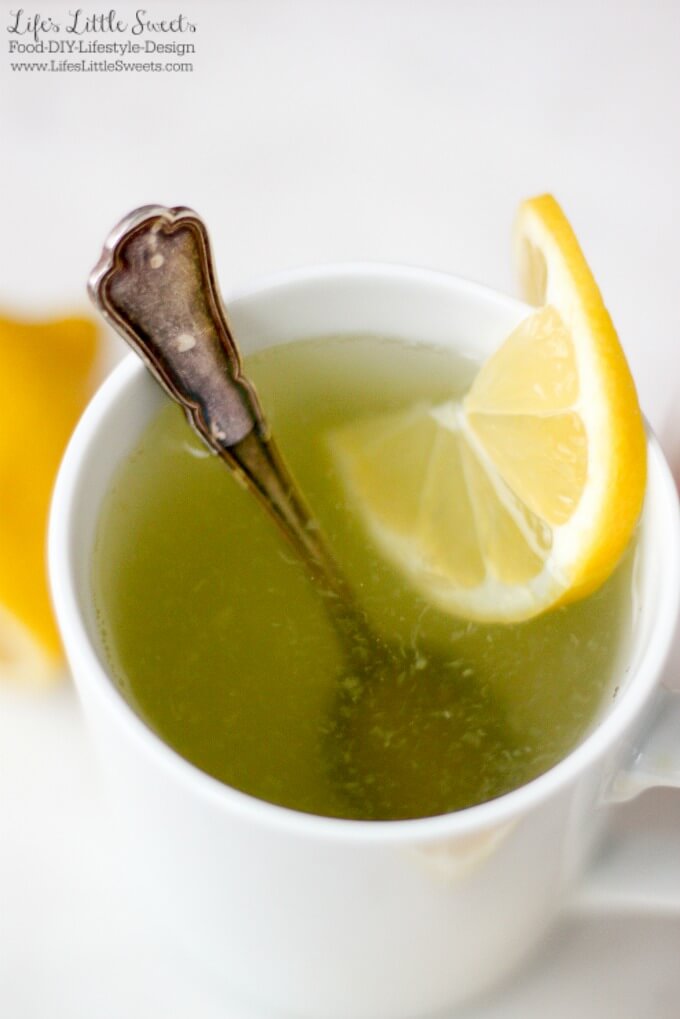 Lemon Water With Honey
I am delighted to share this Lemon Water With Honey recipe with you today. Every once an awhile, it's nice to have an alternative to tea and coffee. Since I love tea and coffee so much, I think it's good to detox from caffeinated drinks every once and awhile.
This Lemon Water With Honey is perfect for nursing a cold or if you just crave a warm, soothing drink which is especially nice in cooler weather. It has just the fresh juice of half a lemon and honey. You can make a vegan version by substituting the honey with agave nectar which tastes so sweet and nice. Just remember agave nectar is sweeter than honey and exactly 1.4x sweeter than granulated sugar, so adjust the amount accordingly to your tastes. You could also use sugar in place of the honey but I personally prefer a naturally sweet option.
This Lemon Water With Honey recipe is a simplified version of Citrus Honey Ginger Tea, which is my go-to remedy for a wicked cold.
The story behind sharing this Lemon Water With Honey came about because in the winter I am all about having warm drinks throughout the day. It's a great way to reset and refocus when I need to. I also recently have been doing a caffeine detox which I do every so often. Honestly, it takes 2-4 weeks to adjust to not having any caffeine. I am not counting chocolate (which has a small amount of caffeine) in this detox because I feel like I do have that in moderation and well, that would just be cruel! I love tea and coffee so much but it's nice to know that I do not need it to be a functional person. I feel more even and steady in energy level throughout the day. I can not do a caffeine detox without simultaneously getting enough sleep, hence my recent post on How to be a Morning Person.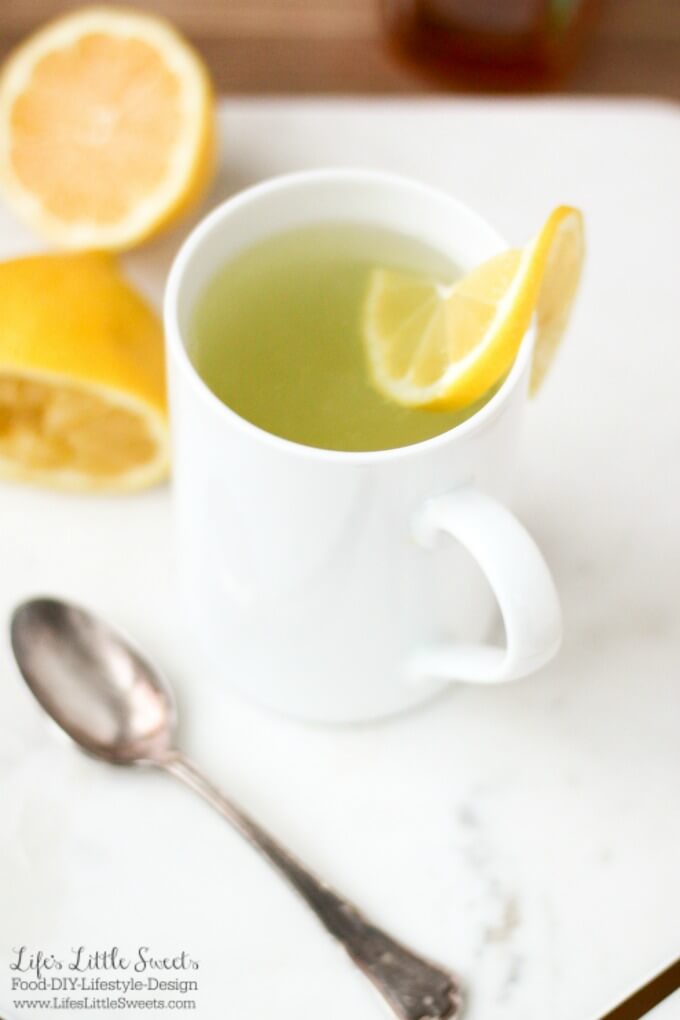 Lemon Water With Honey is actually how I have been starting my day recently before I eat anything for breakfast. By recently, I mean for the past couple months. If you are a major coffee lover and think that you cannot do a caffeine detox, let me tell you, I LOVE coffee and if I can do it you can too. And I know some might think but what if you have work, kid(s) and a schedule to adhere to? I do too. I have a full-time work with my blog, I have a child, I am a volunteer commission member in my local government, I help at my daughter's school and of course have personal commitments. Granted, I have flexibility with my schedule but I do have constant deadlines, clients and I'm also handling our kitchen renovation. So, yes, you can go for an extended amount of time without coffee (or tea) and be fine with of course a 2-4 week adjustment period which can be rough. The results are worth it though because I feel clear-headed, clear-eyed and have steady, sustained energy throughout the day.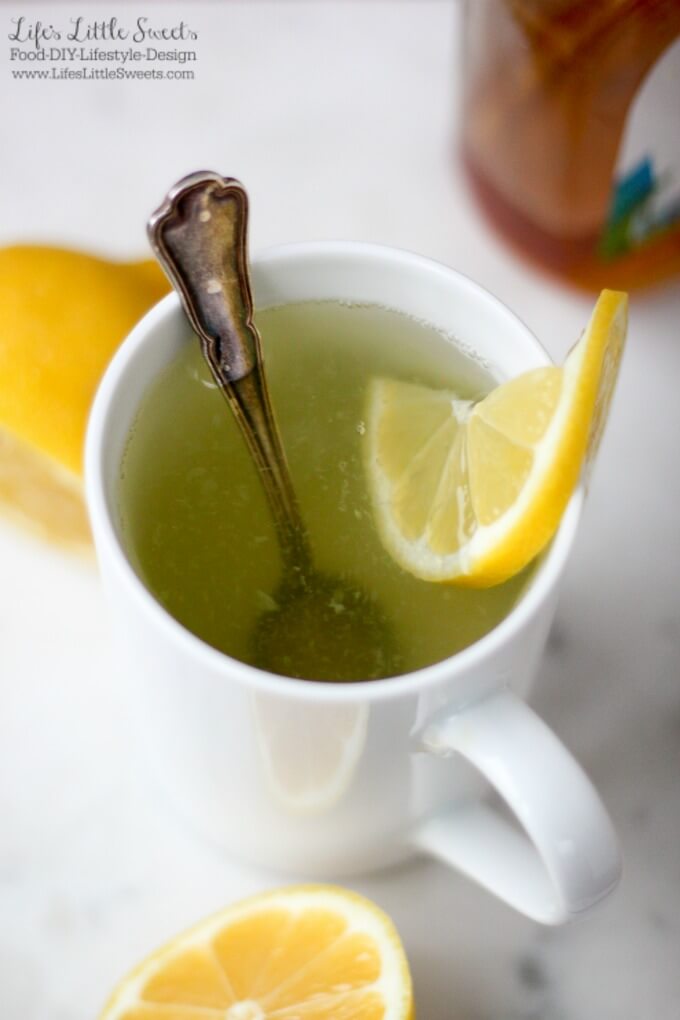 I hope you enjoy this Lemon Water with Honey recipe, it only takes 5 minutes to prepare and is a great addition to your day!
Lemon Water With Honey (Hot)
This Lemon Water With Honey recipe is perfect for having in the morning, in place or tea or coffee. Being both sweet and refreshing, it's a warm, soothing drink when you need it. (refined sugar free, vegan option using agave nectar)
Ingredients
8 ounces hot water
Fresh juice of 1/2 a lemon
desired amount of honey or agave nectar, (if you don't have either of these, you can substitute sugar for sweetness but I personally prefer to keep this refined-sugar free)
Instructions
Bring water to a boil in a tea kettle on the stove top.
In a heat safe mug, squeeze 1/2 a lemon into the mug. Remove any seed if necessary. You can strain the pulp if you prefer with a tea strainer.
Add desired amount of honey or agave nectar. You can always add more if you want, after you add the water.
Add the boiling water to the mug and stir. Enjoy!
Notes
Did you make this recipe? Tag @lifeslittlesweets and hashtag it #lifeslittlesweets
Recommended Products
As an Amazon Associate and member of other affiliate programs, I earn from qualifying purchases.
Nutrition Information:
Yield:

1
Serving Size:

1
Amount Per Serving:
Calories:

225
Total Fat:

0g
Saturated Fat:

0g
Trans Fat:

0g
Unsaturated Fat:

0g
Cholesterol:

0mg
Sodium:

156mg
Carbohydrates:

58g
Fiber:

1g
Sugar:

52g
Protein:

1g
Please note that the Calculated Nutrition is an estimate at best.
Our Other Recipes and Posts
What's your favorite morning drink? Please let me know in the comments below! Best, ~Sara
Pin This! ⇓
Latest posts by Sara Maniez
(see all)