Minimalism For Us.
Estimated reading time: 4 minutes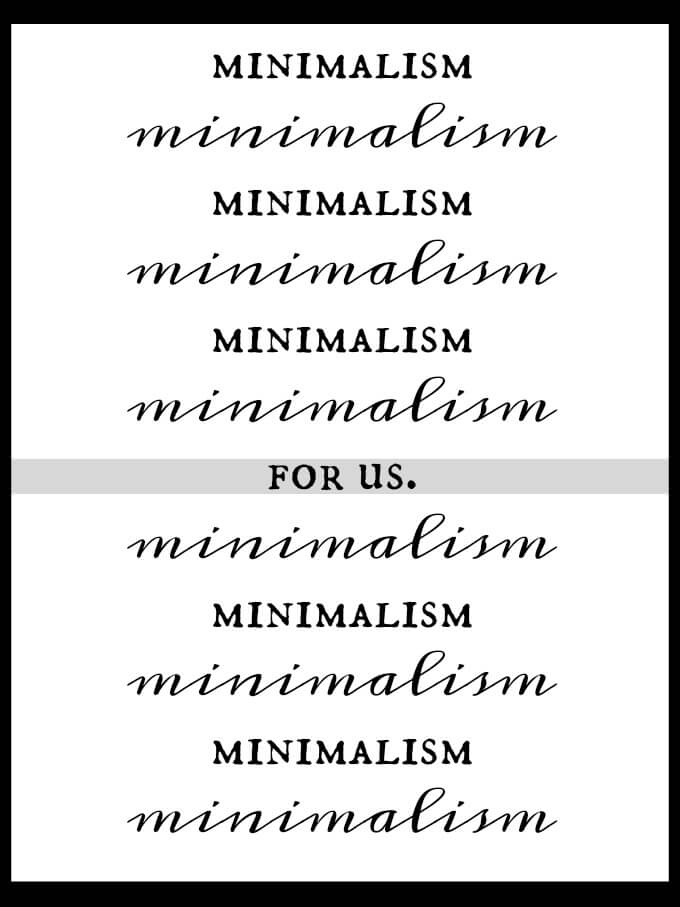 This post may contain affiliate links which won't change your price but will share some commission.
Minimalism For Us
My husband Eric and I watched the documentary "Minimalism" on Netflix back in December 2016.
After we finished watching it, we turned to each other and said, "We're minimalists!"
The documentary spoke to us for so many reasons: wanting to have control over our home environment, having a sense of order, having what we need and are interested in, and getting rid of the rest.
After Christmas, we did a post-Christmas house purge focusing specifically on our 2nd floor, attic/storage area which had become the "dumping ground" for anything that was in the way or out of season.
Basically, a ton of junk accumulated up there in the nearly 3 years that we have lived in this house.
It was a family event, all 3 of us plus Eric's Dad, Michel, helped and we got the upstairs cleaned up in a matter of a few hours.
Believe it or not, we had purged our possessions before we moved here at our old house but still, we had things that we carried along "just in case" we might use them in the future or for sentimentality's sake.
You can check out the trailer for "Minimalism: a Documentary About the Important Things
">Minimalism" below:
There's a book (which I haven't read yet) called Minimalism: Live a meaningful Life" on which the documentary is based.


I know most people have "ideas" of what it means to be minimalist.
We do not only have 3 spoons, for example.
We are not that rigid and we apply minimalism to where it makes sense in our lives.
We are not anti-consumerism, on the contrary, there are many things that we love to collect and adore from my daughter (and Eric's) massive collection of matchbox cars to my compact collection of books I value.
I think it's fine to acquire things you like, within reason and with the application of frugality.
What it means to be minimalist is going to be different for everyone.
My method of managing the stuff we have at this point is a continual editing process.
For example, I do not limit going through my clothes to once a year, or once a season.
I make sure I do not have anything extra that I do not absolutely love continually.
Because I always have this mindset, things do not get out of control like perhaps they have previously in our lives.
Of course, sometimes we do get busy or we are not ready to tackle a certain area but those instances are becoming less and less since I have been more on top of it and living how we really feel about minimalism.
Having a minimalist mindset is empowering in one's home, for us, we have found it to improve our productivity and feel more fulfilled in our lives.
Both my husband and I have many interests and hobbies and we are able to apply minimalism to our lives alongside our various pursuits.
We do not limit minimalism just to mindset and editing of our possessions, it filters into our aesthetics as well.
We live in a Mid-Century Modern style and having a minimalist style conveniently goes with our home.
Eric and I have a loose definition of uniform dressing for our wardrobe which we had already been doing for years and that practice fits well with the minimalist mindset.
I have found minimalism to be a helpful tool to organize ones life and make space, allowing for more personal growth and freedom.
Do you apply minimalism to your life? Have you seen the documentary "Minimalism"?
Please let me know in the comments below & good luck with your minimalist endeavors!
Latest Posts
Latest posts by Sara Maniez
(see all)