This shop has been compensated by Collective Bias, Inc. and its advertiser. All opinions are mine alone. #GetUnderTheRim #CollectiveBias
Check out these 6 Tips to Organize Bathroom Open Shelves! I share an open shelf case study of a recent organization project.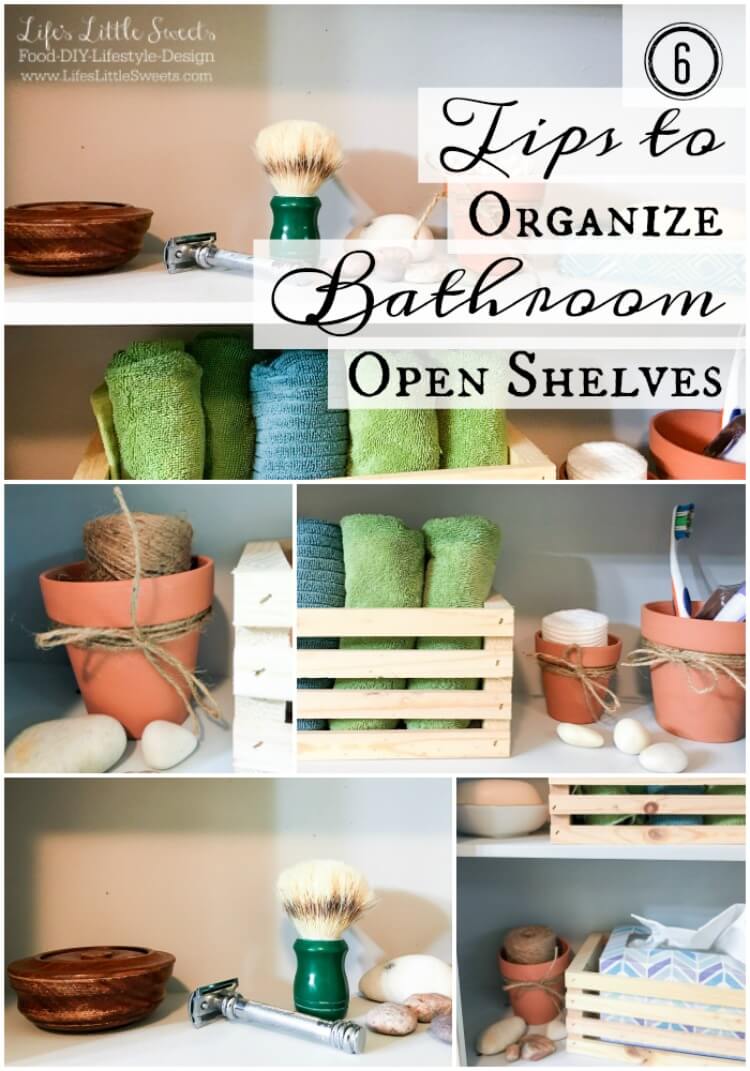 [bctt tweet="6 Tips to Organize Bathroom Open Shelves #ad #GetUnderTheRim #CollectiveBias @Target @scotchbrite" username="lifeslilsweets"]
6 Tips to Organize Bathroom Open Shelves
Hello Everyone! I am blogging on the road for the early part of this week. I am visiting my family in NH to get a visit in before the holidays.
I relish visits with my family in New England and soak up the gorgeous Fall landscape while I am here as you may have seen or will see on my Instagram or Snapchat.
My parents graciously let me organize things here and there when I visit them as my little way of helping and being a dutiful daughter 🙂 As you know, if you read this blog, organizing everyday stuff is something I think about a lot and I love to come up with ideas to do that.
My mom has this great cabinet with a lot of character in the guest bathroom and I wanted to do a cute vignette with it to show a different way to organize open shelves in the bathroom.
I got a few containers, mixed in with what they have to create a fun look while doing some cleaning in the meantime. It's amazing how getting into a little project like this can be kinda relaxing. It's nice to focus in on something and create.
About Scotch-Brite's New Disposable Toilet Scrubber
Since we are in the bathroom, I want to share about Scotch-Brite's New Disposable Toilet Scrubber!
You can find New Scotch-Brite® Disposable Toilet Scrubber and New Scotch-Brite® Disposable Scrubber Refills in the cleaning products section at Target.
Check out this Cartwheel offer: 15% Off New Disposable Toilet Scrubber (11/13-11/19) HERE
I brought the new Scotch-Brite New Disposable Toilet Scrubber to my parent's place to show my mom because she LOVES to clean.
I think it's really good to leave a place cleaner than when you first got there because it's like leaving a little sunshine where ever you go 🙂
6 Tips to Organize Bathroom Open Shelves
Here are my 6 Tips to Organize Bathroom Open Shelves as demonstrated on this cute cabinet!
Tip #1 – Get some containers
You can look for containers around your home to re-purpose. You can try to use items that you might use in another room entirely for a new purpose in the bathroom, for example, mason jars or other containers you would normally see in the kitchen.
You can always purchase items too from your favorite store or second hand at a consignment store.
I got some small wooden crates, sized well for a bathroom shelf. In addition to that, I found some small-sized clay pots to give a "garden" like feel to the shelf which goes well with the plant on the top of the shelf. I have often enough professed my love of mason jars, so I thought it was time to try a new type of container!
I got some natural twine and wrapped it around the clay pots and tied bows to give a layer of detail and keep the garden theme going.
Tip #2 – Clean up
Thoroughly, clean the open shelves – time to dust!
I sometimes use baby wipes to dust if those or handy or just dish soap and water with a sponge or rag.
My mom keeps her house pretty clean so there was not much to dust!
Tip #3 – Purge
It always amazes me the amount of trash that we live with and forget we have in the house. This is one's chance to purge those unwanted objects or packaging that is just sitting there. When I am at my house, I always seem to be recycling things and refining what I have.
For me, organization is an ongoing process. I do not regulate it to New Year's goals or Spring cleaning, although I will use those times as an "excuse" to organize as well.
In this particular shelf, there was not much to purge. My dad has really nice shaving accessories there and keeps things in good order 🙂
There were some guest soaps that I took out of the packaging to display openly and they have a nice scent too.
See that large yellow pot on the floor? That's for laundry! How cool is that? My mom always has out of the box ways to use different objects; I guess, that's where I get it from…
Tip #4 – Organize
Sort, purge, organize – it's time to do that.
I set out to look at the items in the cabinet, restocked anything that needed restocking and just arranged things utilizing the garden-themed containers I got.
It's fun to rearrange and try different scenarios.
Tip #5 – Purge again!
Go over everything with a fine tooth comb. Did you get rid of everything you could the first time? This is good practice for the next step.
This part is really about editing. Are you a good editor of your home? One can edit their possessions just like a paper or any kind of work.
Ask yourself, is this working for me? Do I need this? Could someone else use it?
Tip #6 – Maintain regularly
Be relentless about maintaining the stuff you own on a regular basis.
I don't wait for New Year's resolutions or Spring cleaning to clean and organize.
I look for opportunities organize every day. It's good to pick one thing every day or every week to tackle.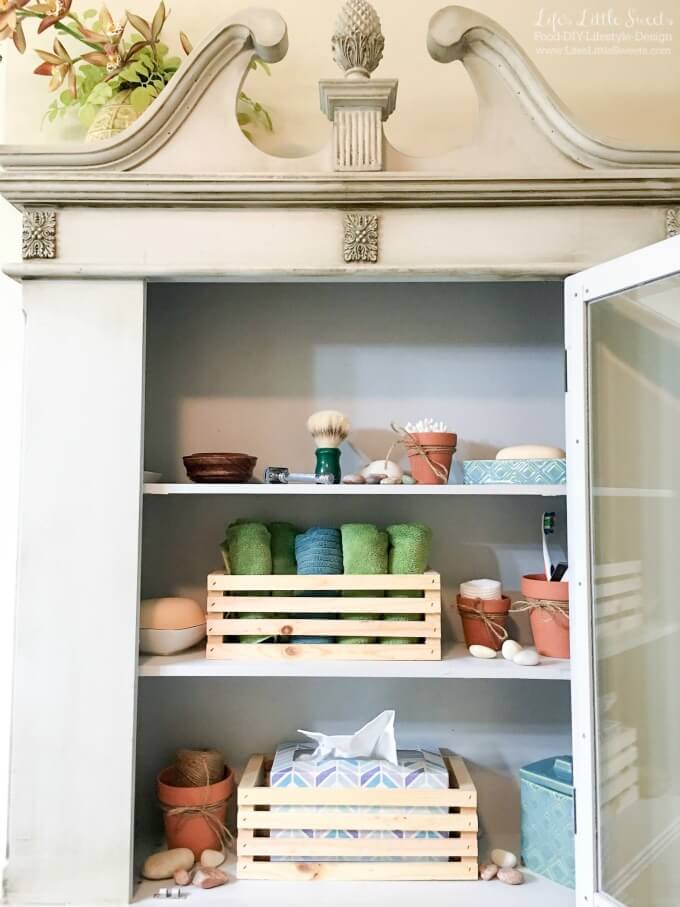 It all came together nicely with room for everything that needs to be there.
I also incorporated these pretty little beach rocks that my parents have collected from many different walks on the beach.
I hope you liked this 6 Tips to Organize Bathroom Open Shelves article, please share it with anyone you might think is interested!
Check out some links below for more ideas 🙂
[bctt tweet="6 Tips to Organize Bathroom Open Shelves #ad #GetUnderTheRim #CollectiveBias @Target @scotchbrite" username="lifeslilsweets"]
What are your bathroom organizing goals? Let me know in the comments below! Best Wishes, ~Sara
Pin this to your "Organizing" board! ⇓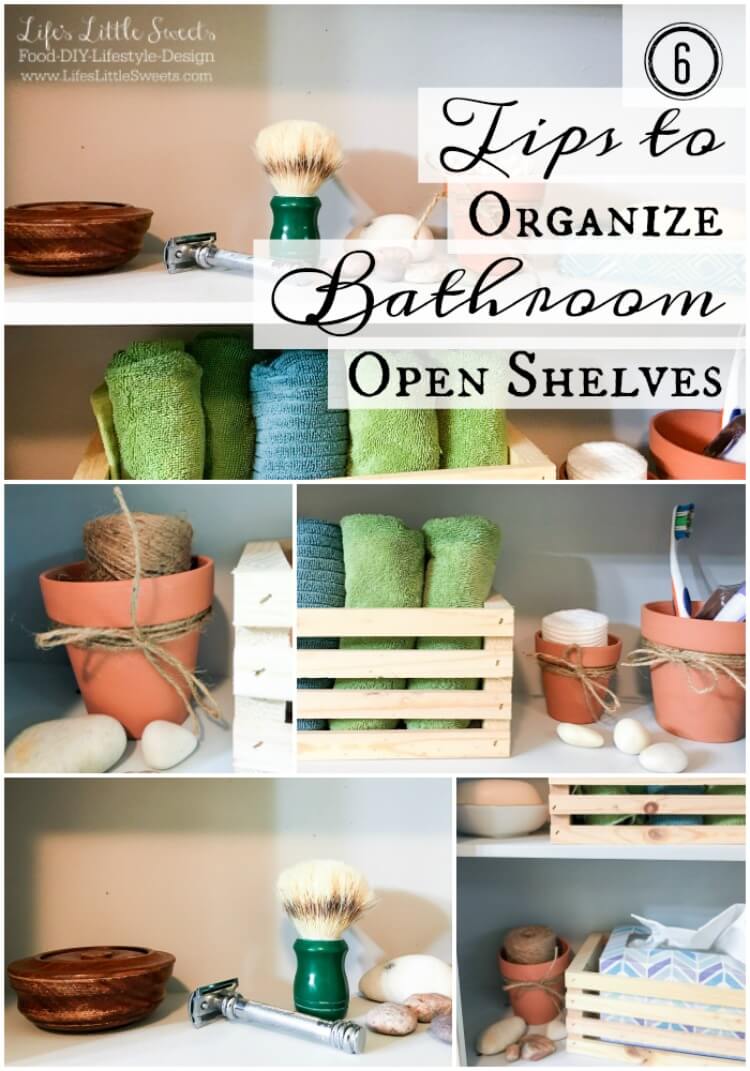 Latest posts by Sara Maniez
(see all)