❤ Here are 21 Valentine's Day Recipes to celebrate Valentine's Day!  There is a variety of desserts, breakfast, breads, sweet sauces, candy and cake to enjoy on Valentine's Day.
21 Valentine's Day Recipes
Valentine's Day is one of my favorite holidays because it's all about LOVE.  Share these recipes with your loved ones on Valentine's Day!
This EasyRed Velvet Fudge is so smooth, chocolate-y and the perfect indulgence to enjoy yourself or give as a gift to someone special.  This recipe uses mini marshmallows making it an easy-to-make, quick fudge recipe.
#2 – Cabernet Sauvignon and Chardonnay Rose Petal Wine Ice Cubes
(msg 21+) These Cabernet Sauvignon and Chardonnay Rose Petal Wine Ice Cubes are a pretty and romantic way to serve wine.  Impress your guests or that special someone with this easy 2 ingredient recipe!
#3 – Chocolate Swirl Meringue Cookies
Chocolate Swirl Meringue Cookies have only 5 ingredients and are a decadent alternative to a traditional cookie and I will say perhaps even easier to make – oh yeah, whip it good!  (the '80's anyone?) Be sure to check out the other #FoodieMamas Chocolate recipes in the roundup.
#4 – Easy Chocolate Toasted Walnut Fudge
This Easy Chocolate Walnut Fudge is butter-y and smooth with toasted walnuts throughout. This easy to make, melt in your mouth fudge recipe is great for gift-giving and makes plenty to keep some for yourself to satisfy any chocolate craving!
This Gingerbread Spice Cake is flavorful, with aromatic spices, molasses and honey & maple agave nectar!  It has a dairy-free & vegan option, so everyone can enjoy this moist & delicious cake?  Spice up things with a warm slice topped with Vanilla Coconut Icing.
This Homemade Chocolate Shell recipe is the perfect topping for any variety of cold desserts.  With only 2 ingredients and 5 minutes to make – It goes especially well with Outshine® Fruit and Veggie Bars for a lip-smacking, fruity and delicious Summer treat or for any time of year!
#7 – Simple Homemade Cinnamon Rolls
These delicious, Simple Homemade Cinnamon Rolls have 8 ingredients or less and are an easy recipe to approach making cinnamon rolls if you've never made them before.  They are aromatic and also have vegan ingredient options too!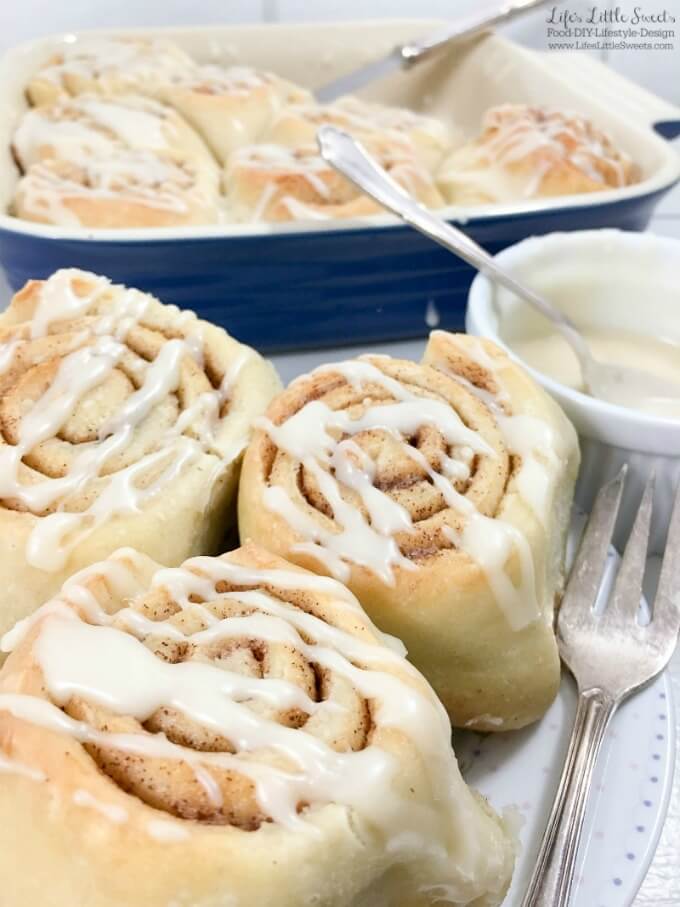 This petite recipe came about from having extra ganache on hand after making mocha ganache frosting for a cake.  Since truffles are essentially rolled up balls of ganache why not try to make some?  I had a craving for something sweet to go with my morning coffee and making these Mocha Cinnamon Truffles seemed more dainty and civilized than scooping ganache of a bowl with a spoon – not that there is anything wrong with that…
#9 – Vegan Banana Bread
The great things about "Vegan Banana Bread" are that it is really simple to make, it has only 10 ingredients, it's adaptable for either traditional or vegan baking lifestyles, it's moist and it tastes darn good!
#10 – Chocolate Nutella Brownies
These Chocolate Nutella Brownies are one of my all-time, favorite brownie recipes with 3 kinds of chocolate in them.  They are the perfect partner to a hot mug of coffee or tea or a tall glass of milk.  Cure your chocolate craving with these incredible, fudgybrownies!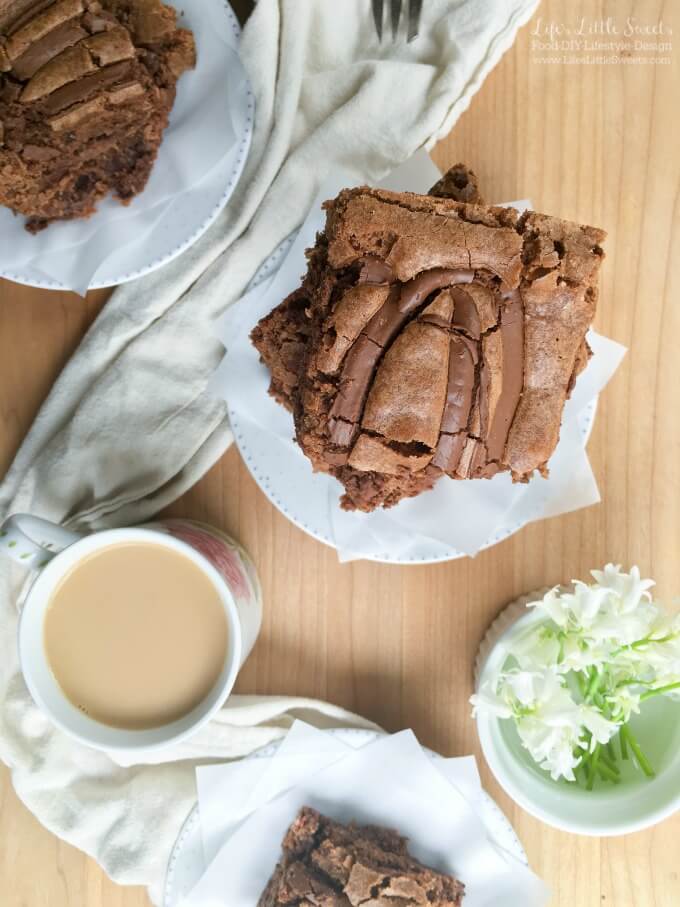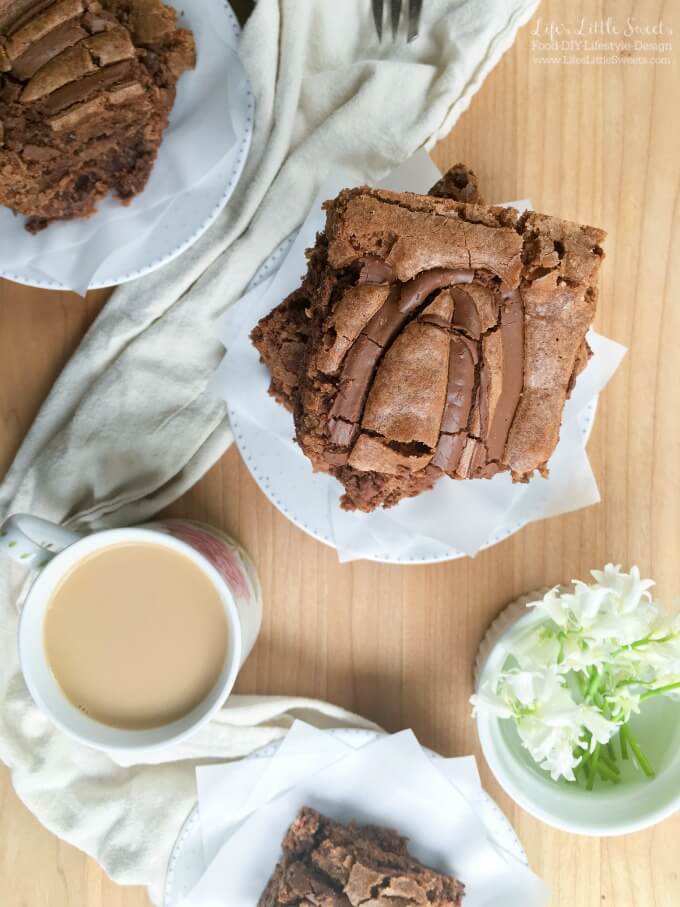 #11 – Vanilla Meringue Cookies with Raspberry Sauce
Enjoy these Vanilla Meringue Cookies with Raspberry Sauce as a delicious, fresh and light dessert!  Be sure to check out all the #FoodieMamasraspberry recipes in the recipe roundup.
#12 – Vanilla Whipped Cream (video)
Vanilla whipped cream, also called vanilla Chantilly cream, is the perfect topping to a dessert, ice cream or even a coffee drink.
#13 – Easy Cherry Pie with Puff Pastry Crust
This Easy Cherry Pie with Puff Pastry Crust comes together in 50 minutes with ready-made ingredients and has a touch of unique with a light and crisp puff pastry crust. Enjoy a delicious slice topped with ice cream, whipped cream and fresh cherries!  Check out all 9#FoodieMamas Cherry Recipes in the roundup.
#14 – Coconut Caramel Sauce (V+GF+SF)
It's back to basics, yeah, Coconut Caramel Sauce is, now, one of my basics.  It can be used in any dessert that would compliment a caramel flavor.  It's vegan, has only 2-3 ingredients, takes less than 5 minutes to make and is meant to be drizzled, drizzled, drizzled!
#15 – Oatmeal Raisin Cranberry Cookies
Cookies are wonderful because, much like cupcakes, they are individual – without any fussiness.  These Oatmeal Raisin Cranberry Cookies are wholesome cookies and though they have two kinds of sugar, they also have oatmeal, raisins and cranberries which are good for you.  These make a tasty breakfast with coffee or take a few, on the go, for a snack.  For a simple and satisfying dessert, have them on their own or perhaps in a bowl with some whipped cream or vanilla ice cream.
#16 – 1 Ingredient Banana Ice Cream
1 Ingredient Banana Ice Cream is a delicious, guilt-free, frozen, fruit treat to eat until your heart's content!  Check out all of June's #FoodieMamasFrozen Treats recipes in the recipe roundup.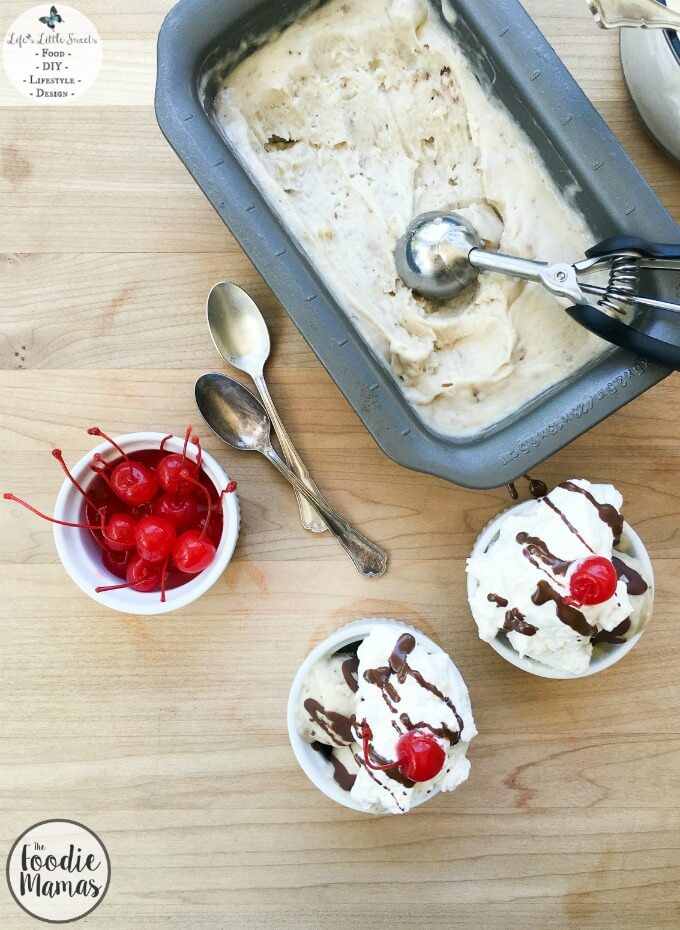 #17 – Easy Caramel (Dulce de Leche)
This Easy Caramel, also called Dulce de Leche, yields a deliciously sweet, dreamy and smooth spread for your coffee, cakes & desserts with only 1 ingredient!
#18 – Soft Strawberry Scones (V)
When I think of the word "scone", I think of a crumbly, dry, stale, bread-like baked good sparsely dotted with shriveled inedible raisins.  These strawberry soft scones are exactly opposite of that;  they are soft and moist.  They are as satisfying as any scone baked with butter, regular sugar or milk/cream.  They have FRESH strawberries in them and only a tablespoon of coconut sugar.  They are completely dairy-free, using coconut oil instead of butter and unsweetened coconut milk instead of cream or milk.  I like these drizzled with a generous amount of Coconut Caramel Sauce.
#19 – Strawberry Buttermilk Pancakes
These buttermilk pancakes are thick, fluffy, moist, cake-like pancakes.  They work well with fresh strawberries in the batter, on top only or both.  Dulce de Leche is another flavor component in this assemblage that provides a smooth, caramel punch of sweet and it compliments the Greek yogurt well.
#20 – Brownie Bottom Marbled Strawberry Cheesecake
This Brownie Bottom Marbled Strawberry Cheesecake is so fruity, chocolate-y and full of cheesecake goodness.  This is a one-pan dessert that is perfect to bring to the Thanksgiving dessert table because it feeds a crowd with 12 servings.  I use Smucker's Fruit & Honey Strawberry Fruit Spread in the marbled cheesecake layer with yummy results!
#21  – Banana Cinnamon Sugar Dumplings
Banana Cinnamon Sugar Dumplings are a warm, buttery and delicious dessert.  They are so easy to make with only 5 ingredients!
[bctt tweet="21 Valentine's Day Recipes" username="lifeslilsweets"]
What's your favorite Valentine's Day recipe?  Let me know in the comments below! Best, ~Sara
Pin this to your "Valentine's Day" and/or "Dessert" board(s)! ⇓
Latest posts by Sara Maniez
(see all)