Kitchen Renovation Update Lighting New Stove Countertop Samples – Things are starting to take shape with our Kitchen Renovation, instead of removing things, we are now adding new lighting, our new Samsung slide-in range, and check out some new countertop & base cabinet samples (76 photos!).
Estimated reading time: 27 minutes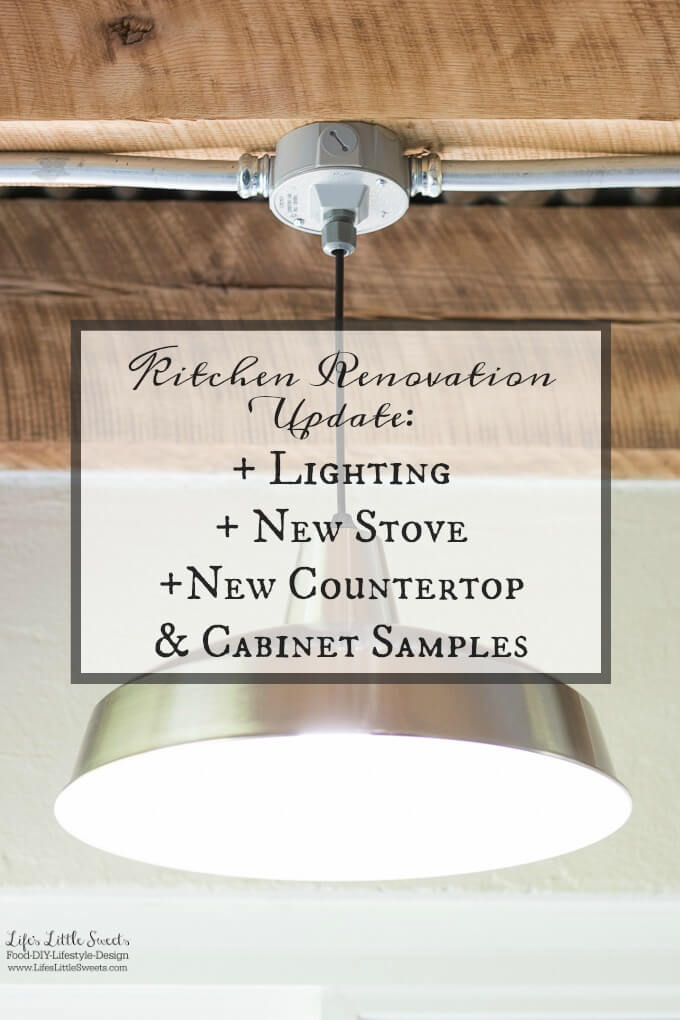 Kitchen Renovation Update Lighting New Stove Countertop Samples
Hi Everyone!
Did you see out last Kitchen Renovation Update post, Kitchen Renovation Lowe's Design Scheme?
I am finally sharing our new lighting because Jason (our electrician) and Eric installed it last weekend right before Mother's Day.
But first, I want to share some more *new* countertop samples!
New Countertop & Cabinet Samples
These are Stilestone Quartz countertop samples alongside white subway tile (top) and the Kraftmaid Thermofoil sample (bottom).
Even though we ordered the countertops in "Frosted Wind" (also Quartz), Eric wasn't thrilled about the pattern and I want us to be on the same page.
I went back to Lowe's, chose some other possibilities and I think as of this post we found something we can both love. Check out the samples below!
Our Recent Cabinet Conundrum
We haven't ordered the cabinets yet but we have an appointment this coming week to do so.
We realize we have to switch from Shenandoah to Kraftmaid, which is a step up in cabinet quality (and price) but the reason is that we can get the Kraftmaid with "voided toe kicks" which basically means without the part that the cabinet sits on.
We would build it up to the height we need.
Why would we need to do this?
Because we have these big, kitchen windows and the countertop will be right under them and we do not have a lot of height to work with.
We do not want to make the windows higher at this point because it's a historic 1955 Mid-Century Modern custom-built house and changing the windows not only doesn't feel right to us but it doesn't preserve the integrity and character of the house.
I am a secretary on the local township's historic commission and that would be a big no-no.
We are going to work with how the house is and whatever we add will be something that walks the balance of giving a nod to the style & integrity of the house and meeting our modern & minimalist taste and style.
The Stilestone "Stellar Snow" quartz (above) is very pretty but the aggregate is not large enough (for us).
The winning combination: This sample combination (above) shows the samples that both Eric and I like the most.
I love the Stilestone "White Diamond" because it doesn't have a yellow cast when I photograph it, the aggregate is a little larger which makes it more interesting visually (see larger photo below) and the coloration of the aggregate reminds me of the beach.
I include a photo of the Kraftmaid Thermofoil in "Shelburne White" base cabinet sample (below) with our new tile floor that we put in.
The floor color is "San Juan Azul" ceramic tile made in Italy in 4 x 8 inch size.
The Kraftmaid Thermofoil in "Shelburne White" base cabinet is a matte white which should hide any fingerprints a little better than the high gloss Thermofoil colors.
So…just when I thought I was done with the countertop and it's ordered, we had to change it…but this is for the best because we have to live with it and it's important to be that both Eric and I love it, especially since a kitchen renovation is taking so much effort and care.
Kitchen Renovation Progress
This is how the kitchen looks now.
The Lighting is in except for a few light bulbs..Eric bought out all the LED floodlights Lowe's had, so they need to restock.
I have cooked on the new range a total of 2 times so far.
We had an electric range before but the burners were metal vs. the glass that we have now.
I am reading the manual and the care is different.
One has to be more careful with the glass and I am a little paranoid about messing it up, probably because it's so new and it's doesn't have the cabinets & countertop on either side yet.
It will take 6 weeks for the cabinets to come in from the time we order them, so this is my temporary kitchen.
Staying Organized During the Kitchen Renovation
So where's all my kitchen stuff?
We have 2 metal industrial shelves in the family room turned dining room/now an extension of the kitchen that is housing most of it.
I have small appliances and dishes that I do not use on a daily basis stored on our 2nd floor.
It will be so nice when everything is all in one, easy to access, place.
During this kitchen renovation process, I have had to move my kitchen stuff several times and every time I cull through what I do not really use and I donate things to Goodwill.
It's good to go through your stuff anyway as an editing process, so when everything is ready to move my kitchen stuff back in, I should have my kitchen stuff pretty well organized – at least that's the goal.
After the backsplash is installed then we will have the outlets installed and they will be in the industrial style that we have going on with the lighting above.
It's really important that we stay with our theme to create a cohesive kitchen style.
I need to do some baking to test out the oven component of the slide-in range.
What should I do?
Bread, cookies, cake?
I am thinking bread, I have a ton of active yeast that I should use up and I haven't been able to bake bread in a while.
I am looking forward to that.
I'll have to give a report on how I like the oven at a later Kitchen Renovation Update.
What it's been like without a stove
Tough. I had to get pretty creative without having an oven for awhile.
I'm always up for a challenge but sometimes it's hard when you also have clients (for sponsored posts) and have to meet their needs. I think it's been well over a month.
We really needed to clear out space to tile and do all the electrical.
My slow cooker and toaster oven got a lot of use during this time.
It was a little tricky to continue with food blogging and be limited in that way but I adjusted and I am super grateful to have an oven back in the kitchen.
Once the oven was back in, we all like wanted to hang out in the kitchen again.
When the kitchen is closer to being done I want to start doing video again.
I put the video effort to the side because the kitchen renovation has just taken so much of my mental bandwidth in terms of planning and time.
(Below) Really after the floor went in, we were just ready to occupy the space.
This kitchen will get a lot of wear so I am glad we went with the tile after all.
The kitchen is already getting a lot of use and it's not even done yet!
The floor has really worked out and we are happy with it. It hides anything SO WELL.
When the tile floor went in, the dogs would just wander back and forth like they were confused, "What is this space?"
I think the kitchen renovation had been stressful on them just as it has been on us because they don't understand.
Things will be calm for a while (6 weeks), while we wait for the cabinets and countertops.
My next big update will probably be the dishwasher which we think will be a Bosch because that brand has dishwashers that have the right measurements for the countertop height.
The possibility of not having to wash dishes excites me with the amount of cooking that I do 🙂
These photos aren't completely in order.
I took some of the range right after it was delivered – quite an exciting moment. There are progress photos of Eric and Jason working below too.
It will be so nice to decorate and make the kitchen space homey once it's all finished.
Our electrician Jason had to update the old, original, 3-prong stove outlet to a 4-prong.
We are glad that it was updated because the wiring was like falling apart.
The brushed nickel countertop warehouse pendants make the space feel like a cafe or restaurant which is cool.
Our electrician Jason did an amazing job of bending all the 3/4 inch electrical metal tubing that houses all of the electrical wire.
We are leaving all the tubing exposed to give an industrial vibe so it was important that it look clean and elegant.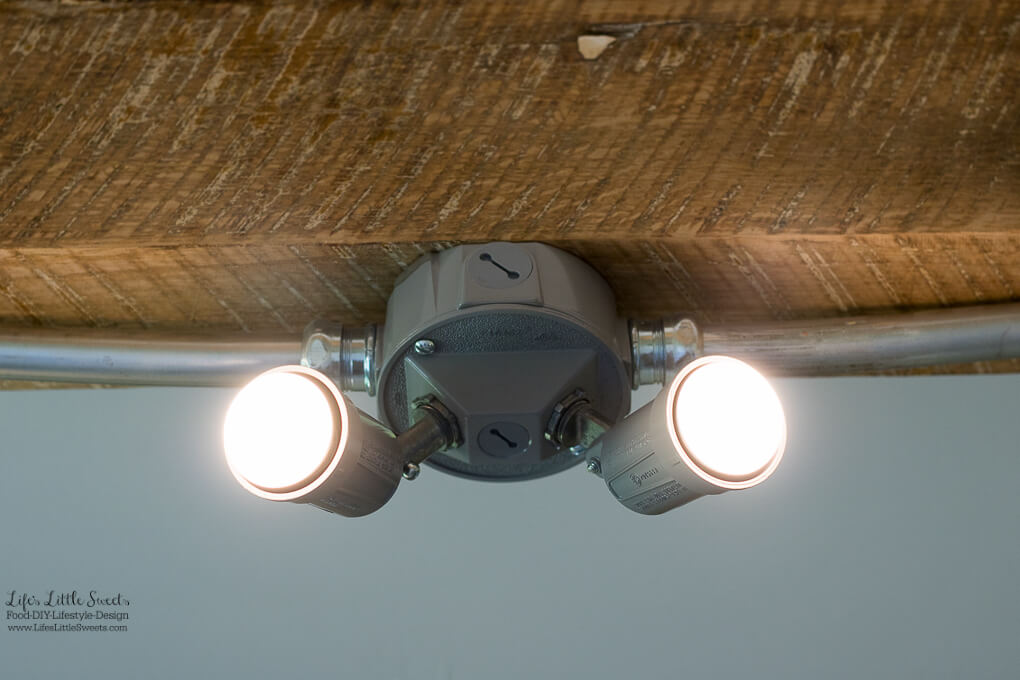 Eric got Edison-style light bulbs for the wall lights.
We still need to paint some patched areas of the walls, that's something we can work on while we are waiting for the cabinets to come in.
Have you seen Our Home Before Photos post?
The kitchen was like a dark dungeon before and now it's filled with light.
The "secret" light switch below, turns on the middle light pictured above on the ceiling.
I took so many pictures of the lights because I want to show how each light looks both on and off.
We did a lot of testing of different light bulbs for the flood lights and finally found a low-profile LED bulb the makes it look very integrated.
Eric at Work
Below are progress photos of Eric and Jason working on the electrical last weekend.
We would like to get brushed nickel covers for all the switch plates.
For now, we just have white ones because the store was out of metal ones and we needed something to cover the wires for safety.
One of my tasks on my to-do list is to create a new plan and diagram of the house so we know the location and function of all the new electrical wire.
We would like to update the electric in the rest of the house too but the kitchen was the area that needed the most updating and it has more electrical needs than the rest of the house.
Eric has since installed a new door sweep for the bottom of the door.
He had to remove the old one and shave the bottom of the door when we re-tiled because it was brushing too close to the new tile.
Eventually, we need to replace our doors but one thing at a time.
Thank you for following along with our Kitchen Renovation!
I am looking forward to the next update; things are starting to come together! 🙂
What do you think about the new countertop samples? Let me know in the comments below! 
Latest Posts
Latest posts by Sara Maniez
(see all)