Our New Refrigerator – we are sharing our latest addition to our kitchen, our new Samsung French Door refrigerator.
Estimated reading time: 7 minutes
Our New Refrigerator
Hi Everyone,
I have shared about the Kitchen renovation that we completed about 2 1/2 years ago (in 2017) on the blog previously BUT there is part of the kitchen that we did not completely finish – the wall opposite our main kitchen wall where the fridge is and our pantry shelves.
(See all of our "Kitchen Renovation" posts in one place here: Kitchen Renovation)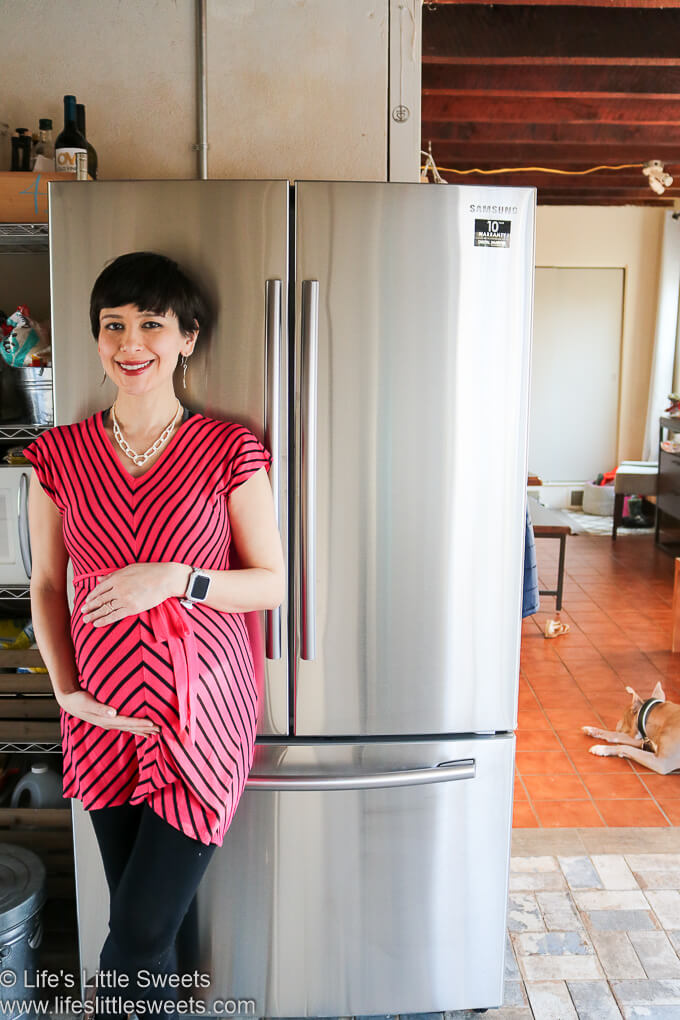 The Search for the Right Fridge
I waited and waited, watched the sales over time, did so much research, had a large file folder of research, changed my mind over and over again, and finally found this fridge that fit my budget and checked off all the boxes for what we felt like we needed in terms of capacity (25.5 cubic feet) and design.
The exact model we got is the "Samsung 25.5-cu ft French Door Refrigerator with Ice Maker (Stainless Steel) ENERGY STAR." (Model # RF260BEAESR)
The French Door Style
I wanted the French door style because we go into the fridge more than the freezer and at our ages (late 30's, Eric's in his mid 40's), leaning over to get into the fridge is harder on our backs.
I am especially sensitive to it because I am pregnant right now and my back is sensitive.
The freezer draw is convenient and simple to use.
I also notice that I don't have any issues with my kids going into the fridge anymore. I had a problem with my 2 1/2-year-old toddler son going into the fridge and taking out food and leaving the door open.
Since we have had the fridge (about a week from these photos), that hasn't been a problem!
I got our fridge from our local Lowe's during a recent sale.
I love getting a good deal because it sweetens the purchase for me.
Meal Prep
Having this new fridge is getting me inspired to do more meal prep and staying stocked up.
I am expecting my 3rd child in early June 2020, so meal prep is definitely on my mind.
I am definitely in "nesting" mode.
What I love about it
I love the lighting inside, it's nice and bright and the doors close nicely.
I like that I can see everything at eye-level and things are clearly spaced out.
I love that I don't have to lean over to see what's in the fridge.
Why Did We Need a New Fridge?
I explain it best, in this post on my Lifestyle IG account @preppyroots:
Nesting update: Basking in the glory of my new fridge that was delivered today after a week and a half back-order…I'm proud of it because I had to write a lot of recipes and blog posts on my blog to get this fridge and I finally got it; still working out how we want to build it in or do shelving/pantry storage around it #bosswoman ☺️ It was the only thing we didn't update when we redid the kitchen, the fridge we previously had come with the house, so this feels like OUR fridge. I use our kitchen SO much, it's pretty much my office/photography studio/food making center…I already feel inspired to do meal prep recipes for when the new baby comes! #3rdbabyontheway
What is Next for the Kitchen?
Looking forward, I want to organize the area around the fridge and I am gathering ideas for that.
We always need pantry space, so storage, shelving, and space for small appliances are what I am thinking as I program that space.
Also, on the other side of the wall is the dining room and that side of the wall needs to be configured because we are moving the laundry closet that's currently in there, to our 2nd-floor future bathroom/laundry room.
It may be helpful to think of that wall as a whole when we build out space.
Other than that, the things the kitchen needs are minimal, cosmetic things, I've thought about more shelving at the time.
I still need to de-clutter some (although, I have de-cluttered a lot in the past).
I would love to get coordinating runners for the kitchen floor to cozy it up a bit more.
I would love a good espresso machine, especially after I give birth, that would be the icing on the cake.
I love making my own coffee drinks at home.
It would also be nice to have a designated space for my cookbooks, right now they are all over the place where I can find space.
We also need to finish up the countertop electrical outlets, other than that, that's all I can think of for now!
I hope you enjoyed this post about our new fridge, thank you for reading and following along!
*Special thanks to my husband, Eric, for snapping some photos of the new fridge and me 🙂
Latest Posts
Latest posts by Sara Maniez
(see all)