Estimated reading time: 8 minutes
Whether you're looking for high protein, low carb, no sugar, or even plant-based yogurt, there is yogurt for you. Here are 9 different types of yogurt that are great for an on-the-go snack or a healthy breakfast to start your day.
9 Different Types of Yogurt
There are so many types of yogurt to choose from. They're all unique in how they're made, their flavor, and their texture. This is due to their specific fermentation process and if they're strained or unstrained.
There are so many different recipes that you can make using yogurt. Whether you're wanting a filling breakfast, a healthy snack, or a delicious dessert, there is a yogurt recipe for you.
Try out Healthy Breakfast Yogurt Parfait with Berries or Strawberry Buttermilk Pancakes for breakfast.
You can also enjoy Strawberry Banana Caramel Frozen Yogurt or Yogurt-Dipped Blackberry Fruit Bars for a great snack or after-dinner dessert.
What is yogurt?
Simply put, yogurt is a healthy breakfast or snack food that is made by fermentation of milk. Yogurt cultures are formed by good bacteria during this process. Sugars in the milk are then changed into lactic acid, which then combines with milk protein to create yogurt.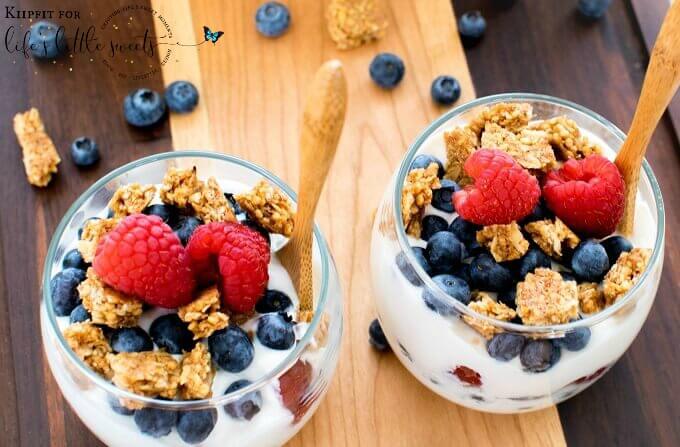 How do I store yogurt?
Yogurt should be stored in the fridge. Because it is fermented, it will stay good in your fridge for about two to three weeks. I recommend always checking the best-by date before digging in.
Certain types of yogurt will stay fresh longer than others, depending on the type of milk, acid, and fermentation process that is used. If you open yogurt, I definitely wouldn't recommend eating it past its expiration date. Also, you may notice water on top of your yogurt. This is completely normal and nothing to worry about.
Milk-Based Yogurt:
"Traditional" Yogurt
Traditional yogurt is your everyday "normal" yogurt that you will see on your stores' shelves. It is made by warming up regular cow's milk to prevent curds, and then it Is cooled and mixed with bacterial culture. Regular yogurt has a tangy and sour flavor due to how it is made.
Most yogurts have active cultures, which are probiotics, that help promote gut and digestive health. Because it is unstrained, it is creamy, smooth, and not super thick. You can find traditional yogurt in whole milk, low-fat, or nonfat options. It is usually mixed in with a flavor, but it will be slightly tangy if you get the original (not vanilla). 
Greek Yogurt
Greek yogurt has become one of the most popular yogurts in the past few years. You'll find low-fat greek yogurt, greek yogurt full of protein, and even low-carb greek yogurt.
Greek yogurt is made by fermenting milk with active cultures. After the base is made, it is strained to remove the liquid and the whey, which makes your yogurt thicker and tangy. The sourish flavor of greek yogurt allows for it to be a great substitute in savory dishes as a "healthier" mayonnaise or sour cream.
Skyr/Icelandic Yogurt
Iceland, or Skyr, yogurt is one of the thickest yogurts that is made. It is thicker than greek yogurt but has similar protein content. However, unlike greek yogurt, it isn't tangy. This thick yogurt is strained four times, which makes the texture chunky and almost cheese-like.
Drinkable Yogurt
Drinkable yogurt is the thinnest yogurt in texture, which allows it to be drunk instead of eaten. It has become very popular because it is great for an on-the-go snack that is full go flavor and protein. This yogurt can be made from most kinds of yogurt, like traditional and greek yogurt. It comes in many flavors and can be found in most grocery stores. 
KEFIR
Kefir is one of the yogurts that has also become very popular in recent years because of its health benefits. It is also drinkable but has a longer fermentation than your regular drinkable yogurt and is also fermented at room temperature. Kefir is tart, tangy, and has an almost bubbly consistency. It is full of probiotics, easy to take for a snack, and can help with lactose digestion.
Plant-Based Yogurt:
Soy Yogurt
Soy yogurt is one of the most popular kinds of plant-based yogurts. The texture is very similar to traditional yogurt and is the easiest to find in your grocery store. This yogurt is one of the first milk substitute yogurts that were made. Soy yogurt can be sweet or tangy, depending on the flavor you choose.
Almond Yogurt
Almond yogurt is a little heavier than your traditional yogurt but without the greek yogurt consistency. It is made by heating almond milk and then adding live cultures at the end of the process. You can get almond milk yogurt in most flavors, but it is a little tangy if you buy it plain.
Cashew Yogurt
Cashew yogurt is incredibly creamy. It is full of probiotics and has a somewhat acidic flavor. It is made by soaking cashews, blending them, adding in the probiotics, and then letting them thicken. Most of the time, this process is done at room temperature, but sometimes it is processed by using heat.
Coconut Yogurt
Coconut yogurt is one of the heaviest plant-based yogurts. It is made from coconut cream, which makes it rich and thick. This yogurt is high in fat and calories and can be used as a dessert. While the coconut yogurt made from cream is thick, you can find options that are made of coconut milk, which is a little bit thinner.
Latest Posts
First published: 3/24/2023
Latest posts by Allison Lancaster
(see all)