Easter Saltine Toffee: I am a contributor to Amanda's Cookin' and this recipe first appeared on there as Easter Crack.
Estimated reading time: 5 minutes
Try this Easter Saltine Toffee recipe this Spring! This classic, Saltine Toffee is a simple-to-make recipe, using simple pantry ingredients, white chocolate, Easter-themed, pastel sprinkles, and your favorite candies.
Table of contents
Easter Saltine Toffee
Hi Everyone, what do you like to make for Easter?
Looking for something to leave out for the Easter bunny?
Why not try this Easter Saltine Toffee?
It's the "Easter" version of a classic saltine toffee recipe.
This can be a new, easy, and fun Easter tradition 🙂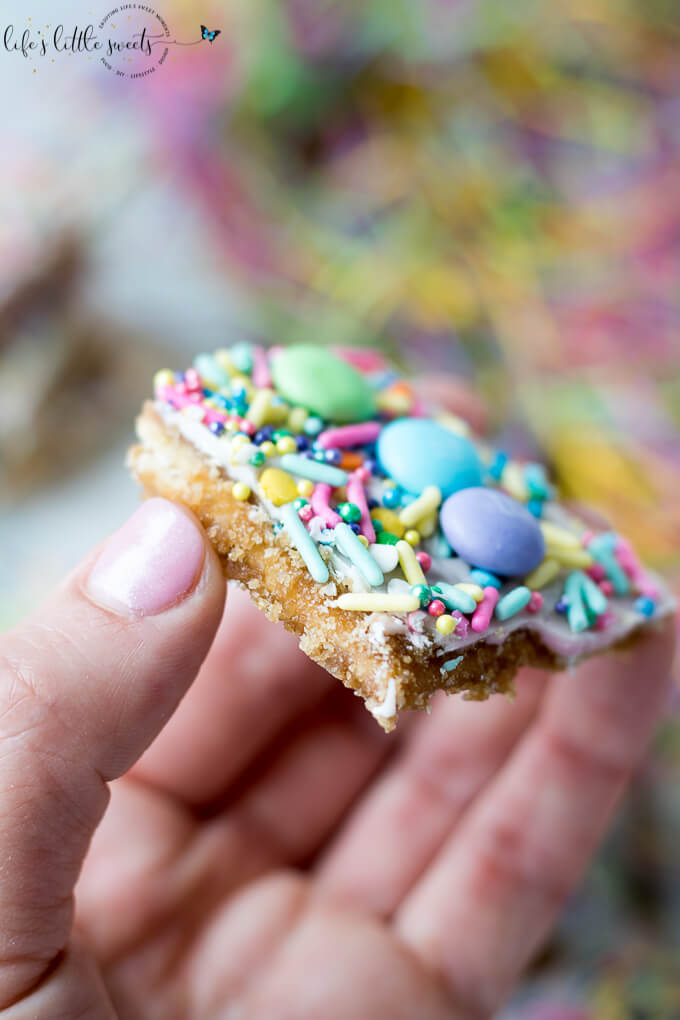 I love these "Crack" or Saltine Toffee recipes because they are so simple to make with everyday pantry ingredients that I already have on hand.
I am always finding a reason to make Saltine Toffee recipes, for example, when I was craving butterscotch, I made this Chocolate Butterscotch Saltine Toffee.
It's perfect when you have a craving for something satisfying (hint: it's that combination of butter and chocolate with Saltine crackers!) and sweet.
That buttery, crunchy texture is so yummy and I find that it goes perfectly with a hot cup of coffee or tea.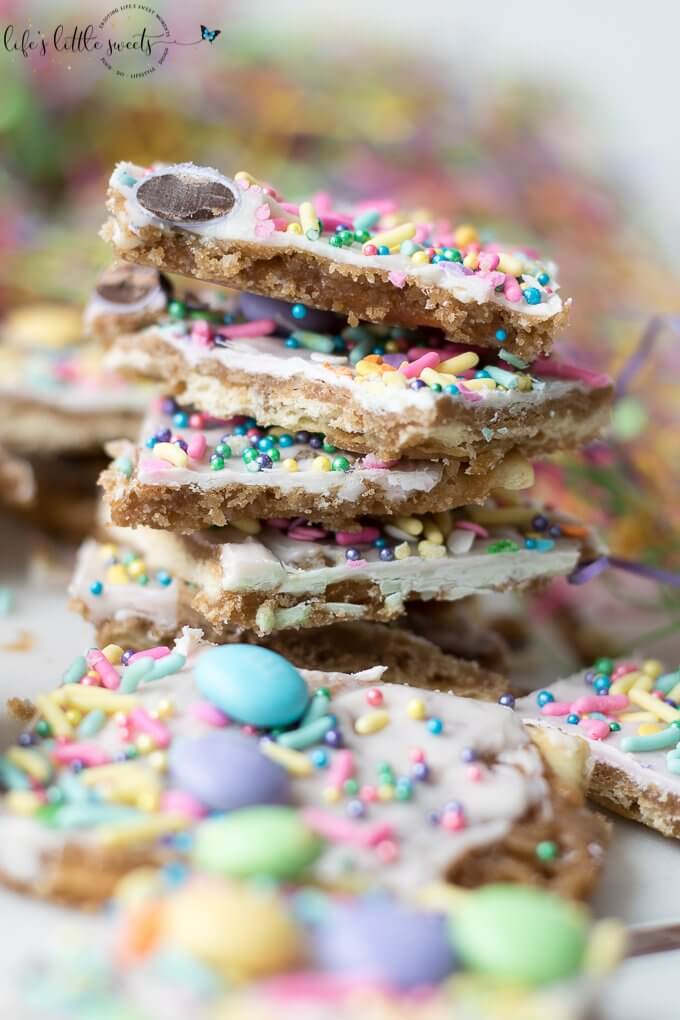 Doesn't this Easter Saltine Toffee look so festive with all the pastel colors?
I topped it with M&M's (a personal favorite) but you can use your favorite Easter-themed candies – as much or as little as you want.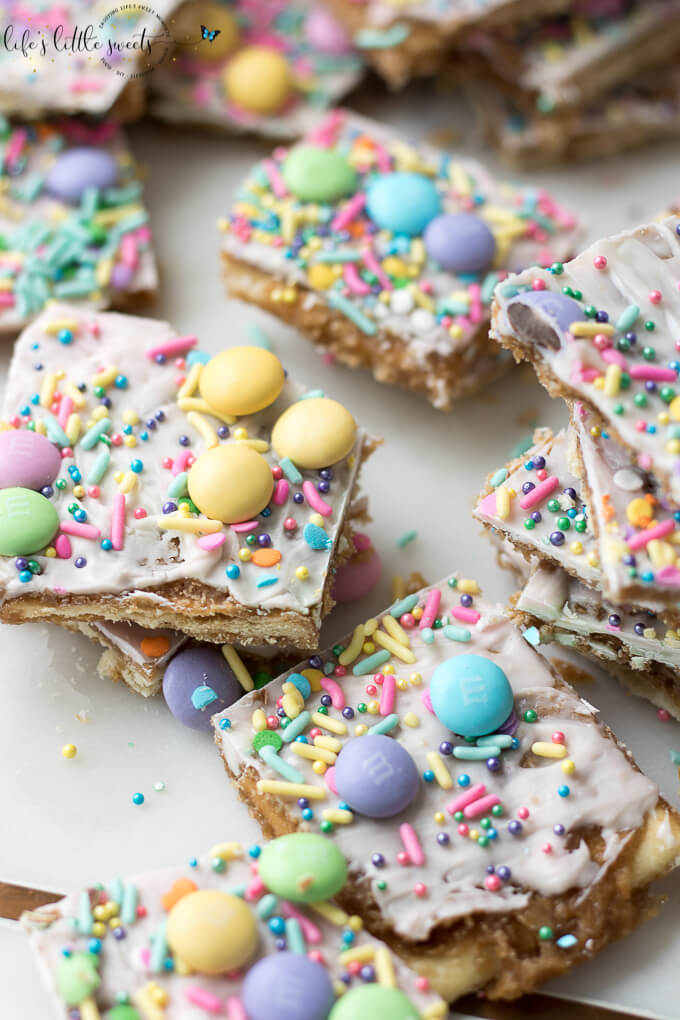 This Easter Saltine Toffee would also make a welcome, edible gift for family and friends – who wouldn't want a cellophane bag filled with these bright sweeties?
It's easy to make a lot of it too, so if you need a party favor for an Easter party, you can easily make a batch or a double batch of it.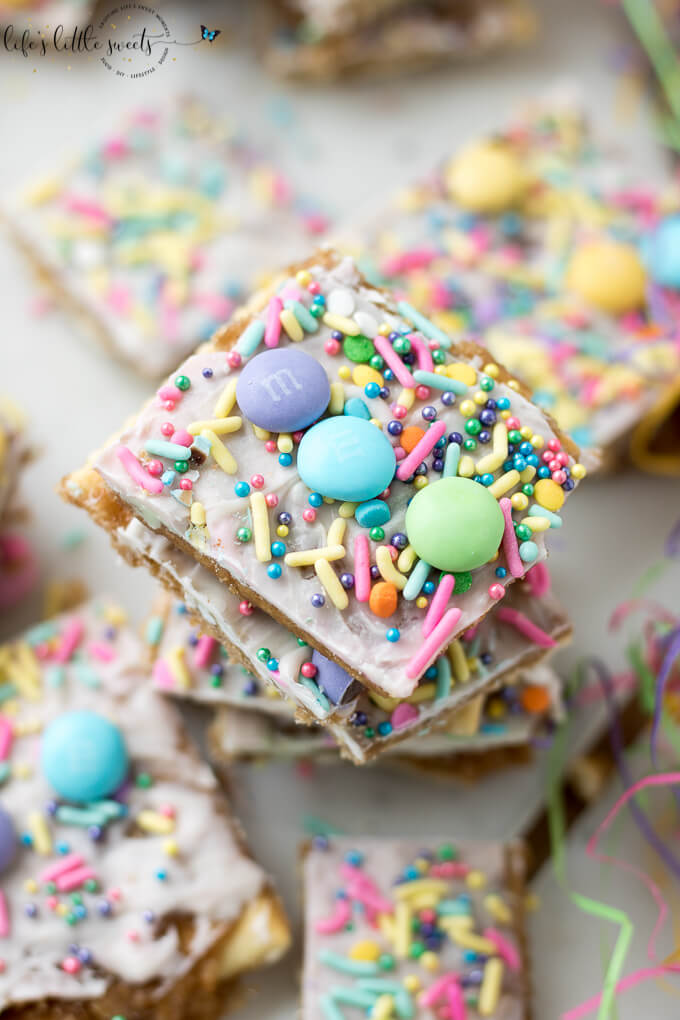 Ingredients
48 (or more, depending on the size of your baking sheet) Saltine crackers (regular)
1 cup unsalted butter (2 sticks)
1 cup dark brown sugar (packed)
6 ounces white chocolate chip morsels, use the best quality possible because white chocolate is a little harder to melt *see below for substitution
1-2 drops of gel food coloring (I used red to make pink and green) – to make the white chocolate have some pastel color to it. *you could also try using colored candy melts in the same amount as the white chocolate – this is optional and you can always just leave the white chocolate white
Easter and Springtime-themed sprinkles and candy amount to taste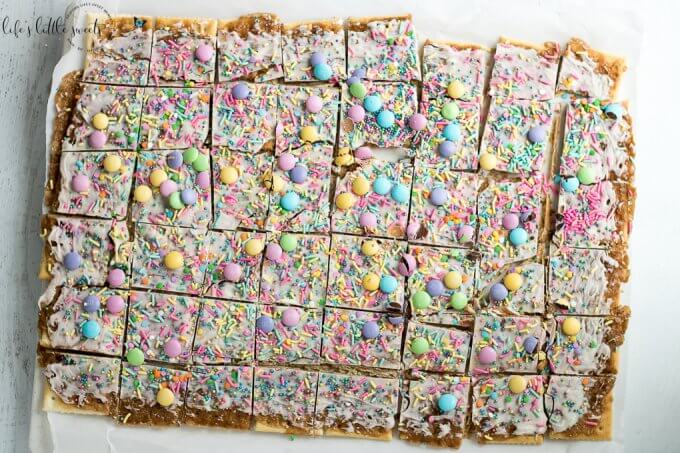 Kitchen Tools
rimmed baking sheet
measuring spoons and cups
heavy-duty aluminum foil or parchment paper (I used parchment because it doesn't stick to the bottom of the toffee as much as the foil)
baking spatula and/or offset spatula
medium saucepan
small bowls for mixing the food coloring and white chocolate – optional
spoons for mixing
Web Story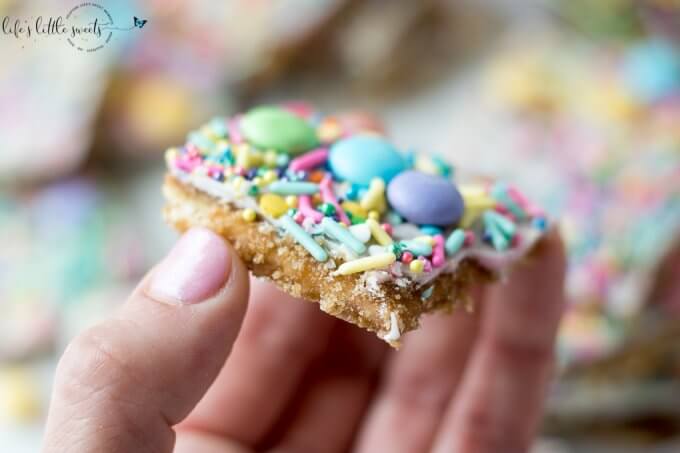 I know you will love this Easter Saltine Toffee recipe, try it this Easter season!
Our Other Recipes and Posts
If you make this recipe, and like it, please give it a rating in the recipe card below and let us know in the comments at the end of the post.
Latest Posts
Thank you for reading and following along!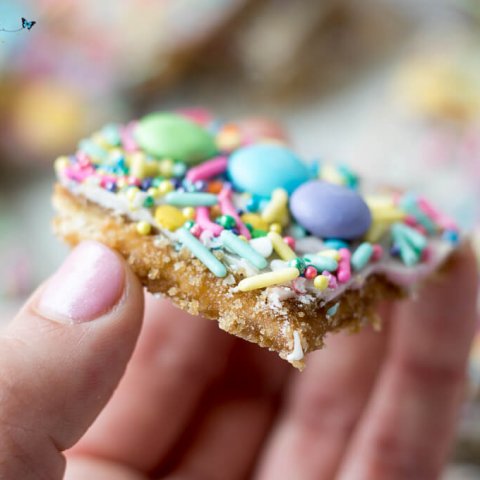 Easter Saltine Toffee
Try this Easter Saltine Toffee recipe this Spring! This classic, Saltine Toffee is simple to make the recipe, using simple pantry ingredients, white chocolate, Easter-themed, pastel sprinkles, and your favorite candies.
Instructions
Preheat oven to 350 degrees F.
Cover a rimmed baking sheet with parchment paper (make sure the parchment is covering up the sides).
Cover sheet pan with 48 (or more) saltine crackers.
Melt the unsalted butter and packed, dark brown sugar in a medium saucepan. Boil for 5 minutes or until it is mixed and bubbly. Stir with a whisk or wooden spoon.
Pour carefully over the arranged Saltines.
Place the sheet pan in the preheated oven for 4-5 minutes, the butter-sugar mixture should be bubbly when you take it out.
Take the sheet pan out and sprinkle the white chocolate chip morsels, after a few minutes, using an offset spatula spread the chocolate evenly.
Optionally, you can mix 1-2 drops of food coloring with the melted white chocolate and spread it to get a pastel effect. As another option for adding color, you can try using the same amount of candy melts as well if you prefer.
Cool in the refrigerator for 2 hours or overnight to allow it to set. Take it out and you can break it apart with your hands or use a sharp knife to cut. Package to give for gift-giving and enjoy!
Notes
Serving size: 1 saltine cracker size
Nutrition Information:
Yield:

48
Serving Size:

1
Amount Per Serving:
Calories:

113
Total Fat:

8g
Saturated Fat:

5g
Trans Fat:

0g
Unsaturated Fat:

3g
Cholesterol:

13mg
Sodium:

19mg
Carbohydrates:

11g
Fiber:

0g
Sugar:

10g
Protein:

1g
Please note that the Calculated Nutrition is an estimate at best.
This post was originally published on 3/24/2018
Updated & republished on 4/9/2021, 4/5/2022, 2/27/2023
Latest posts by Sara Maniez
(see all)