How to Brush Your Dog's Teeth. This shop has been compensated by Collective Bias, Inc. and its advertiser. All opinions are mine alone. #BestPawForward #CollectiveBias
Meet my dog Chloe! She's a miniature poodle and will be demonstrating How to Brush Your Dog's Teeth! She enjoys Purina DentaLife chews as apart of her dental care.
Estimated reading time: 7 minutes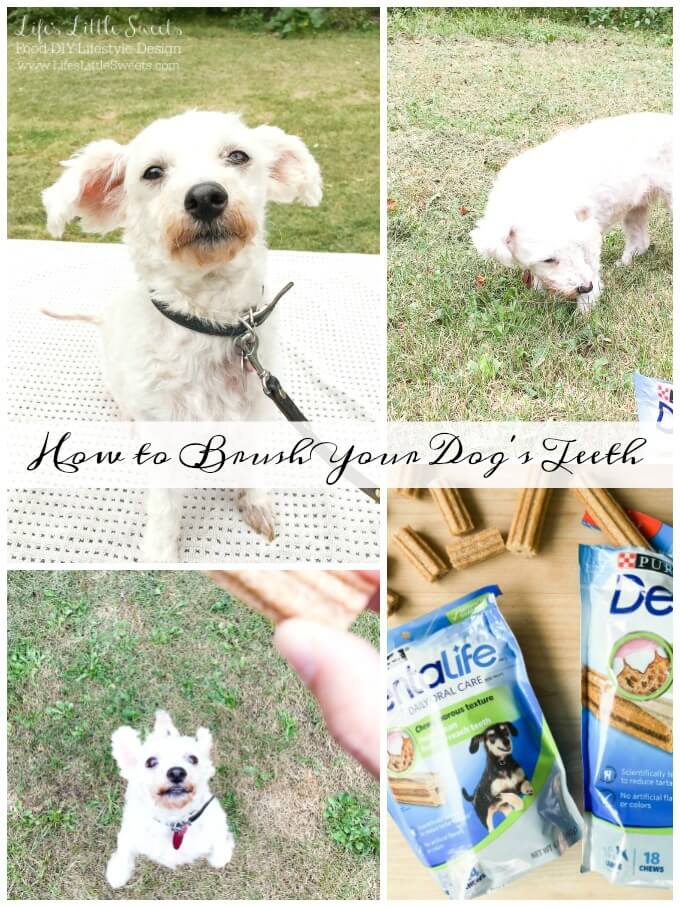 Note: The information in this post is not to be taken as professional veterinary advice. Please consult your veterinarian for recommendations and practices appropriate for your pet.
How to Brush Your Dog's Teeth
If you have dogs in your household like we do, brushing your dog's teeth is an important practice to have to maintain their oral hygiene.
In an ideal world, you want to brush your dog's teeth on a daily basis – just as you would brush your own. Establishing a routine is good because it gets your dogs used to their teeth being checked which comes in handy if your veterinarian needs to check them at a later point.
Make sure to use a toothpaste that is specially formulated for dogs and a soft-bristled toothbrush that is sized for your dogs mouth.
Our Dog Chloe
This is the first time I have had a chance to focus on Chloe on Life's Little Sweets. You may have heard about our other dog, Cayli, from previous posts but apart from maybe one picture, Chloe is "new" to the blog. I'm so happy to finally introduce you to her!
Chloe is a 7-year old, Miniature Poodle. She weighs all of 15 lbs. and is an energetic and feisty dog! She doesn't look like a typical poodle because we keep her hair in more of a short, "puppy" cut because she is so active and it is more practical to care for our lifestyle. She has a lot of personality and considers herself the "guard dog" of the house. She loves to play fetch and could to that literally the whole day, in fact, we have had times when we have had to stop playing because we are the ones who get worn out 🙂
She does not mind getting her teeth brushed because she knows there's is always a special treat after: Purina DentaLife chews!
[bctt tweet="How to Brush Your Dog's Teeth #ad #BestPawForward #CollectiveBias @BeyondPetFood" username="lifeslilsweets"]
Purina DentaLife
I always give my dogs a treat after they get their teeth brushed and they love Purina DentaLife chews.
I found Purina DentaLife chews in small and large sizes at Stop & Shop in the dog food section. I get the small size for Chloe and the large size for my larger dog Cayli.
Purina DentaLife chews are also available for cats.
I also purchased Purina Beyond Grain Free (Wild-Caught Tuna & Egg Recipe) and Purina ONE True Instinct Grain-Free Formula for my two dogs food while I picked up the Purina DentaLife chews.

How to Brush Your Dog's Teeth – A Step-By-Step Tutorial
Step #1 – Gather your tools and prepare your area
Gather a appropriately sized, soft-bristled toothbrush for your dog and toothpaste that is formulated for dogs.
Have an uncluttered, designated area with a comfortable towel or blanket for your dog to sit on.
Make sure your dog is wearing their collar and leash especially if you are outside.
Step #2 – Brush Your Dog's Teeth
Rinse the toothbrush to moisten it and put the dog toothpaste on the toothbrush.
Allow your dog to smell the toothbrush and toothpaste before you start.
Try to be quick and efficient when brushing your dog's teeth and focus on getting to all of their teeth.
Make sure you are calm and talk to your dog while you are brushing their teeth to reassure them.
Step #3 – Rinse
Give your dog access to a bowl of water so that they can have a drink.
Step #4 – Reward
Make sure to reward your dog for a job well done.
Here, Chloe is getting a Purina DentaLife chew as a reward.
Do you brush your dog's teeth? Let me know in the comments below! Best Wishes, ~Sara
Pin this to your "Pet" board! ⇓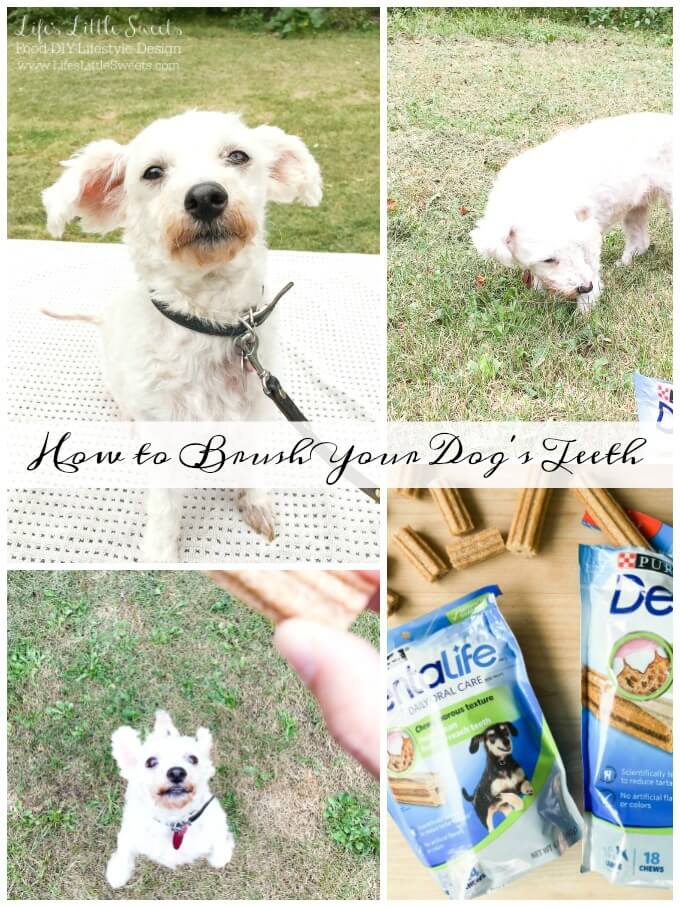 Latest posts by Sara Maniez
(see all)