Kitchen Renovation Ceiling Walls and Plumbing Update – Here's our latest update on the last 2 weeks for our modern, industrial Kitchen Renovation Project Series (45 photos!).
Estimated reading time: 16 minutes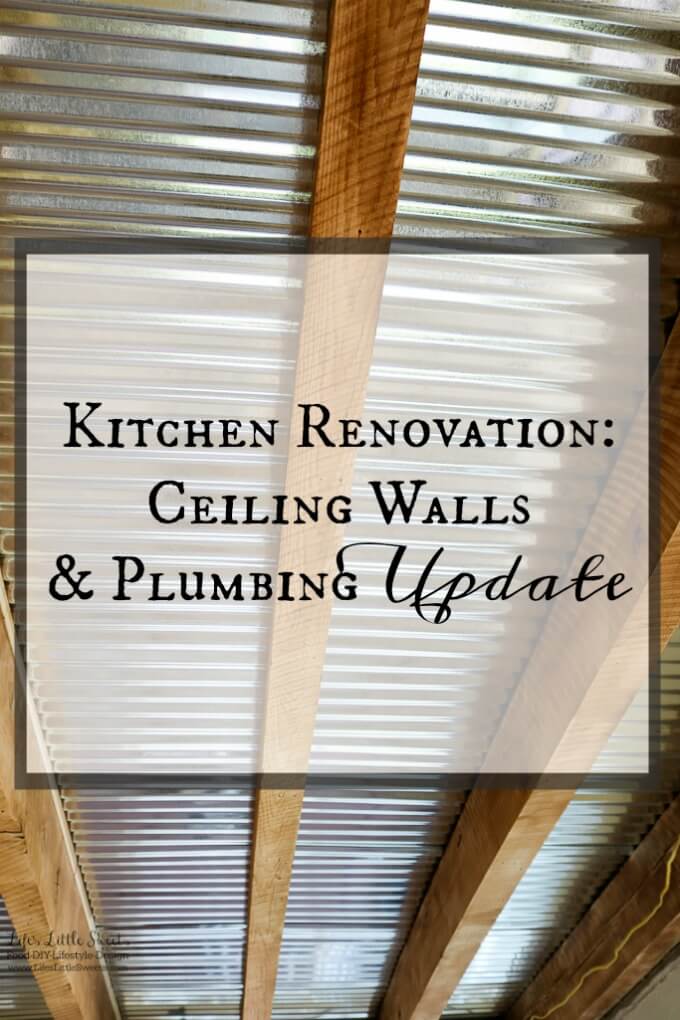 Kitchen Renovation Ceiling Walls and Plumbing Update
Hi Everyone! Did you see the kitchen idea & inspiration photos from our trip to IKEA?
If you haven't you can check them out here.
Today, I have 45 photos (!!) documenting the past 2 weeks of work on our Kitchen Renovation Project!
So much to catch up on!?
All kitchen renovation related posts are HERE
Be sure to follow along my Snapchat and Instagram stories because I will post regular updates there as they happen.
These past 2 weeks, Eric installed the corrugated metal ceiling that I discussed in my previous Kitchen Renovation Update Electrical and Ceiling post.
Let's jump right into the tour!
Week of April 10th
If you haven't seen Our Home Before Photos, be sure to check those out to see where we started.
I just want to say thank goodness we have an electrician who likes our project and understands our vision in doing on non-conventional, industrial style, modern kitchen (Thank you Jason!)
Week of April 17th
This week was really all about getting ready and paving the way for lighting.
This photo (above) shows the floor, there were 2 trenches and this past week Eric relocated the plumbing for the sink to go along the wall.
That was actually a HUGE step because before the sink was in the middle of the floor.
See how there's a temporary sink along the wall right in the middle of the window where the future permanent sink will be (and next to it the dishwasher!) 🙂
There you go, there's Eric's plumbing work.
This was a huge problem that we had to resolve so that we could do our long "counter wall" idea where most of the kitchen is along one wall.
The refrigerator will be on the opposite wall.
There will be another nautical-style, outdoor light on this wall near the door with switches.
Hopefully, that will go in next weekend.
Eric has been working everyday after work and through the weekend on this Kitchen Renovation Project.
If he needs to discuss something he calls me over (I'm usually just on the other side of the plastic) and I take photos when he's done a phase of work.
This project, though it is big and at first a little stressful, we have both gotten into the groove and it's flowing now.
There will be 6 warehouse pendant in brushed nickel along the counter wall.
I love how with a little light to test out, the kitchen space feels a little like a gallery space where one would hang art.
Having lights to highlight the walls and beams adds so much to space and makes you appreciate the architectural elements of this Mid-Century Modern 1955 custom-designed and built family home.
I'm so glad that Eric ripped out the lowered ceiling exposing the beautiful beams in the first part of the kitchen, I think they really add to the space and it's a nod to the original house.
This wall light fixture has a nautical feel and there will be a switch under it so when you enter the kitchen space from the living room you can turn on the lights.
This is the same light that will be installed by the door and we will have another in the family room to keep the theme consistent throughout the house.
Our homework for this week is to figure out the floor.
We think we will just continue the tile since the house has an open plan but we have had several ideas come up in the last couple of weeks as flooring possibilities.
I think the tile will be fine but you never know what we are going to do, this project has evolved – you will just have to wait and see!
Already the kitchen space has been so transformed and barely looks recognizable from where we started when we first moved into this house.
I love that brushed nickel, it goes with everything and looks so clean and fresh!
I still can't get over how good the beams look after Eric sanded them.
The sanding really brought out the beauty of the wood. Eric wants to do the beams in the rest of the house, that will be amazing since they are really dark in the rest of the house.
A 1955 kitchen being updated for 2017 and beyond 🙂
Thank you for following along with our adventures with our Kitchen Renovation Series on Life's Little Sweets, stay tuned for more updates!
Latest Posts
Tell me your kitchen renovation stories! Let me know in the comments below!
Latest posts by Sara Maniez
(see all)