Peanut Butter and Jelly Sandwich (also called, "PB&J") is an all-American, sweet, and savory sandwich recipe with peanut butter and jam or jelly, perfect for a quick bite and loved by children and adults alike. (vegetarian, full tutorial video)
Estimated reading time: 3 minutes
Peanut Butter and Jelly Sandwich
Hi Everyone, I hope you are doing well. I am on a mission to record all the seemingly mundane snacks and recipes that I make for my kids.
I think of it as recording it for my kids for when they get older and want to learn how I make something perhaps when they go to college or have kids of their own.
Often this type of food is really basic stuff but it's what my habit-loving kids like most right now.
I also know that many viewers of this blog love Peanut Butter and Jelly as a flavor in general and I have made several recipes in the past with that theme.
I even made a recipe page for Peanut Butter and Jelly recipes which I linked to below.
About the Peanut Butter and Jelly Sandwich (also called, PB&J)
Peanut Butter and Jelly Sandwiches are a classic, All-American, sweet and savory sandwich with bread. It has peanut butter, either creamy or chunky in it.
Traditionally, a PB&J will have grape jelly in it but you can have your favorite flavor in it. We also love strawberry, mixed berry, or raspberry in a PB&J as well.
We have a recipe for Homemade Peanut Butter on the blog if you want to make your own!
Jumprope App
I just joined a new app called Jumprope and it makes it really easy to make and share existing and new videos in a step-by-step format to teach people how to make a recipe by breaking it down into easy to follow steps with images and/or video.
Anyone can join Jumprope and start watching or creating videos. I will be creating more recipe videos for the app and I hope you want to follow me there!
If you make this Peanut Butter and Jelly Sandwich recipe and like it, please rate the recipe in the recipe card below and let me know in the comments at the end of the post.
How would you customize your Peanut Butter and Jelly Sandwich?
Thank you for reading and following along!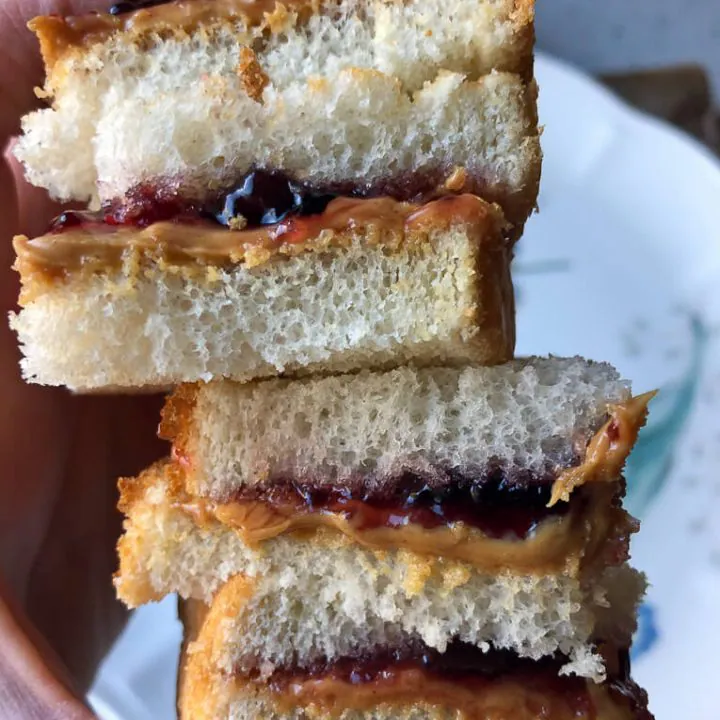 Peanut Butter and Jelly Sandwich
Peanut Butter and Jelly Sandwich (also called, "PB&J") is an all-American, sweet, and savory sandwich recipe with peanut butter and jam or jelly, perfect for a quick bite and loved by children and adults alike. 
Instructions
Place 2 slices of bread on a plate.
Spread peanut butter on one side of a slice of bread.
Spread grape jam or jelly on the other side.
Place the slices together.
Cut it in half or the way you want to cut it.
Enjoy your peanut butter and jelly sandwich!
Notes
Make your own Homemade Peanut Butter with our recipe or try Almond Butter
Tip: If you are making this for a packed lunch, to avoid soggy bread, spread peanut butter on both sides of the bread and have the jam/jelly in the middle.
Nutrition Information:
Yield:

1
Serving Size:

1
Amount Per Serving:
Calories:

315
Total Fat:

10g
Saturated Fat:

2g
Trans Fat:

0g
Unsaturated Fat:

7g
Cholesterol:

0mg
Sodium:

387mg
Carbohydrates:

48g
Fiber:

3g
Sugar:

14g
Protein:

9g
Please note that the Calculated Nutrition is an estimate at best.
[jumprope code="jhy7YZzb" products="bottom" displayformat="blog-post" structureddata="false"]
Latest posts by Sara Maniez
(see all)