Garden Update July 2020 – I'm giving an update on how our garden and property are doing this July 2020.
Estimated reading time: 7 minutes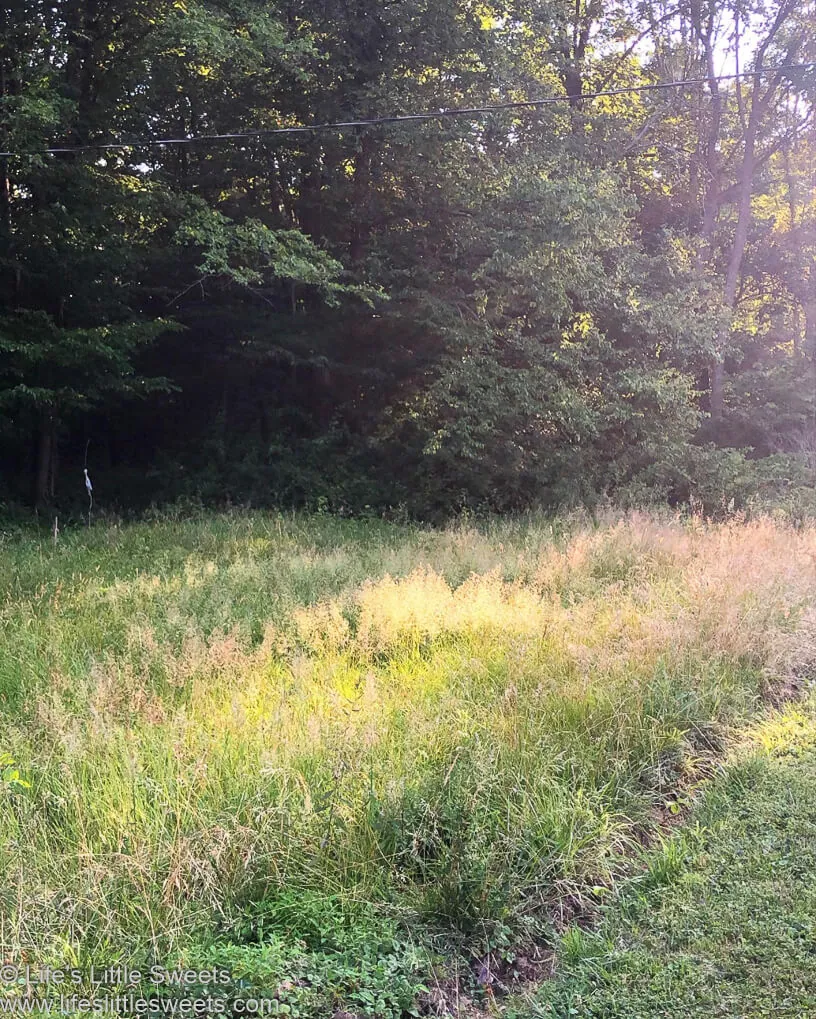 Table of contents
Garden Update July 2020
Hi Everyone, today is the 4th of July, 2020 (Happy 4th of July!) and I want to do something a little different from recipe posts and share a garden update since I haven't yet this season or in a while for that matter.
During this Covid-19 pandemic working in the garden and having the garden succeed has meant more than ever.
To me, it means feeling less reliant on the grocery store and feeling self-sufficient. 
It's also always been a therapeutic place to be inspired and draw from when creating something in the kitchen.
Plants
Our garden is growing well after a few setbacks with the wildlife this Spring, possibly squirrels, deer or rabbits eating several tomato plants (4), all our young cucumber plants (6), all our eggplant plants (4).
Thankfully, we still have 4 tomato plants in raised beds, plenty of herbs (cilantro, thyme, a small tarragon, basil, large parsley from last year.
We also have a dill plant but its struggling right now. 
My daughter and I planted some Marigolds from seed late in the season and they are coming up now.
I love Marigolds because my paternal grandfather always grew them and they were always so healthy.
We also have watermelon vines, a small strawberry patch (it's 2nd season, so it's still getting established).
We have a ton of well-established mint (spearmint, peppermint and Mojito mint); in the Spring I gave away a lot of mint to friends who were just starting their gardens.
I told them to containerize them so it wouldn't spread and take over.
I have a wild, Stinging Nettle patch right near my garden which is perfect because I love using Stinging Nettle in foraged recipes (see below).
I let certain wildflowers grow along the fence as long as they don't take over/interfere with plants I'm cultivating.
I have a Wildflower patch that I planted from seed too but I planted it late and expect to see flowers later in the Summer.
Mud Kitchen
A new thing we have in the garden is a "mud kitchen" for the kids where they can play while I weed and work in the garden.
My husband Eric made a table and he put that in a corner where I have trouble growing things because of the clay soil. 
Something New
This year we have something new: Watermelon!
Eric got these plants from the local nursery and they are thriving.
Hopefully, at the end of the Summer, we will have some watermelons to feast on.
I've been using the basil, parsley, cilantro and carrot greens in salads a lot so far this season.
Garden Goals for the Future
Fence: I would love to redo the fence; it's a very simple fence which does it's job (sort of). At some point I would like to either repair it and keep it going or replace it altogether with something else more sturdy to keep out the wildlife.
Soil: I've been more pro-active about maintaining the soil but I would like to continue to closely monitor the soil health and make further improvements where needed having more of a "soil first" approach to my gardening and it's organic all the way around here!
Layout: I've been thinking about re-configuring the layout, however we did make 2 raised beds this season that are bolted into the ground. I would consider changing the layout at either ends of the garden but inspiration need to strike me first as to what layout to make it into.
Water: I would love to set up rain barrels and an irrigation system to ensure even watering.
Worms: I would also like to set up a worm bin to help augment the soil with the worm castings, I had planned on doing that this past month but I've had mixed thoughts about the container that I should go with.
The Black Eyed Susan flowers are from Roots to River Farm and they are in their 2nd year! I transplanted them this Spring and they are still doing great.
Overall, I am happy with how the garden is going this year. We have plants that have come back and I feel like it's the most established it's ever been.
I'm also happy that I've been able to stay on top of the garden for the most part because earlier this month I had a baby and I wondered if I would be able to still keep up with the garden.
I want to thank my husband for all his help in fixing the fenceline, putting in the mud kitchen, getting plants in the Spring, and making 2 new raised beds in the middle (for the mint, watermelon, and vegetables).
Thank you for reading and following along!
Latest Posts
Latest posts by Sara Maniez
(see all)