Kitchen Renovation Update Week of 9-17-2017 – Check out the latest in our kitchen renovation. (14 photos!)
Estimated reading time: 7 minutes
Kitchen Renovation Update Week of 9-17-2017
Hi Everyone, finally, a new kitchen update, it's been awhile…and guess what?
We have a functioning kitchen!
Many of the recent recipes that I've been posting have been shot in the new kitchen – basically, any photos with a very bright white background :).
Below is the last rendering that we had done:
What We Still Need to Finish
We still have several finishing touches to do before we are done:
hook up the dishwasher, there's power to it but the water line is not connected yet (this is high on the list with all the dishes I do!)
white subway tile back splash
open shelves above the counter for glasses, glassware, mugs, cake stands, etc.
lighting under the open shelving
outlets along the counter wall
closing up the ceiling (we have 1 panel open while we have electrical work yet to do)
new refrigerator (our works but it would be nice)
shelving for the microwave and the toaster oven (right now they are in the dining area and I would rather they be in the kitchen next to where we want the fridge)
window treatments
throw rug(s)/runner along counter
Here are recent photos of our kitchen:
👉Check out our last Kitchen Renovation update, Kitchen Renovation Update Lighting New Stove Countertop Samples.
Special thanks to our French cousin, Lucile, (who stayed with us for 3 months this Summer) and my parents for helping me move all the rest of my kitchen stuff from being in storage upstairs back down into the kitchen, cleaned everything and moved it into the new drawers.
It's SO nice having everything in the same place.
I feel like it's easier to cook and bake, I know where everything is and everything is at hand.
I love keeping a fruit/veggie bowl on the countertop.
I've been putting washed fruit and veggies from our garden in there – you can see all of the garden-inspired recipes, here.
The long length of the kitchen is approximately 30 feet which is a huge improvement over the small size kitchen we had before.
To see all the before photos of our house, check out Our Home Before Photos Post.
The floor that Eric and I did, is holding up very well and we love the color.
It hides any dirt really well and it so easy to clean.
Eric polished the original exhaust fan that came with the house.
We wanted to keep it because it is original, well-made and looks really cool.
For the window treatments, I am still contemplating what I want to do.
I am thinking of a neutral, light-filtering, thin shade that fits inset the window.
Something that looks very clean, minimal and can be rolled up and down easily.
I am still researching all our options.
The custom lighting that we had done in the kitchen has been amazing, it's so nice to be able to actually see what you are doing.
I am so grateful for it!
I love looking out the window while doing dishes, it makes doing dishes less "work."
The Vigo sink is 36 inches wide which is awesome for washing pots, pans, and bakeware which I wouldn't put in the dishwasher.
The minimal brushed nickel drawer pulls (by Shenandoah) are great, they stay out of the way, the ends are rounded and they are durable and strong (plus they match!).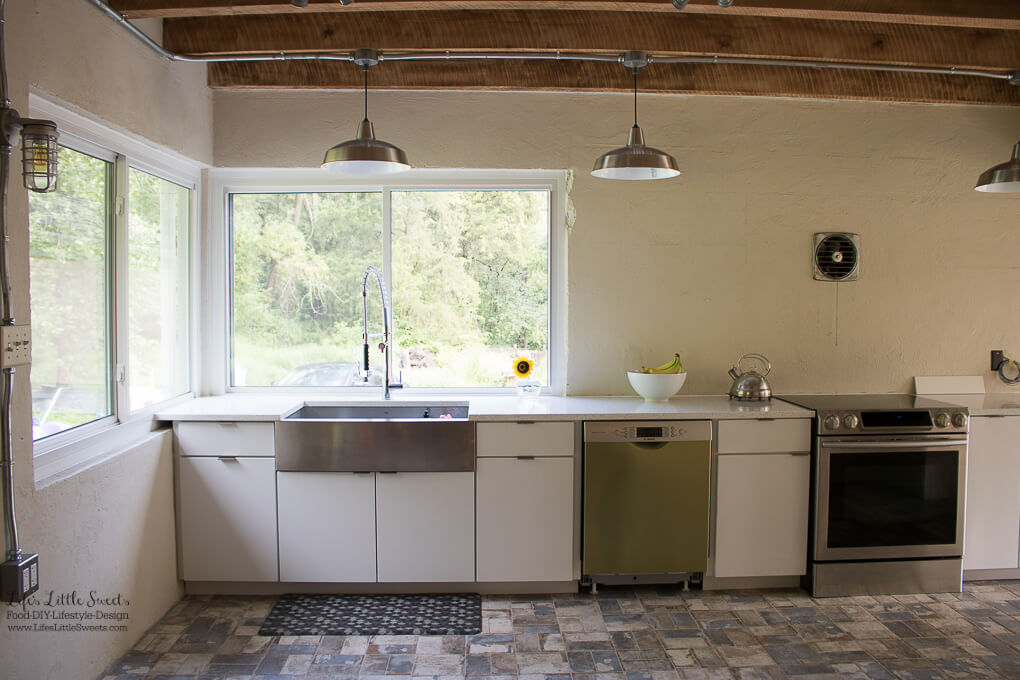 When the kitchen is fully finished, I want to share it with you in a video and personally give you a full tour.
You need to see all the awesome storage inside these Kraftmaid cabinets.
We are really happy with them. We are happy we went with the white color too.
It's important to go with one's gut feeling about color choices.
Have you been following along with our kitchen renovation?
What are your kitchen renovation plans?
Please let me know in the comments below!
Latest Posts
Latest posts by Sara Maniez
(see all)