Disclosure: This shop has been compensated by Collective Bias, Inc. and its advertiser. All opinions are mine alone. #CreateWithOil #CollectiveBias
These Coconut Chocolate Chip Cookies are soft, chocolate-y and have delicious coconut flakes throughout. A sweet and Summer-y spin on the classic Chocolate Chip Cookie. This cookie recipe is made with LouAna Coconut Oil. (makes about 38 cookies)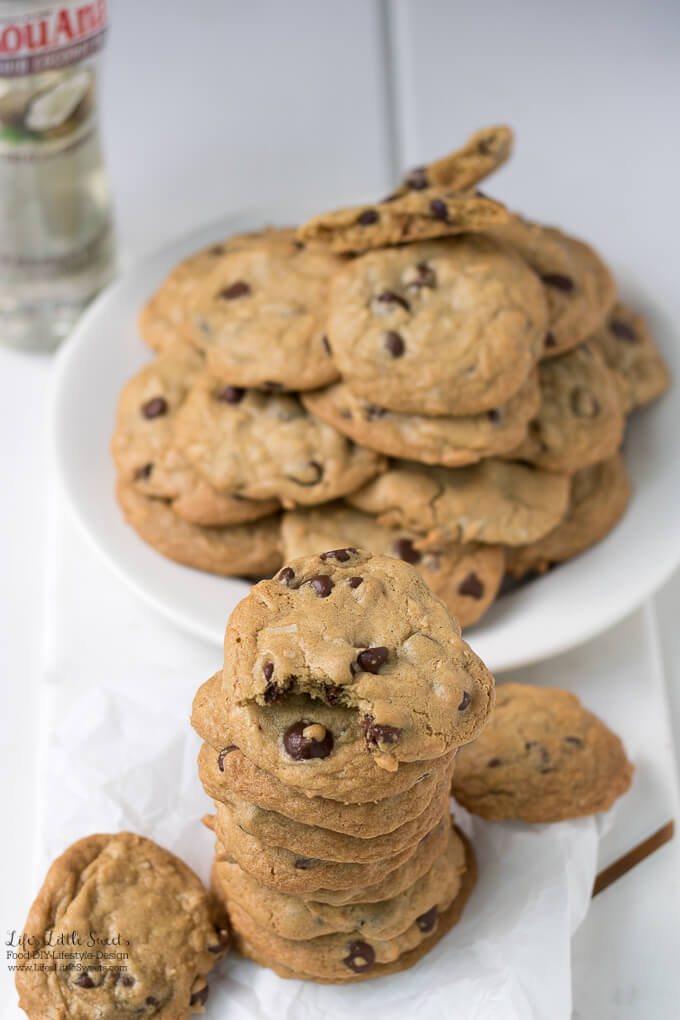 [wprm-recipe-jump] or [wprm-recipe-print]
Coconut Chocolate Chip Cookies
Hi Everyone! It's been far too long since I have shared a cookie recipe. I am a fan of a classic chocolate chip cookie. Sometimes you just need a cookie, y'a know? I wanted to make a warm weather friendly version of chocolate chip cookies with the addition of coconut oil and coconut flakes.
These cookies couldn't be easier to whip up and the recipe is make even easier because they have LouAna Liquid Coconut Oil in them. Yep, no waiting for the butter to soften. All you have to do is pour it in, just like the other pantry ingredients.

About LouAna
I want to share with you this information about LouAna Coconut Oil:
LouAna was born in Opelousas, Louisiana in 1820, a place where the food is an elemental expression of love, flavor and family. With over 14 different types of cooking oil, LouAna has the perfect oil for all of your cooking needs whether its sautéing, deep frying or baking, LouAna helps every type of cook put the best dish on the table each and every time.

I found LouAna Liquid Coconut oil in the oil aisle at Walmart.
These Coconut Chocolate Chip Cookies have a salty-sweet flavor to them which make them so satisfying.
The texture that the coconut flakes as makes them even more yummy.
These went so fast when I made them for my family, they just gobbled them right up. I will definitely be making more soon!
You can always add more coconut flakes on top before they go into the oven, if you want the coconut to really stand out. I personally love the coconut mixed throughout.
Kitchen Tools Needed for Coconut Chocolate Chip Cookies
Here are some kitchen tools I suggest having to make this recipe:
parchment paper or silicone baking mats
Aluminum baking sheets
mixing bowls (small/medium and large)
electric hand mixer or stand mixer
baking spatula for scraping dough
wooden spoon
medium-size cookie scoop
a spatula
wire cookie cooling racks
I love those crispy edges and chewy-soft center.

I have included some step-by-step photos below that also are included in the recipe card (below):
Who can resist one of these Coconut Chocolate Chip Cookies?
Coconut Chocolate Chip Cookies
Yield: 38 cookies

Prep Time: 15 minutes

Cook Time: 9 minutes

Total Time: 24 minutes

These Coconut Chocolate Chip Cookies are soft, chocolate-y and have delicious coconut flakes throughout. A sweet and Summer-y spin on the classic Chocolate Chip Cookie. This cookie recipe is made with LouAna Coconut Oil. (makes about 38 cookies)
Ingredients
2 1/4 cups all-purpose flour
1 teaspoon baking soda
1 teaspoon Kosher salt , You can substitute sea salt
1 cup LouAna Liquid Coconut Oil, You can substitute the same amount LoAana regular Coconut Oil
3/4 cup granulated white sugar
3/4 cup brown sugar
1 teaspoon vanilla extract
2 large eggs
2 cups semi sweet chocolate chip morsels, (12 ounces)
1 cup unsweetened coconut flakes
Instructions
Preheat your oven to 375 degrees F.
Line 2 sheets with parchment paper or you can use a silicone baking mat. I liked how these cookies came out with a silicone baking mat (baked for 9 minutes)
In a small-medium mixing bowl, stir together flour, baking soda and salt. Set aside.
In a large mixing bowl, using an electric hand mixer (or stand mixer), beat together coconut oil, both sugars and vanilla extract.
Add one egg at a time into sugar mixture, beat well after adding each.
Add in flour gradually, 1/4 cup at a time.
Add in chocolate morsels and unsweetened coconut flakes and combine those using a wooden spoon or similar tool.
Using a medium cookie scoop or rounded tablespoon, drop cookie dough onto prepared baking sheets. You can put the remaining dough in the refrigerator while the cookies are baking.
Bake 9-11 minutes or until the edges are golden brown.
Allow to cool on sheets for about 2 minutes and then transfer to wire racks to finish cooling. Enjoy!
Notes
You can always add more coconut flakes on top before they go into the oven, if you want the coconut to really stand out.
Nutrition Information:
Yield: 38 Serving Size: 1
Amount Per Serving:Calories: 173 Total Fat: 11g Saturated Fat: 8g Trans Fat: 0g Unsaturated Fat: 2g Cholesterol: 10mg Sodium: 111mg Carbohydrates: 20g Net Carbohydrates: 0g Fiber: 1g Sugar: 13g Sugar Alcohols: 0g Protein: 2g

Please note that the Calculated Nutrition is an estimate at best.
What's your favorite cookie recipe? Please let me know in the comments below! Best, ~Sara
Pin This! ⇓
Latest posts by Sara Maniez (see all)