These soft, fluffy and nutritious Cherry Oatmeal Pancakes are delectable to the taste buds. These pancakes are made with real ingredients and are super easy to make. In just few minutes a mouthwatering and family friendly breakfast/brunch gets ready. These pancakes are worth devouring every bite and you would crave for more.
Cherry Oatmeal Pancakes
Pancakes are my family's favorite morning meal. Therefore, I always try to create a new variety of pancakes. Of course I like to cook them from scratch and hence my pancakes are always made out of fresh and real ingredients. This time I chose cherries for my pancakes. My little one loves cherries and can munch on it all day. So, I got an idea to try Cherry Oatmeal Pancakes. Even though these pancakes look slightly different in color and texture from the regular ones but I must say they turned out outstanding. The combination of ingredients blended extremely well bringing out the delicious flavor of fresh cherries along with fiber rich oatmeal. I love drizzling lots of maple syrup over my pancakes so I made its batter little less sweet. This gave an opportunity to literally bathe them in maple syrup.  To top it all with a dollop of vegan whipped cream these pancakes were even more desirable. These pancakes are perfect breakfast that satisfies your sweet tooth as well.
Disclosure:  Some links in this post are affiliate links which means I earn a commission if you purchase through them at no extra cost to you.  I only recommend brands and products that I 100% like and enjoy using.  Thank you in advance for your support!   
Ingredients for Cherry Oatmeal Pancakes
1 cup pitted cherries
2 tbsp. maple syrup
1 tsp vanilla extract
2 cups oat flour
1 tsp baking soda
¼ tsp salt
½ cup plant milk

Kitchen Tools for Cherry Oatmeal Pancakes
A food processor/bender
A knife
A cutting board
A large mixing bowl
A whisk/large spoon
A crepe pan
A flat spatula
I love the fact that the pancakes can be enjoyed in any season. They are quick, easy and filling morning meal especially if made out of healthy ingredients. Many a times I make extra batch of pancakes and refrigerate them to be used over the weekdays. I simply warm it up either in the pan or in a microwave and serve it with fruits and syrup to my little one before dropping her off to school.
I am sure you will love these pancakes and crave for more and more!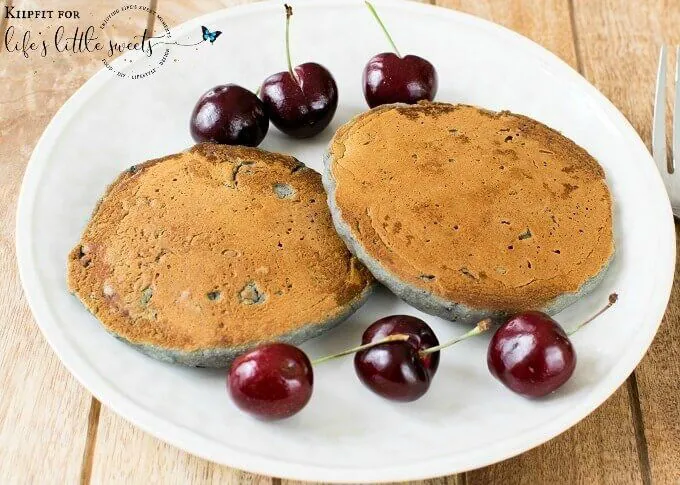 If you like this Cherry Oatmeal Pancakes recipe, you can check out these recipes also on Life's Little Sweets: Strawberry Buttermilk Pancakes, Potato Pancakes (GF), Dutch Baby Pancake Recipe, Simply Made Crepes Three Ways.
Cherry Oatmeal Pancakes
These soft, fluffy and nutritious Cheery Oatmeal Pancakes are delectable to the taste buds. These pancakes are made with real ingredients and are super easy to make. In just few minutes a mouthwatering and family friendly breakfast/brunch gets ready.
Ingredients
1

cup

pitted cherries

2

tbsp

maple syrup

1

tsp

vanilla extract

2

cups

oat flour

1

tsp

baking soda

1/4

tsp

salt

1/2

cup

plant milk
Instructions
In a blender/food processor combine cherries, maple syrup and vanilla extract. Crush roughly and keep it aside.

In a large mixing bowl combine oat flour, baking soda and salt. Mix very well with a spoon.

Now, pour the cherry mixture and mix.

Then, add milk and whip the batter. It will be a thick batter. For a thinner consistency add ¾ cup milk and then whip it up until all the ingredients are well blended and no lumps are left.

Warm a griddle/nonstick pan and grease it.

Pour 1 -1 ½ tbsp. of the batter in a round shape and let it cook until golden brown and the sides are dry. Flip it over with a spatula and cook again until golden in color.

Repeat the same process for the rest of the batter.

Serve the pancakes warm with lots of maple syrup, fresh cherries and vegan whipped cream.
Recipe Notes
For a thinner consistency of the batter add 3/4 cup of plant milk instead of 1/2 cup.
Feel free to use gluten free oat flour for these pancakes.
This recipe makes 8 pancakes and the serving size is 2 pancakes per person.
I am Gunjan Dudani from kiipfit.com. In my blog I share healthy vegan recipes that I create in my own kitchen. My fascination with healthy and vegan recipes began over two years ago, when I realized that as a result of being over-weight I had developed certain health related complications. I understood that the one way I could improve my health and set an example for my little daughter to follow was to transform my diet. But I also knew that no transformation in my diet could be sustainable unless what my family and I ate are also delicious and fun to eat. And hence, kiipfit was born! Over the past two years I have gained thousands of followers and my recipes have been featured in some of the leading blogs and food journals of the country.
Latest posts by Gunjan Dudani (see all)