Estimated reading time: 7 minutes
Goldenrod Iced Coffee recipe is a sweet, herbal-infused cold, coffee drink. It's made with fresh-brewed coffee, Goldenrod Simple Syrup made with Goldenrod-Infused Tea, ice, and topped with half and a half or your favorite creamer.
Goldenrod Iced Coffee
Hi Everyone, no matter what's going on in the world, its supremely assuring to be able to walk out of my house clip some goldenrod blooms and snap off some leaves from the goldenrod plants growing along the yard, return to my kitchen, prepare a goldenrod tea and then make a goldenrod simple syrup with it and then use that simple syrup to make this unique, sweet, floral-infused coffee drink.
*Make sure you have a positive ID on the goldenrod if you are new to the herb, I link to a field guide that I use for foraging wild edibles. I also use the Picture This app for plant identification.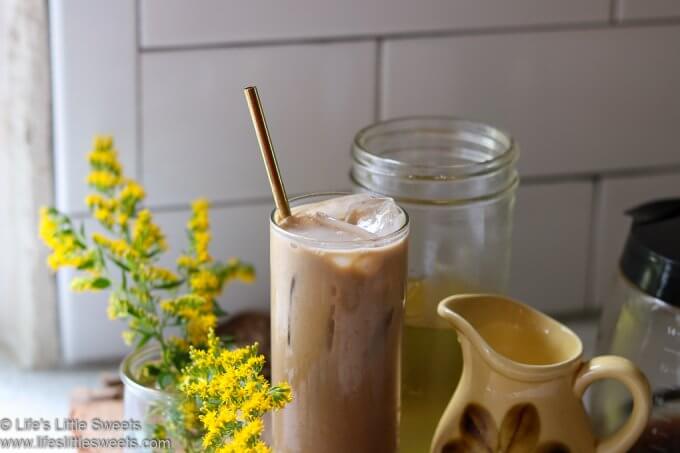 I love creating special, new coffee drinks in my kitchen. It's been a great way to press the pause button and make a space and place for myself. Perhaps you are looking for a new coffee drink too?
Iced coffee is something I associate with going out to a coffee shop and picking up and I haven't been doing much of that during this season of my life with 3 kiddos, & working from home.
What's a person to do? Enter this Goldenrod Iced Coffee!
If I find myself stuck in the house a lot with the quarantine, e-learning this Fall, or for whatever reason, this, or one of my other coffee/tea drinks, are recipes that I can make to enjoy.
What does Goldenrod (Coffee) Taste Like?
The cut leaves and flowers have a sweet, "anise-like" scent that gives the tea its flavor.
The taste is uniquely goldenrod and after making it into a tea, I thought it would lend itself well to a sweet, coffee drink.
If you have had a peppermint mocha or coffee flavored with anise, it's along those lines, but perhaps more subtle and floral.
About Goldenrod
As quoted from Wikipedia:
Solidago, commonly called goldenrods, is a genus of about 100 to 120 species of flowering plants in the aster family, Asteraceae. Most are herbaceous perennial species found in open areas such as meadows, prairies, and savannas.
Goldenrod has a number of health benefits.
As quoted from wildediblefood.com:
"Most Goldenrod plants average 1 metre in height. … Edible parts: All aerial parts of the plant can be used. The flowers are edible and make attractive garnishes on salads. Flowers and leaves (fresh or dried) are used to make tea."
As quoted from rxlist.com:
Goldenrod is used to reduce pain and swelling (inflammation), as a diuretic to increase urine flow, and to stop muscle spasms. It is also used for gout, joint pain (rheumatism), arthritis, as well as eczema and other skin conditions.
According to healthline.com:
the antioxidant activity of goldenrod is more than that of green tea and vitamin C ( 1 , 9 , 10 , 11 ). The flavonoid antioxidants and other plant compounds in goldenrod also have anti-inflammatory benefits
GOLDENROD RECIPE INSPIRATION
If you need some Goldenrod recipe inspiration, here's a list of recipes to get you going:
Goldenrod Lemonade
Goldenrod Arnold Palmer
Goldenrod Coffee (Hot)
You can use the Goldenrod flowers to garnish salads and other recipes/dishes
Goldenrod Cake
Goldenrod Scones
Goldenrod Cupcakes
Goldenrod Chia Pudding
Goldenrod Panna Cotta
Goldenrod Coffee Creamer
What would you make using Goldenrod? Let me know in the comments below?
Isn't the color of Goldenrod beautiful?
It's one of my favorite features of the beautiful plant!
This Goldenrod Iced Coffee can easily be made with a vegan coffee creamer.
Other Ways to Make Goldenrod Coffee
The other way to make a Goldenrod (Iced) Coffee would be to make a goldenrod-infused coffee creamer and then add it to the coffee, either hot or cold.
Another way would be to use a Goldenrod Essential Oil or Goldenrod Extract and add it to the coffee.
If you try any of these methods, let us know how it works out in the comments at the end of the post.
If you make this Goldenrod Iced Coffee recipe and like it, please give it a rating in the recipe card below and let us know in the comments below.
Thank you for reading and following along!
Our Goldenrod Recipes
Goldenrod Iced Coffee
Goldenrod Iced Coffee recipe is a sweet, herbal-infused cold, coffee drink. It's made with fresh-brewed coffee, Goldenrod Simple Syrup made with Goldenrod-Infused Tea, ice, and topped with half and a half or your favorite creamer.
Ingredients
8 ounces hot, fresh brewed black coffee or chilled or cold brew coffee
Ice
3 tablespoons, or amount to taste half and half (or preferred creamer), amount to taste
Instructions
In a chilled glass of ice, add hot coffee or chilled coffee or cold brew.
Add the Goldenrod Simple Syrup, stir to combine, add the optional half and half and stir to combine. Enjoy!
Nutrition Information:
Yield:

1
Serving Size:

1
Amount Per Serving:
Calories:

130
Total Fat:

2g
Saturated Fat:

1g
Trans Fat:

0g
Unsaturated Fat:

1g
Cholesterol:

5mg
Sodium:

15mg
Carbohydrates:

29g
Fiber:

0g
Sugar:

29g
Protein:

1g
Please note that the Calculated Nutrition is an estimate at best.
This recipe post was first published on 10/7/2022 and updated and republished on 9/30/2022
Latest posts by Sara Maniez
(see all)