French Flag Tart has a homemade almond pie crust, a rich chocolate ganache filling, homemade, stabilized vanilla whipped cream, and fresh, seasonal berries like strawberries and blueberries placed on top, in the symbol of the French Flag.
Estimated reading time: 6 minutes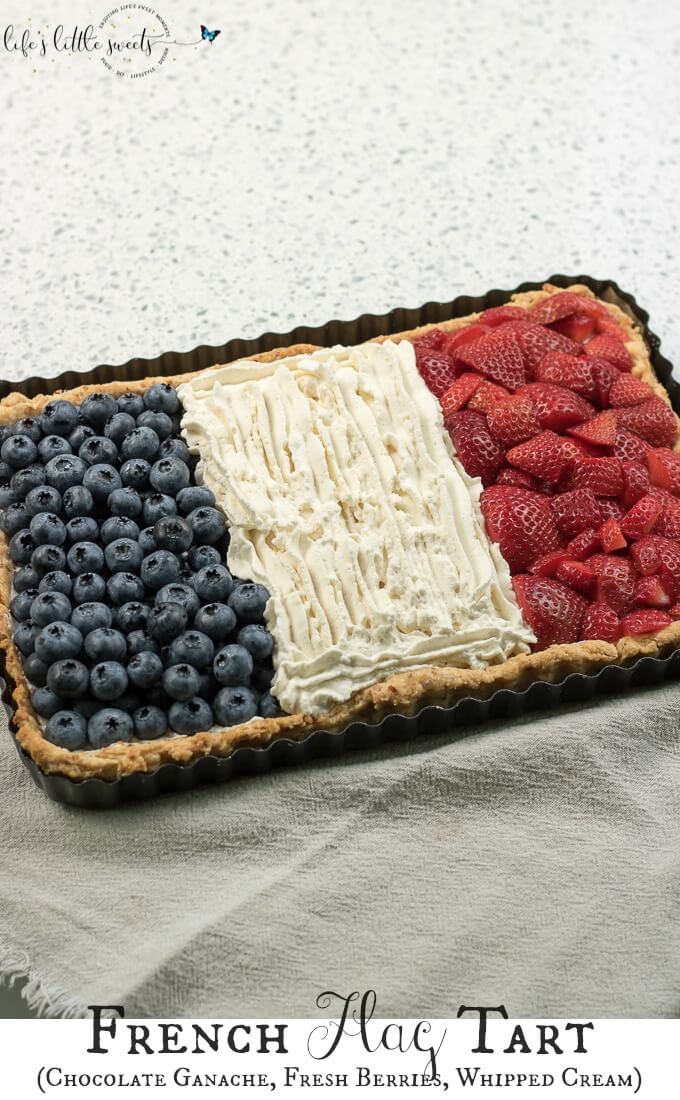 French Flag Tart
Hi Everyone, who would like some rich, chocolate ganache and fresh seasonal berries with vanilla whipped cream in the mix?
I made this French Flag Tart in July as a request from a family member (for my French Father-in-Laws French club meeting), to celebrate French Independence Day (July 14th).
It was also fun to create the tart during that time because the World Cup and Tour de France was also going on.
We watched the Tour de France (especially since Eric road bikes) every morning and we would wake up to catch the latest results and watch the drama of the Tour de France unfold.
Ingredients
I list all the specific ingredients in the recipe card at the end of this post but essentially the ingredient for this French Flag Tart are the following ingredients and recipes from the blog: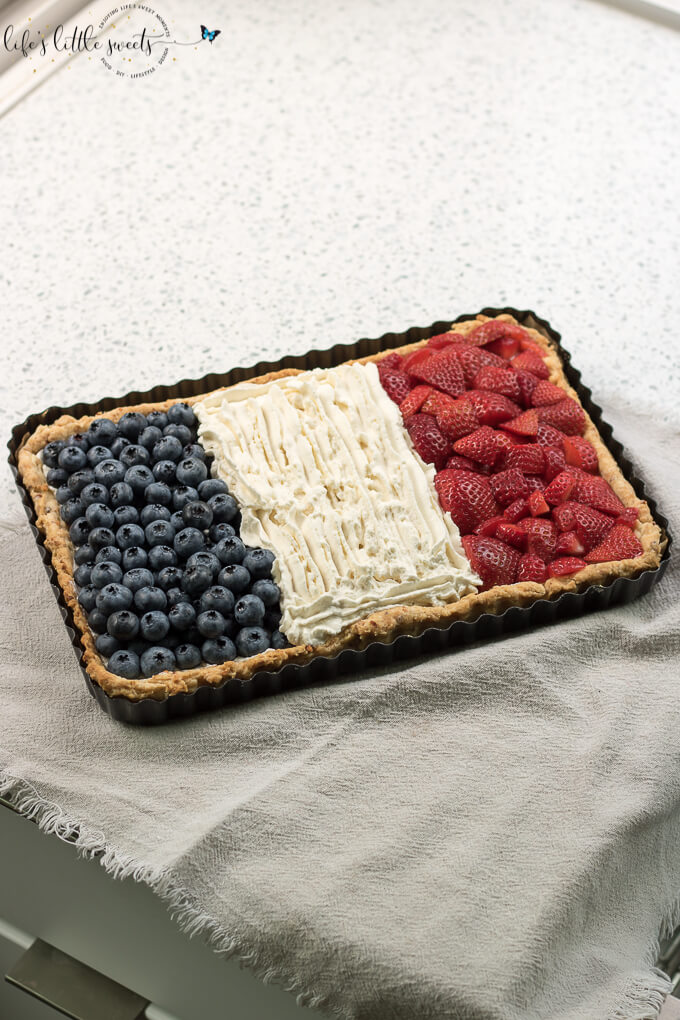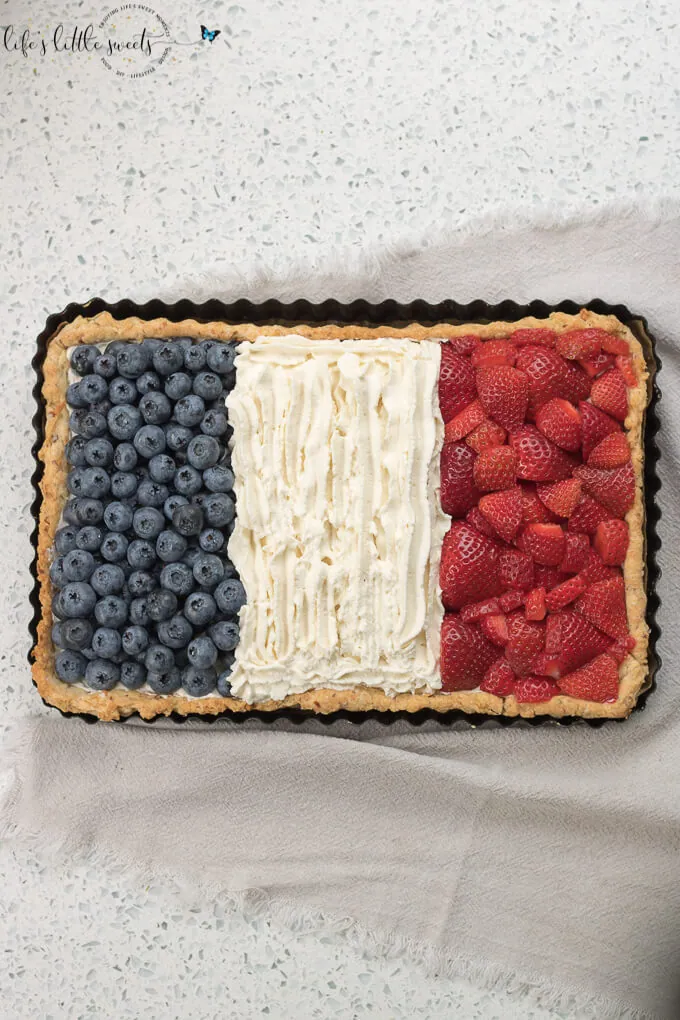 This post may contain affiliate links which won't change your price but will share some commission.
Kitchen Tools
measuring spoons and cups
mixing bowls
baking spatula
offset spatula
cutting board
chef's knife
pastry mat
rolling pin
piping bag and star tip
food processor or pastry cutter – for making the single crust recipe
rectangular tart tin with removable bottom (I have a Wilton one)
parchment paper (for lining the tart tin)
Web Story
Process Photos for French Flag Tart
I've included some step-by-step photos of how to assemble this delicious tart.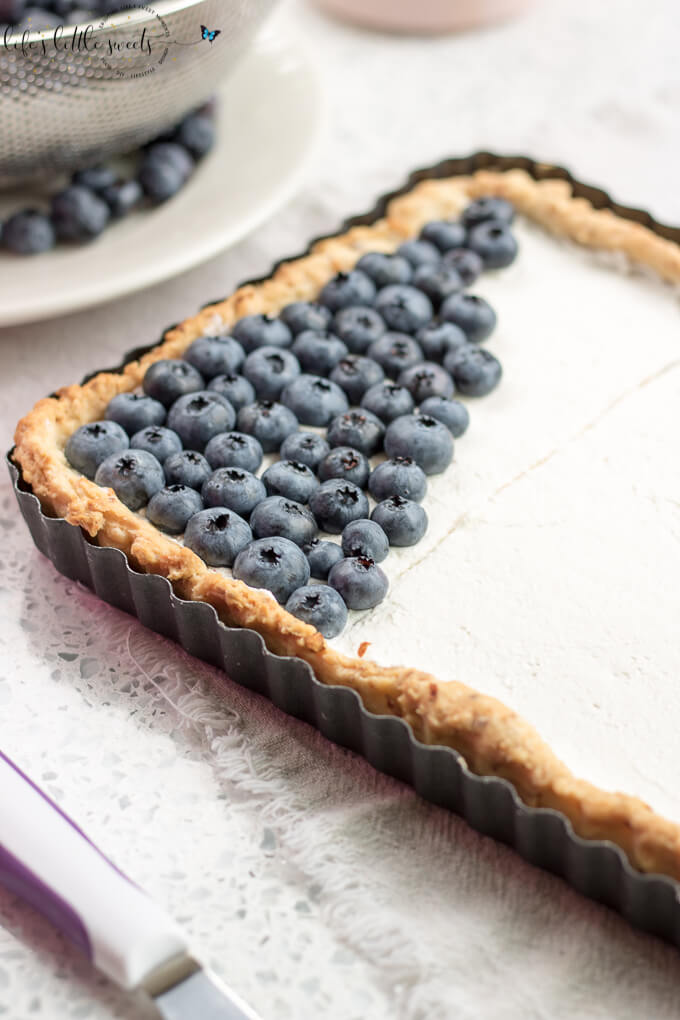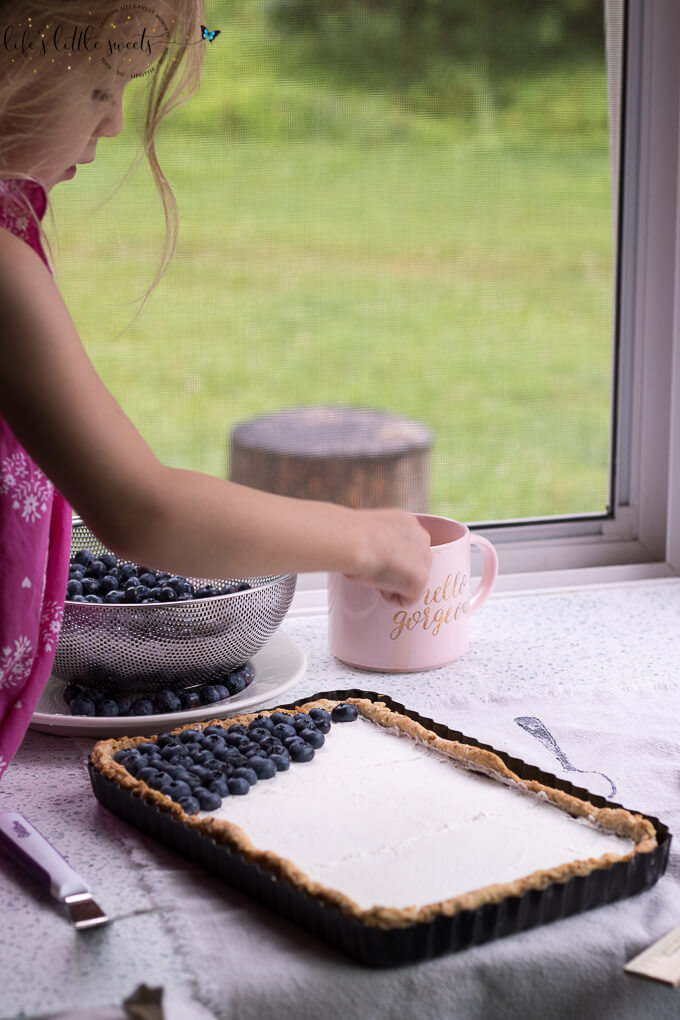 In the above photo, my daughter helps assemble this tart, this recipe is a great one to do with kids or a group of people where you can delegate who does the parts of the recipe.
If you make this French Flag Tart, let me know in the comments below!
Latest Posts
Our Other Recipes and Posts
If you make this recipe, and like it, please give it a rating in the recipe card below and let us know in the comments at the end of the post.
Check out our Recipe & DIY indexes, visit our Home page to view our latest posts & categories, visit our Blog page to see our posts in consecutive order and, our Shop to see our favorite kitchen tools!
Thank you for reading and following along!
This post was published on 9/5/2018, and updated and republished on 4/14/2021
French Flag Tart
Total Time:
2 hours
26 minutes
French Flag Tart has a homemade almond pie crust, a rich chocolate ganache filling, homemade, stabilized vanilla whipped cream, and fresh, seasonal berries like strawberries and blueberries placed on top, in the symbol of the French Flag.
Ingredients
Single Almond Pie Crust Recipe (adapted from "Single Crust Recipe" on the blog
1/2 cup unsalted butter, cubed, chilled, can use the same amount coconut oil in it's solid state for a non-dairy option
1/4 cup ice water, or more, depending on humidity of your area
Stabilized Vanilla Whipped Cream (adapted from "Vanilla Whipped Cream" on the blog)
1 pint (437 ml/2 cups) organic whipping cream, or heavy cream
Chocolate Ganache
1 cup organic whipping cream or heavy cream
2 tablespoons unsalted butter
Other Toppings
12 ounces fresh blueberries, washed and pat dry *I suggest up to 12 ounces of blueberries just so that you can pick out the most beautiful blueberries and do a double layer to fully cover, you might end up with extra
1 pound strawberries, washed and pat dry, tops cut, quartered or halved depending on how large they are
Instructions
Single Almond Pie Crust Recipe (Preparation time 45 minutes-1 hour (including chill time) or make 1 day ahead, cook time 15-20 minutes)
In a large mixing bowl, combine flour, Kosher salt, optional sugar, chopped almonds, and almond extract. Add chilled, cubed unsalted butter. Using a pastry cutter (or pulse in the food processor), combine butter with the flour mix until the mixture is a course with chunks of butter (no smaller than pea-size). You don't have to over-mix. Slowly add in the ice water and stir to combine. Use just enough to get the mixture to form a ball. Wrap the dough in an air-tight container or plastic wrap. Chill the dough ball for a 1/2 hour before working with it again. (You can also make this ahead of the day you need it and allow it to chill 8 hours or overnight.)
Using a lightly floured surface (optionally, you can use a pastry mat) and rolling pin (I prefer the tapered French-style pin or a pin that can be chilled, made from marble or ceramic to keep the dough cold). Roll out the dough to fit the rectangular tart tin.
Press the dough in the tart tin. Prick the dough with a fork evenly, all around. Place parchment paper on top of the dough (crumple, then unfold first so that the paper fits better into the corners). Blind bake the crust with pie weights on top of the parchment in a 450 degree, pre-heated oven for 15-20 minutes or until the tart crust is cooked through and golden brown. When it's done allow it to cool completely before adding the filling.
Chocolate Ganache
In a medium saucepan on the stovetop, over low-medium heat, add in heavy whipping cream, unsalted butter, espresso powder, stir with a whisk, bring to a boil and remove from heat. Add in the chocolate and pure vanilla extract. Let it sit for 5 minutes. After 5 minutes, stir in one direction until the chocolate and ingredients are completely combined and smooth. Pour into the cooked tart crust. Allow to cool to room temperature and then transfer to the refrigerator to cool completely at least 2 hours or overnight before adding the toppings.
Whipped Cream (from "Vanilla Whipped Cream" on the blog)
Before starting, put the metal mixing bowl from your stand mixer in the freezer for at least 10-15 minutes. Using your stand mixer, mix cream, sugar, vanilla extract, and cream of tartar on medium-high until stiff peaks form, this should only take a few minutes.
Assembling the French Flag Topping
On the cooled Ganache tart, spoon a layer of whipped cream and smooth evenly to cover the ganache. Using the offset spatula, lightly mark 2 lines, diving the top in 3rds (for the colors of the French Flag).
Add the washed and completely dry blueberries neatly in the first area for the "blue" part of the flag. Make sure there's no white whipped cream showing through the bottom.
Leaving the middle blank, for now, jump over the other side of the tart and add the sliced strawberries, covering all the white whipped cream on that side.
Using a star tip (or your preferred piping tip), pipe the remaining whipped cream in the center in neat lines, filing the tart to meet the height of the blueberries and strawberries. Chill the tart until ready to serve, enjoy!
Nutrition Information:
Yield:

6
Serving Size:

1
Amount Per Serving:
Calories:

836
Total Fat:

58g
Saturated Fat:

35g
Trans Fat:

1g
Unsaturated Fat:

19g
Cholesterol:

121mg
Sodium:

120mg
Carbohydrates:

73g
Fiber:

8g
Sugar:

38g
Protein:

9g
Please note that the Calculated Nutrition is an estimate at best.
Latest posts by Sara Maniez
(see all)